Album Review
A Brilliant Birthday Party for Hot Rize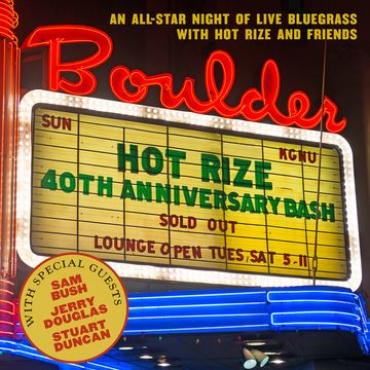 Live albums are such a touch-an-go proposition. For some (see: James Brown, Live at the Apollo; The Who, Live at Leeds; Kiss, Alive!), a live album can serve as a definitive statement that highlights an artist's essence. Others (see: every Rolling Stones live album post-Get Yer Ya-Ya's Out!) are just commercial filler, a way to make an easy dollar in between new albums or tours.
The new release from Hot Rize, 40th Anniversary Bash, is neither of those. Culled from a three-night run at the Boulder Theater, it's something else: It's a snapshot of a celebration for a 40-year career that helped make bluegrass more accessible to mainstream audiences.
A 40th anniversary show (or series of shows) is by design and circumstances a look backward, but Hot Rize manages to pull off a career-spanning set that doesn't feel like a rote exercise in nostalgia. The band sounds legitimately excited to run through tracks like album opener "Blue Night," balancing four decades' worth of experience and technical precision with the type of enthusiasm more common in a young band embarking on its first tour.
That's the charm of 40th Anniversary Bash. The guys have probably played a tune like 2014's "Western Skies" hundreds of times and early numbers like "Nellie Kane" several thousand. But neither feel like a run-through or standard fare. Tim O'Brien's vocals are inspired. The band's energy is palpable. Hot Rize sounds alive.
That liveliness carries over into a pair of covers as well. The biggest surprise is a relatively straightforward take on Los Lobos' "Burn it Down." On this, Hot Rize replaces the country blues overtones of Los Lobos' version with its own bluegrass flourishes. In the process, the band manages to maintain fealty to the original while creating something new that fits into its own recorded oeuvre.
The other cover is less surprising and comes with a backstory. "Wichita Lineman," as explained by banjo player Pete Wernick, was a song crucial to the creation of Hot Rize. In '77, Wernick and guitarist Charles Sawtelle had a band and wanted to cover the Glen Campbell classic. But they needed a singer that could hit the high notes. Enter Tim O'Brien, a mandolin and fiddle player who would occasionally sit in with the duo.
The version of "Wichita Lineman" performed by Hot Rize is a hopped-up little ditty, propelled by Wernick's banjo virtuosity and some impressive vocals by O'Brien. He hits some notes on the chorus that'd be tricky for even a younger vocalist, and his ability to do it with ease really helps to drive the song.
It wouldn't be a Hot Rize performance without "Radio Boogie," and for Bash, the band made it special by including some special guests: Jerry Douglas on dobro, Sam Bush playing the mandolin, and Stuart Duncan on fiddle. The trio wasn't necessary to filling out the song, but it served as a reminder that these shows were not just a celebration for fans and Hot Rize, but also an opportunity for their friends and colleagues to pay tribute and join in the festivities.
That spirit of jubilation on the part of performers and a hometown audience is what carries the 19 songs on 40th Anniversary Bash. It serves to highlight what made these shows special occasions; after all, how many quality bands can say they've been able to maintain a consistent level of success as professional musicians for 40 years, while maintaining their integrity and largely the same lineup for the vast majority of that span? Not that many, and throughout the listening experience of Bash, it's apparent that the members of Hot Rize understand and appreciate this moment in time and how rare achieving it truly is.