Album Review
Bringing It All Back Home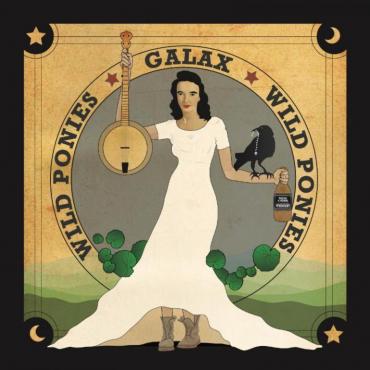 Pure joy emanates from the Wild Ponies' new album, Galax. Where two or three are gathered in the name of music, the spirit grows palpable and moves and breathes among us, anointing us with its love and beauty, and carrying us into a community of loved ones, some now departed and others still living. Doug and Telisha Williams decided to return to Doug's grandparents' farm in Galax, situated in the Virginia mountains, in an area with no cell phone service or wireless reception. They invited a few friends from Nashville — Fats Kaplin, Will Kimbrough, Neilson Hubbard, and Audrey Spillman — to drive over and make music with them. In Galax, they invited some Old-Time Players — Snake Smith, Kyle Dean Smith, and Kilby Spencer — to join the party. The musicians gathered in a shed behind the farm and simply sat around in a circle and played and sang and recorded the efforts live, and the beauty and joy of the album grow from the love of place and the simple joys of playing music for the fun of playing music.
Galax kicks off exuberantly with scampering fiddles, thrumming guitars, and rolling banjo on the traditional tune "Sally Ann." Telisha Williams' exquisitely plaintive vocals match the pace of the other instruments, engaging in a kind of call-and-response as she leads the skittering reel. The band delivers a live, old-time version of "Tower and the Wheel," which appeared on Wild Ponies' last album, Radiant. The song is a paean to a Catawba tree that has stood against all the forces of humanity and nature on the farm there in Galax. The rawness of this performance matches the raw resilience of the tree. With this single song, the band evokes the power of place and the memories that a single object can evoke. The tree has seen "houses built and barns fall down … she's held a thousand horses tied/she's sheltered brides and grooms who've cried/She's watched as lovers made love beneath the stars." "Will They Still Know Me," written by the Williams and Ben Glover, is a sparse tune that raises questions of identity and belonging. "Hearts and Bones" evokes a ballad from the Highlands and flows dirge-like with haunting, ethereal beauty. Jon Byrd's sprightly "Jackknife," with its bright, cascading banjos, conjures up wonder, memories, love, and longing. The singer recalls words that his momma and daddy have told him through life: "Son don't work too much on Sundays/keep a dollar in your shoes/try not to drink and fight and gamble through the night/stay away from girls who do/keep a Bible in your pocket — and a jackknife/just in case you need a friend/and remember that the ones that love you most/are just back around the bend."
Wild Ponies' joyous spirit imbues Galax with grace and generosity, inviting us to join their music circle, dancing to the scampering reels, dreaming pensively along with the ethereal ballads, and singing along with all of them.