Album Review
Bringing Skiffle into the Spotlight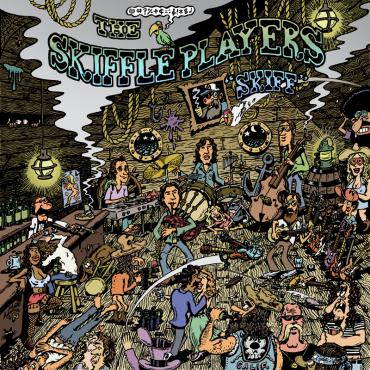 Poor skiffle. It rarely gets its proper due.
It's always a footnote, inevitably mentioned in terms of the Beatles' early inspiration. Considering the Beatles' outsize impact on the music industry, this means that elements of skiffle have accordingly trickled into rock and roll. But skiffle — what of skiffle itself? It's too cheerful for rock-and-rollers, too poppy for folkies, and too innocent for honkytonkers. It was never easy for me to know where to even slot it.
Billy Bragg helped me reorient my mind. "Basically, what skiffle is is English schoolboys playing Lead Belly's repertoire," he told me during an interview for No Depression's summer 2017 quarterly journal. What to me had always seemed like a corny precursor to rock and roll as we know it today served a vital purpose in helping American folk music cross the Atlantic, where it bred with the influences already at play in Britain. Skiffle, I misunderstood you. Let's start over. And let's do so by talking about a band that takes you seriously.
To be clear, the Skiffle Players — Neal Casal, Dan Horne, Cass McCombs, Farmer Dave Scher, and Aaron Sperske— aren't a retread of skiffle itself. Rather, this outfit addresses skiffle's influence — yes, and skiffle itself — in selecting its covers or writing its originals. New LP Skiff ranges from happy-go-lucky shuffle to haunted soundscape. Everything on here is familiar, yeah, but assembled in unexpected ways. It's like music from an alternate timeline in which skiffle never evolved into Brit-rock, but something else entirely.
"You need to talk to someone who's on the people's side / they know every trick in the book, in them you can confide / they don't even get paid much until your case is closed / have you heard of asbestos? Were you ever misdiagnosed?" sings McCombs, vocalist on seven of these 13 tracks. "Don't delay / call right now / to the law offices / of Dewey, Cheatum, and Howe." A song that expands on a longstanding Car Talk gag simply should not work, but does. It lopes along with lightness and wit — and it's catchy as all hell.
Opener "Cara," with its fingerstyle guitar and lyrics that alternate between English and Spanish, reflects the same blur of influences that resulted in '70s Latin psych-fusion outfit Malo, only at living room volumes. "You'll Miss it When its Gone" infers The Byrds, while the instrumental "Herbamera" is sunny and tropical. "Oakland Scottish Rite Temple Waltz" opens and closes with the chorus of "Tennessee Waltz," only with way too many syllables intentionally crammed into the familiar melody. "I don't expect nice things and such / as a matter of fact I don't expect much,"  McCombs sings on "Harsh Toke," the closest thing to a Grateful Dead tune on Skiff.
And then there's "Santa Fe," the heaviest and most adventurous tune on this pleasantly unusual record. Droning harmonium, wandering acoustic guitar, and digital chirps build a haunted foundation for McCombs' existential meander through the emotionally depleted materialism of adult life. "When I was a little boy / life was free and full of joy / now I am a desperate man / never to return again," he laments while the Skiffle Players all at once reference a Highland lament, a modern experimental soundscape, and the Beatles' obsession with the sitar's psychedelic potential. It's like someone took apart the familiar Lego kit that is rock and roll and reassembled it in a way that's familiar, sure, but not at all formulaic.