Album Review
Brock Zeman - Pulling Your Sword Out of the Devil's Back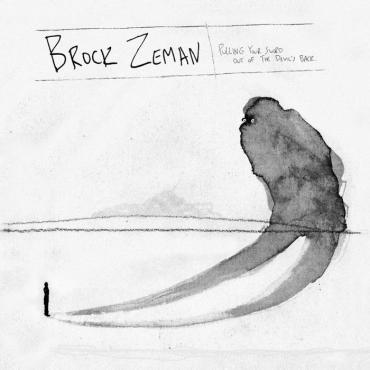 Brock Zeman. The guy who engineered, produced and played on Tom House's exceptional Winding Down the Road album.  The guy who has ten albums I haven't heard yet but who has recently released one I have. The guy who is getting rave reviews for his live shows but who none of my friends know. I sit here wondering how someone can release ten albums and not break through--- not to the general public but to my friends, whose ears are plugged in on a constant basis and who revel in finding the best of the unheard. As much time and energy as we spend listening to music you would think we would have it covered. But.....
We missed Zeman. Pulling Your Sword Out of the Devil's Back hit the streets in April and not one of us contacted the others. I checked. The common response was "who?." I have to get back to them because after this afternoon's listening session, I know who. They need to know too.  
When Tom House talked about Zeman I must have turned a deaf ear, probably thinking that he was giving Zeman a nod for backing the album. I don't know what I was thinking. I LOVE Winding Down the Road. That album alone is reason to pay attention. Forgive me, Tom. Shall we call it a brain fart?
Zeman has one of those semi-gravelly voices given to Dr. John and Leon Russell and maybe even Mick Jagger when the song is right. It is pleasant enough, but when added to the excellent songwriting it raises the music at least one step up. Sometimes it talks, sometimes it reverberates and sometimes it just sings but on each track, it fits.
Like on "Dead Man's Shoes," a shuffling twanger. Like on "Sweat," a Dr. John-style swamp rocker but with a Motown strings twist. Like on "Drop Your Bucket," a choogling rocker which could easily have come straight off of an older Dr. John LP. Like on "Ten Year Fight," a song about a man's girlfriend's father, a guy who was a good man but always at opposites. These are good songs--- really good songs--- from a guy who knows how to write.
Not that many can do what Zeman does. Besides House, I can only think of two right off the top of my head--- Jeff Finlin and A.J. Roach--- but I know there are more out there. Sometimes I feel as if I would need to live another lifetime to catch up. I should feel happy that I found this one. Then again, I'm looking at ten older albums to really get caught up--- on just Brock Zeman. I'm sure it will be an adventure.
You can stream the album by clicking here. I recommend you do it.