Album Review
Brooklyn-Based Honky Tonk Band Injects Some Modern Energy Into Old Tradition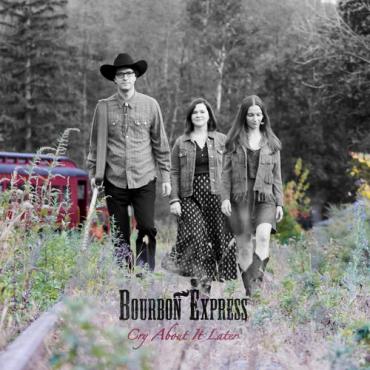 This album has a curious history because the title of the collection is "Cry About It Later."
During the final sessions, bassist and background vocalist Andrew Dykeman gave notice he was flying the coop to pursue other opportunities. (How many times have I heard that). According to the PR, the unit had been playing together for three years and Andrew's leaving prompted the remaining members to name the LP appropriately. Fortunately, the CD cover art did not include Andrew – though he rightfully was credited for the work he did on the 12-track collection. The band finished their album and they "cried" about the loss of the services and talent of a member later. 
The classic rock band Procol Harum had a similar situation. After their LP "Grand Hotel" was completed and all the photos were taken for the album their lead guitarist Dave Ball left the band. Mick Grabham replaced him. Grabham's head was superimposed on the front, back cover and inside spread of the LP onto Ball's body. Fortunately, the cover had not gone to press yet. So, as far as Bourbon Express is concerned – I'm sure they will survive.
The band is a Brooklyn-based honky tonk band. Almost sounds like a joke but one listen of the opening tune – "Pick Me Up," with its clean Johnny Lam pedal steel and dobro leaves one feeling this is the real deal. These are not thinking man's songs but songs that just penetrate the pores of your skin and the toe-tap mechanism in your feet. Whether you're from Atlanta or New York.
"Devil's Angel," has a retro-feel to it, with its thin guitar sound but steady and consistent guitar drive and the female vocals of Katie Curley and Sarah Kinsey injecting lots of vim and vigor into the showcase. This tune has lots of hit single 60's feel to it. No one tries to impress the listener here – they're just making an attempt to make you feel good – and they do. They really do.
The band has many influences that run through their tapestry. From old time country artists to the vintage melodies they've written. I'm often impressed with how young people interpret, absorb and spew back some wonderfully inspiring material from the past. "Turn the Page," is filled with angst and it's a weeper. A Patsy Cline, Kitty Wells type of song that would easily be a hit on country charts if it were still the early 60's. Today? Well, I'm not sure.
Country music has morphed into something today that I hardly recognize. Is there an audience for this vintage musicality? I think so. There are some people who still like their music rooted as deep as possible in this country's musical history and archives. Why? Because it's authentic. And this is what Bourbon Express actually offers its listeners.
Some songs have pedal steel guitar, fiddles, and nothing here even hints that these are big city people. Katie's vocals, while not exactly like Iris DeMent, does have the sincerity and country air that Iris' voice conveys. Her voice is elegant in "Take Me Out," and her voice has this quality that reeks of potential for the country genre. Just enough twang, just enough whiskey in the vocal chords and lots of cornbread. Her voice is not childish though she does sing with gentleness and poise. She's closer to Dolly Parton in tradition than say, Emmylou Harris.
The album was produced by Eric Ambel (who is the "Telecaster Man," in the song on this album which was inspired by Katie's meeting him and convincing Eric to produce this album). Ambel is a veteran of the music industry – he's a solo artist now ("Lakeside" is his latest studio lp), but he was a member or worked with the likes of The Brandos, The Del-Lords, Steve Earle, The Bottle Rockets, Joan Jett and Mojo Nixon to name a few.
Track 6 "Dream Girl," has vocals that remind me a little of the vocal-stylings of pop-country singer Robin Ward ("Wonderful Summer") who had a similar vulnerable type sound. Robin's flipside of her hit was "Dream Boy," and that really reminded me of this fine song. It's just constructed and arranged as if it would have been a hit in the mid-60's. Sandy Posey ("Single Girl," "I Take It Back") had similar vocalese. I would have suggested Lesley Gore but she was too tough, independent, almost feminist in her approach. She was decades ahead of most female singers. This song is delightful.
"Ten Gallon Hat," has those retro pedal steel guitars with a very 60's sound. While Jody Miller had a more muscular voice ("Silver Threads and Golden Needles") she had a similar guitar sound in that. This song is quite cool despite its vintage showcase. All the musicians here are wonderful and they convey a strong and steady sound. It's almost a sound that never truly grows old.
Melody Berger saws away at the fiddle, Jonny Lam is the pedal steel master, Andrew Dykeman plucks the bass and adds background vocals, Brendan Curley tinkles the piano keys ("Dilly Dally"), electric guitar, and mandolin. Katie Curley is the lead vocalist, plays the acoustic guitar and harp. Sarah Kinsey supports with her background vocals. In addition, there is Eric Ambel on acoustic guitar -- "Cold Quiet Drink" and background vocals on "Devil's Angel." Jason Mercer offered bass on "Cold Quiet Drink."
"Blame It on the Hangover," is an updated tune that would get the attention of anyone in a saloon. "Cry About It Later," is filled with the sadness and wealth of old-style country that Patsy Cline, Kitty Wells, Loretta Lynn were famous for. Here, Katie just polishes the old style up and offers it to a modern audience on a silver tray. All the arrangements on these tunes are tight and traditional with no showboating. Everything is well produced and streamlined. I could hear the late Jim Reeves sing this song – as well as many other seasoned old-timer country artists. This could easily be a hit for any one of them. Will they ever hear it? Bourbon Express deserves to have a following and a hit of their own but I think they should send copies of their album to some of the giants of the old-fashioned traditional country. One hit from a veteran and they will be acknowledged at least, for their songwriting.
"Five to Nine," is real Honky Tonk energy on the piano and fiddle. Honky Tonk? Country? Well, Honky Tonk is more saloon oriented. It possesses a bit more stride than country. Katie's vocals here are borderline Iris DeMent and Dolly Parton and that's actually magical. Not too Appalachian but she retains the purity. How does someone from New York have such a voice? Have such a voice and is able to actually use it the right way with such melodies and music? Katie does it – and the rest of the band follows.
The final track is slow – with clear mandolin by Brendan. "Cold Quiet Drink," is the perfect send-off. This has to find its way onto some radio station deep in the south. For certain, the people in Kentucky, West Virginia, Tennessee would embrace this stuff. And if they find out someone from Brooklyn, NY is doing it – I think they would raise their glass to all of them. Yeah, they'd probably say "hell, at least we taught some of those Yankees something they could use." Indeed.
 The album was produced by Eric "Roscoe" Ambel and all songs – ALL songs were written by Katie Curley and not in 1956. The album art is a black and white with dashes of isolated color – and three extremely young musicians walking toward you. Don't let them pass. These are to be kept. The Bourbon Express won't get you drunk – but it will satisfy you track by track. I am proud of them – for keeping an old traditional music alive and well in 2018. It's dark and dirty job – but damn it – somebody's gotta do it. These young people certainly are.
Website:  http://www.bourbonexpress.com/
FaceBook: https://www.facebook.com/bourbonexpress/
Eric Ambel: http://ericambel.com/tag/eric-ambel/
Disclaimer: The opinions expressed in this review/commentary are those of the author and do not necessarily reflect the official position of No Depression. All photography is owned by the respective photographers and is their copyrighted image; credited where photographer's name was known & being used here solely as a reference and will be removed on request. YouTube images are standard YouTube license.
John Apice / No Depression / April 2018