Album Review
The Brother Brothers Beckon with Warmth and Beauty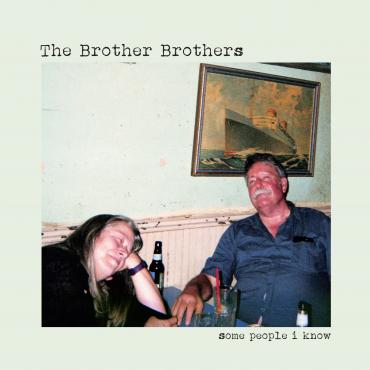 When two people come together to make tones so dulcet that it becomes difficult to do anything else but listen, you know that you are experiencing something very special.
This is the effect that Brooklyn-based twins Adam and David Moss — The Brother Brothers — have on listeners. Their 2017 EP Tugboats gives a taste of how striking their harmonious partnership is, but on the duo's debut full-length album, Some People I Know, the breadth of their craftsmanship and the warmth of their connection truly shines.
Some People I Know is a collection of timeless sounding songs about those people. The Brother Brothers tell their stories with backdrops of sparse folk sounds centered on Adam's fiddle and David's plucked guitar. Except for the rowdy, foot-stomping track "In The Nighttime," the songs are relaxed and often washed in melancholia. Paired with the gentleness of the duo's entwined voices, the soft soundscape creates a peaceful atmosphere akin to watching the sky, a source of fascination for the brothers throughout the record, in all its hues.

Love is often the focal point of the album's tracks. The first words we hear are those of thanks to a friend for sticking around during a rough patch: "Mary Ann, I'm back on my feet again / Call me if you feel like it / I'm around." This same unwavering love comes up again on "I Will Be With You" and "Red and Gold," both unhurried songs of tender devotion.


Elsewhere, as if taken from the yellowed pages of a diary, there are stories about a wily gambler, a community's demise, and, on "Ocean's Daughter," Adam's fiddle draws out the moans of a man "drowning in dust." In the album's two cover songs, we hear Peter Rowan's heartbreaking love story "Paper Bride" and about Buck Meek's protagonist Sam Bridges.

While The Brother Brothers are the narrators of the stories on Some People I Know, occasionally it feels like they are characters themselves. On the affable "Banjo Song," the brothers reminisce about happier times: "Why don't you play the banjo anymore?" they ask, while a banjo is plucked. Later they ask, while harmonizing, "Why don't you sing a song for me? Wouldn't it be nice to sing it once / the second time I'll add a harmony." It's a clever piece of songwriting that makes the track feel lighthearted despite its loneliness. On closing track "Goodbye Ol' Silver," the brothers step in the spotlight again and pay homage to everything and everyone that has helped them get this far.

From the outset, the Moss brothers are in the shadows of many legendary country and folk brothers — Everly, Louvin, and Stanley, just to name a few — but The Brother Brothers on their own merits make their debut album luminous.