Album Review
Bubbling Americana Gumbo of Blues, Country, Roots & Texas Swing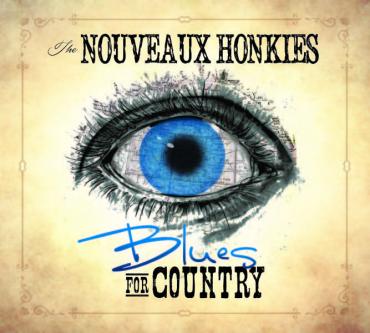 The title track of this CD opens this twelve-track album and it's like a blast from a firecracker. Nothing is over-stated it just starts with a punctuating Rebecca Dawkins country fiddle and authoritative vocals by Tim O'Donnell. The song is immediately memorable with its catchy lyrics, wonderfully airy arrangement and melody. I must add, it's excellently recorded – the mix captures all the instruments and everything is expressive. "Blues For Country," – written by Rebecca Dawkins -- is The Nouveaux Honkies -- charged with everything that is required of an opening tune on a new album. Pat Manske's drums bang their way into the blending voices of Tim and Rebecca. Her violin pours over the song like a Kona wave. Her fiddle has that adoring command that Cajun fiddler extraordinaire Doug Kershaw often displayed in his career. This song has energetic traction and rolls out like a Swiss roll with its cream and devil's food cake. Delightful.
"Life Ain't Easy," is a great little song from this album, though I prefer the live version (video) featured in this review. I just like the way the tuba filled the song with a big sound. The album track did not have the tuba but, it does have substance in its studio version. In the live version, Tim's vocals are excellent, Rebecca is jubilant and if nothing else – the video shows just how close to the original recordings they produce live. A great performance nonetheless, both live and on the album. "Spent five days in the same under wear…" A little rank, but it's so outlaw country…Willie Nelson…. get me Willie Nelson on the phone -- I have a song for him.
Drawing influences from New Orleans, Nashville, Florida, Austin and the Texas hill country – the recipe for some inviting Roots-Americana music. "Should Have Loved You," immediately grabs the parts of your body that move to musical notes. Beautiful music and lyrics stimulate your country loving ears. This is first class material. Rebecca's sweet, but strong voice sounds so perfect alongside the deep sincere voice of Tim O'Donnell. This is a nice duo tune. To my ears this is the commercial release – this just warrants repeated listening's and it's adorned with such fine playing. It's also a short song. This is an ideal example of a perfectly written and performed no showboating country song. This is a favorite.
A Townes Van Zandt cover – dangerous territory if you're a novice. But here, his classic song "Pancho and Lefty," is rendered with care and speckled with experience. You could believe these musicians actually knew these guys. An excellent arrangement to an old chestnut and somewhat revitalized for 2016. I guess some songs never grow old. Tim O'Donnell's acoustic guitars flanked by Lloyd Manes' pedal steel is exquisite. Rebecca's vocals are effective and seeped in the earth with her rootsy tone. Tim's vocals are suited to this tune perfectly. Quite the Steve Earle-sounding authenticity.
"Nobody's Name," opens with a wall of violin – the instrument is tuned so perfectly, its tone rich and then just as the duo sings Tim plays the marvelously tuned drums that distinguish the song with its loose single shot anvil-like smashes. I love this approach, it's different and it actually helps to colorize the tune. But it's Rebecca's violin that holds the musical breadth throughout the song. The singing, of course, continues to be excellent. 
A more fun and frolic tune starts "I Know Things You Read About," allows the band to spread its wings and show some humor. Their technical musical ability never abates as they weave a tight web of notes throughout the song. From a light-hearted break the band offers a serious ballad in "Hours Into Days," co-written by Jerry Tillman with Tim. The lyrics are descriptive and about the distance that can come between two people. This is a poignantly rendered song and as sad as it is the band manages to maintain a consistently bright melody.
There are shades of old school country in many of the songs, but the balance in retro/modern is maintained by the sparkling arrangements and broad sweeping style of their musical abilities. "She's Nothing But Wrong," is one of Tim's finest vocals. While the tone in his voice is country, the energy is rock and it's a perfect marriage. On this song Tim reminds me of Delaney Bramlett of Delaney & Bonnie when he sang that incredible 1972 song "Comin' Home" punctuated by Eric Clapton's lead guitar. Here Tim has the fine pedal steel lead of Lloyd Maines and it's exceptional. 
Old timey is the opening of the fiddle by Rebecca on the Mike Derivera penned "Velvet." Tim even sings the song in a retro style and their singing is reminiscent of the old partnership of Dolly Parton and Porter Wagoner and in spots -- may even be somewhat like Nancy Sinatra and Lee Hazelwood (though Hazelwood's vocals are slightly deeper than Tim's). Even in the explorations of lighthearted songs the quality, the lyrics and arrangements are all distinguished by fine performances.
In a style similar to Waylon Jennings and Merle Haggard, Tim starts singing the somber "Whiskey's Getting' Harder to Drink" with Rebecca's weepy violin and Lloyd Maines' lazy pedal steel following his lead. Nice bass work by Nate Rowe holds everyone up in this bar. The song would have been excellent for Jennings or Haggard. It could also be a great cover for Tom Waits or – dare I say it – the late Dean Martin. This is one of the finest little songs on the album – perfect saloon song.
The Nouveaux Honkies do have a talent for changing gears in their genres. A little bit of just about everything that is satisfying to a country ear: roots, Americana, blues, old R&B stylings, honky-tonk, Texas swing and just old-fashioned songwriting. And that is all detailed in their press release which is accurate. "Two Doors Down from Paradise," and its reprise – written by Rich Lyons -- is a nice upbeat conclusion to a sharply-honed album. Tim's voice with Rebecca's is excellent. There's a tradition in this music that can easily fall into cliché, but this duo with their fine musicians has sharpened their wits and skills and have provided a fresh sounding exuberance to their showcase. There are no additives. It's all natural.
The album was recorded in Texas and produced by Tim O'Donnell with some assistance from Pat Manske who also engineered it. The beautifully designed package was done by the Geminye Design Group and the CD photography by Ainsley Glotzbach and Rich Sullivan. All other songs were written by Tim O'Donnell or as noted.
Website:    http://tnhband.com/
Facebook: https://m.facebook.com/tnhband/?sk=timeline&filter=2&_rdr
Disclaimer: The opinions expressed in this review / commentary are those of the author and do not necessarily reflect the official position of No Depression. All photography is owned by the respective photographers and is their copyrighted image; credited where photographer's name was known & being used here solely as reference and will be removed on request. YouTube images are standard YouTube license.
John Apice / No Depression / August 2016