Album Review
Burning Bridget Cleary – Another Day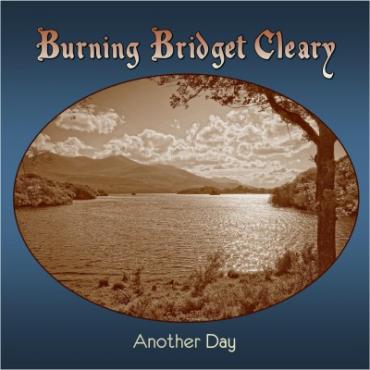 The real Bridget Cleary is best remembered as "the last witch burned in Ireland", as this band's biography tells us. But, that Bridget Cleary, with all her spells and potions couldn't play Celtic music the way this band can.
Their second release Everything Is Alright, was awarded "2009 Album of the Year" by CelticRadio.net in Boston and then Burning Bridget Cleary broke new ground in 2013. Their fourth CD, Pressed for Time, topped the Roots Music Folk and Roots Charts at #1 – and became one of the most played albums by folk disc jockeys. This brings us to their fifth album – released this past September, entitled Another Day.
If you're impressed by rock's lead guitar dynamics and pyrotechnics, the electrifying fiddle duo of Rose Baldino and the Scottish fiddle wiz Amy Beshara will leave you absolutely breathless with their bow's smoking and their strings ablaze in tunes that are so invigorating I am certain some people will not need their Zoloft medication while listening. This is invigorating, enthusiastic stuff that makes your skeleton want to dance right out of your skin.
The new album begins with the title tune "Another Day," with a wonderful and infectious Celtic melody married to expressive story-lyrics typical of this kind of music. The vocals are strong, interwoven harmonies. The message is powerful – the voices of the ladies are satin-smooth. Then the fiddles come -- tuned differently from each other, I am certain, because you can tell the difference between the two. It unfolds with a dramatic punctuation. With the drive and determination of the traditional years of Mike Scott's the Waterboys, this is the female version of that magical band. While not as mystical here, their tune is a strong opener for things to come.
"Pressed For Time," is a fiddle workout weaved through the wonderful supportive relentless acoustic guitar of Lou Baldino (Dad). An instrumental of the highest order – it has notes that tell a story, but the real story unravels only in your own head if you have the imagination to apply to it. There is a suggestive moment in the tone of the fiddles that reminds of the dark and majestic fiddle/violin used by King Crimson in one of their more melodic albums. The darkness doesn't last long here with BBC. The music is not so much aggressive as it is driving. It goes into peaks and valleys that are relaxing. The instruments sing. The tunings are so perfect and recording so clear, it comes off as something a doctor should order for anyone with the blues and leave the medication on the shelf. Even if you don't get up from your chair, this tune will leave you dancing the entire time it plays.
There are too many songs on this album to individually assess, so I will skip some. But, that doesn't mean they are less interesting than the ones I do comment on. For the whole of the album the musicians are always playing first rate. Vocals on many songs are reminiscent of the legendary McGarrigle Sisters from Canada, and the Roches. If you ever enjoyed those fine female vocalists then BBC will be a treat.
While many songs are heavily Scottish in flavor, the connection between Scottish, Irish, and old English traditional melodies was passed down to people who immigrated to America hundreds of years ago. The result, as some of you may know, is that much of the Appalachian music is rooted in these melodies. Evidence of this can be heard in "Oh My Little Darling" on this album. Is it European? UK? Or is it something out of the hills of Kentucky? With the addition of an electric guitar and steady percussion by Peter Trezzi, the parallel is beautiful -- an education for some. This song would have been at home in the fine film Songcatcher, which was all about the search of lost songs in Appalachia and their connection to the homeland. 
Photo from - Donna Fisher / The Morning Call
"Ashokan Farewell," is an instrumental that makes Scottish music universal. How anyone with a heart can't make a connection to some poignant time in their lives by listening to a melody like this is beyond me. This is a moving melody that could have been dropped into the classic film Gone With the Wind, and it would have been ideal.
"The Ballad of Tim Evans" is vigorous -- the kind of song that would inspire a young Bob Dylan back in the '60s. It's a murder ballad with machine gun fire fiddles that even Charlie Daniels would be proud of. This tune summons memories of Sandy Denny and Fairport Convention for me. Because our recording technology has improved since the early '70s, the fiddles are crisp, the bass bottomless. The guitar weaves like a snake and it's a shot of whiskey in your ears. Vocals unfold the tale clearly and every word is understood. Nothing awkward here.
The tune "Stor Mo Chroi: Darling of My Heart" is going to be one of those melodies that some of us will say: "I have heard this one before somewhere else, with a different title and lyric." That may be so. It's like Simon and Garfunkel's "Rosemary and Thyme" – a melody that is definitely not Paul Simon's but old English traditional. Same can be said for Bob Dylan's "Girl from the North Country," which is definitely not a Dylan original. This melody will ring true as something familiar. But, where it comes from is something one must figure for themselves. These are melodies in the public domain now -- hundreds of years old and no one really knows who may have written the original. So, it's complimentary thievery. They're so good, we continue to reinvent them every 100 years for new ears, young minds. They are also melodies that never date. They're young forever.
The highlight of this album is "Clay Slaps." It stokes the furnace until the coals are red hot and the chimney bellows with smoke. The instrumentation is absolutely fabulous. It sounds as if there are ten fiddles playing, but it's only two young ladies with hummingbird fingers. You can tell they love what they do. Listen carefully, and you can hear so many things going on beyond mere rosining up a bow and stroking the strings. The wood in their fiddles must be the finest – the strings tuned to delight ears. Despite all the Scottish tradition, this is rock and roll fiddle playing. This is Eric Clapton and Roy Buchanan on a fiddle. Excellent.
Just when you think Burning Bridget Cleary gave you their best, the tale of "Two Sisters" comes rolling out of the speakers. It starts quite innocently as a story, but then the fiddles and the singing become even more exciting. Mumford and Sons and the Avett Brothers had better look over their shoulders because BBC is gaining on them. This is a song that suits a campfire, and if the lyric could be displayed, everyone should sing along. Again, in the tradition of Fairport Convention and Fotheringay, this is folk music with vitamins. Everyone on the band shines.
Another tune that is majestic on this album is "I Know Who Is Sick/On the Spot." While sounding very traditional, it's arranged to have muscle. Having seen this band this summer at the outdoor concerts at Shippen Manor in Oxford, NJ, I was quite impressed as the ladies (probably performing this song but I am not certain) make it a habit of coming down off the stage to whip their fiddles into a frenzy, up close and before the eyes of the audience. It was wonderful and this song is one of those kinds of songs. They got the outdoor audience revved up like I seldom see. 
Of all the songs on this album, the one that set fire to my interest was "Saucy Sailor." Opening with what sounds like sitars, with vocals sung in unison, it becomes instantly magical, mystical, and of one voice. The sitars may really be another type of fiddle for all I know. But, the sound -- the melody with their words, the otherworldly percussion, and acoustic guitar paint a very intriguing picture. This is a winner, a multiple-play tune that's presented quite ingeniously. The heavy percussion and other instruments that are sewn into this fabric of sound is what makes the song so endearing and powerful. Set aside all the wonderful songs if you have no time for an entire album, but don't miss listening to this one. This is a masterpiece.
The guitar-dominated opening and BBC show their freshness, versatility, and their ability to not be redundant. Here, the ladies sing with a hat tip to '60s groups the Seekers and the Sandpipers. That is a compliment. "The King and the Fair Maid" is not at a loss for fine fiddle soloing. And again, their strength is in the contrast of fiddle sound between the duo and the excellent acoustic guitar that anchors them solidly. This is a tune that children would easily enjoy listening to or seeing performed. There's a slight Medieval feel to the music, but it's modern in every way. Delightful.
"The Blacksmith," once again, starts with some tuneful acoustic guitars that lead the way down the path to the fiddles. The percussion is never intrusive and, on this track, it's like a frame around a painting. I could hear the old folk-rocker Donovan joining the ladies on a song like this. Songs such as this were his roots and he never wandered far from them.
2014 – Photo courtesy of the Burning Bridget Cleary website
"Electricity" is how I would describe the way the fiddles open the song "Where's Pete." The fiddles cry, wail like banshees. The band just knows how to set up a counter melody around a solo melody and build around it. Then, suddenly, stop and give your ears a flurry of what sounds like something you heard a thousand times already but, maybe not. This is the roots of bluegrass, where Alison Krauss found herself and Bill Monroe molded into an American tradition. 
The band performs their title song "Burning Bridget Cleary," and it's somber, remorseful, all with the poignancy of better days to come. There was a fiddle player with a band decades ago called Private Lightning – a band with an overabundance of talent but no luck. Her name was Patty Van Ness and she was a fiery wall-of-sound-style fiddle player. The playing on this track reminds me of Patty's on "When You're Laughing" -- an incredible song despite some juvenile lyrics. Patty would really appreciate what BBC is doing today, no doubt. 
I never thought I would ever say this but these ladies are also sexy as they fiddle. Their stage presence, their stance. There's no other way to describe their intoxicating enthusiasm as they play reels and jigs with such ease. Usually I try to insert a YouTube video that was studio-created, or a cut from an album, but the band itself must be seen to be appreciated. So, I broke my own rule and attached a well-recorded live presentation that, except for the wind in their pick ups, is a live showcase from a Kansas City Irish Festival. And this set, ignites every face with joy that gets near them.
Note: I am not certain fiddle player Rose Baldino is actually playing with her current partner Amy Beshara in the live videos. My apologies to Amy if the video predates her. 
My point in featuring these live shows is to show the audience reaction and how the music is so infectious even to children (at the PA show). No matter. Whoever plays opposite Rose Baldino and her band – is someone with grit on the fiddle as seen here. Women with talent in abundance. Today, that would be Amy Beshara and let's hope she has a long tenure judging from her performance on this recent album. 
Burning Bridget Cleary music can be sampled on MySpace Music, Rdio and YouTube.
https://www.facebook.com/Burning.Bridget.Cleary
Website: http://www.burningbridgetcleary.com/index/
Disclaimer: The opinions expressed in this review / commentary are those of the author and do not necessarily reflect the official position of No Depression. All photography is owned by the respective photographers and is their copyrighted image; credited where photographer's name was known & being used here solely as reference and will be removed on request. YouTube images are standard YouTube license.
John Apice / No Depression / October 2014