Album Review
Calico Stands with Roots in California Country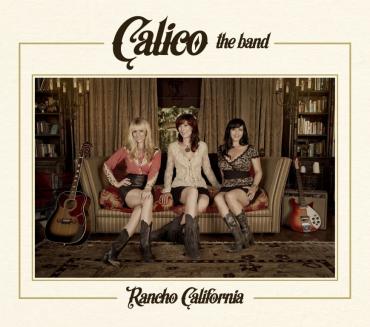 As Calico the band releases its debut album,
Rancho California
, they stand in the stream of a rich tradition of country music founded and developed in the Golden State. With a triple threat consisting of the distinctive writing, vocal and instrumental talent of Kirsten Proffit, Manda Mosher and Aubrey Richmond, they have already left a strong imprint on the national country music scene with solo careers that have touched mainstream country with a gentle call to return to the roots of what makes country music great. Their seamless music including intricately developed vocal harmonies, dynamic production and well-crafted songwriting that is at once as accessible as it is rooted in country tradition, is reminiscent of the early work of Crosby, Still & Nash, The Eagles and Dolly Parton, Emmylou Harris and Linda Ronstadt's Trio project.   Their fresh, pop flavored production rooted in the rich tradition of California country revives the essence the 80's Renaissance period of country music that produced such great Golden State derived country bands as Desert Rose Band and Sweethearts of the Rodeo.  
It's hard to pinpoint the exact moment California became significant to country music.  It could go back to the Oklahoma migration from the 30's, a result of the Great Depression and the Dust Bowl phenomenon, which would produce some of the best in American folk music through the songs of Woody Guthrie. Guthrie planted himself firmly in the soil of the California farmlands when he toured the Okie Camps in the late 30's.  It could be with the rise of influential artists from the 50's including Buck Owens and Merle Haggard from the Central Valley.  Compton's Town Hall Party also made a national mark on country music history as legendary artists appeared on the show.  Not so long after, in the mid to late 60's seminal bands like The Byrds, The Buffalo Springfield, Poco, Rick Nelson and the Stone Canyon Band and Flying Burrito Brothers would make a mark that still reverberates.  Venues like Hermosa Beach's Sweetwater, Doug Weston's Troubadour and North Hollywood's The Palomino with shows like Ronnie Mack's Barn Dance, would nurture some of the best in California based country music over the last 40 years.
The recent birth of L.A. Insurgent Country Movement based on the influence of L.A. based artists like Gram Parsons and Dwight Yoakam has become a musical nesting ground of great American music. The central launching where fledging aritsts and bands have gone to be heard and seen has been the weekly Sunday afternoons in spring and summer of Grand Old Echo in L.A.'s Echo Park District. The movement is still being forged with L.A. based artists like Shooter Jennings, Brian Whelan, Ted Russell Camp, The Walcotts, Bob Woodruff, David Serby, Rod Melancon and The Far West leading the posse.
Calico the band has entered the influential Los Angeles fray of creative misfits and earthy inventive roots artists on their way to national success.  Kirsten Proffit, an award winning solo artist with scores of songs included in TV shows like Friday Night Lights and Dawson's Creek, says when she first encountered Manda Mosher, she felt like she'd found a country version of a female Tom Petty. After a friendship that developed through participation in mutual shows and studio work, Mosher told Proffit she left the impression of being a kind of a 'lone ranger.'  It led to the pair co-writing one of the songs on Rancho California and a way of working together that honed theme and melody as they pursued vocal harmonies in the process.
Aubrey Richmond joined the band last April with distinctive vocal power and violin artistry that is unique in today's country music. In others words, she fit perfectly with her new band mates.  According to Proffit and Mosher, they had been aware of Richmond and wanted her in the band for some time.
"We love what Aubrey brings to our sound. The way she incorporated her violin into the musical landscape. It distinguishes us." Proffit said.
Indeed, they most recently distinguished themselves at 2014's Stagecoach Festival when Rami Jaffee of the Foo Fighters sat in with them during their set. "Rami produced "Dead Reckoning" on Rancho." Proffit said. "He added that signature Hammond organ sound he brought to Wallflowers." Mosher added. As fate would have it, The Foo Fighters were in Joshua Tree recording during the festival when Jaffe decided to pay his friends a visit. "Our rehersal happened in the dressing room 10 minutes before we went on," Proffit laughed.
As an album, Rancho California is a bright, original, well crafted, often inspired contribution to the California Americana-roots landscape. The three-way energy they have produced hits every vein of performance, songwriting and the sonic bliss found when musicians capture a chemistry between them that amounts to something both magical and rare.  It's easy to take for granted the seamless way the music and their voices blend here, but each song highlights this strength supported by some superb songwriting.
There is a cohesive flow to the album that plays like a harmony driven tapestry of song. Key tunes include "High Road" a cinematic narrative from the land with a stirring guitar by Mosher, "Dead Reckoning," with the aforementioned Foo Fighting keyboard and an infectious chorus and engaging Celtic mando part, and the lush and lovely, "Never Really Gone."    One of the inspirations of the song was Manda Mosher's mentor, songwriter Henry Gaffney who passed away in 2010. It is a gentle tribute to those who teach us the finest things in life then move on to their own fate and mortality. The distinction of the song is the three-part harmony throughout, Richmond's beautiful heart-felt violin and Mosher's haunting guitar. "As Mosher said to me, "It's a song of gratitude for the teaching we've received."
 The best of L.A.'s country past, present and future clearly emerges from Calico's debut, Rancho California, with a bloodline that runs from the early music of the Central Valley to gentle nods to Buck & Merle as well as the creek clear influence of the high harmonies once familiar to Laurel Canyon, The Beach Boys and urban landscape surrounding Los Angeles.  It's possible to almost feel a grin coming our way from the stardust drifting cosmic cowboy, Gram Parsons and his wayward Cosmic American Music angels. With this album, Calico the band have begun a new chapter of L.A. country that begs to egnage rest of the Americana music community.  Today, they are poised to weave into a very important place in the ever-growing tapestry of Americana music.
A release party for Calico the band's Rancho California will be held at Hotel Cafe in Los Angeles on September 5th to include Rod Melancon and Shooter Jennings.  For more info go to the band's website.