Album Review
Canadian, American & Celtic Traditions In a Proficient Modern Setting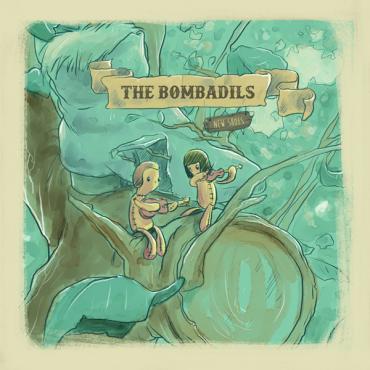 Some real nice energetic sounds emanate from The Bombadils – in the tradition of classic bands such as: Fairport Convention, Fotheringay, Steeleye Span, Amazing Blondell, Incredible String Band, Curved Air and Pentangle. Their secret is melodies, in an old-fashioned, simple manner steeped in old-world folk traditions. Not sung in a contemporary style but, a serene, absorbing and versatile manner. The fiddles, banjos and cellos are interwoven and immersed in a spiritual showcase.
Celtic flavors, American Appalachian, Canadian folk all strung together in mandolin rich strings and melodic turns that can be over a hundred years old and steeped in Appalachia or it can be sweetened by some suggestions of Medieval playing – as performed brilliantly by Amazing Blondell as early as 1970 and up to today.
The instrumentals on this collection are riveting, as the strings explore each other through melodies like a ball of string all knotted together. But, there's a dignity to it all not just haphazard plucking. This is no jam session – these musicians know how to play. "Squirrels Rule the Day/Raccoons Rule by Night," is a superlative instrumental original with so many fluid runs by so many diverse instruments. It's a classical music of the rural poor of another era. How this music continues to interest modern day musicians is a miracle because they perform it with such complex authority.
Sarah Frank provides the ethereal vocals and her silky vocal is soothing on her original composition -- "Silver Linings." This is about as close to a commercial song as The Bombadils come. It's relatively short, has a nice lilting melody that is hummable and memorable and it's well-crafted. 
The Bombadils are actually just two persons: Sarah – with her expertly played fiddle and claw hammer banjo and vocals. Luke Fraser – guitar, mandolin and vocals. While the pair is not as intense and dark as Brendan Perry and Lisa Gerrard of Dead Can Dance – at times they tread the edge of such style and that is what makes them interesting. Guest musicians include Kaitlyn Raitz (cello), Oliver Swain (upright bass), Jayme Stone (banjo), Anh Phung (flute) and Spencer Murray (Irish flute, Scottish border pipes) among so many others.
What may put off some listeners is the singing which sounds like and is at times, a foreign language. But, the listener must transcend the foreign and get into the music itself which is universal, enriching and relaxing. Sarah's first vocal on this album is "La Fille Cheveux De Lin," – a Debussy composition written at the turn of the 20th Century. In French, it roughly translates to "The Girl with the Flaxen Hair."  Its delicate banjo framed by sharp, serene fiddle and cello is piercing in its beauty. The piece is named for the eponymous poem written by Leconte de Lisle – all adapted wonderfully by Sarah.
The album "New Shoes," is filled with a diversity of music. It is not for commercial tastes, but I can see a fan of the progressive bands such as Strawbs, Magna Carta and Pearls Before Swine enjoying this kind of musical adventure.
Luke Fraser sings his original "Train in the Night," and plays acoustic guitar in this basically simple folk song. A tune that could've been easily done by an Arlo Guthrie. Along with Sarah's backup vocals this is a very accessible song and has a nice sweep especially in the accompanying fiddle playing that is quite joyous. This is about as close to modernizing an ancient style of folk music – and Sarah and Luke have mastered this in their own individual, likeable and reliable style.
Luke doesn't possess an instantly recognizable folky voice as Arlo, Ramblin' Jack Elliott, Bob Dylan or Fred Neil but, he has an energy that is lifted especially when Sarah joins in and they sing in unison. There is such a delightful air to their voices and this continues brilliantly with "Lone Journey" – a Doc Watson-Rosa Lee Watson song. This is as good as the legendary duo of Richard and Mimi Farina, Richard and Linda Thompson and a lesser known team of Jim and Jean ("People World") who had some minor hits singing together in 1967 in both the US and Australia. They were actually songwriter Jim Glover and Jean Ray and they had an excellent invigorating vocal together. The fiddle work and acoustic guitar on this track by The Bombadils is stirring and their combined voices is affirming. Much the same as "People World," all those years ago – both very enjoyable songs.
"Blankets," – one of Sarah's originals is quite a departure with some pipes and string plucking, but it's Sarah's defining vocal that is captivating on this track. This is where they tread a little in the Dead Can Dance territory and they are effective. It's not dark, but it snaps, crackles and pops with that same type of brassy low note sound (courtesy of Alec Spiegelman's bass clarinet) that same mournful sound that made Miles Davis' "Pharaoh's Dance," on the "Bitches Brew" album so mysterious and stately. Anh Phung lays down some bright flute throughout this track that even Jethro Tull's Ian Anderson would find intriguing. Sarah displays her finest vocal here – a Sandy Denny quality. If you listen to no other track – treat yourself to this one.
"The Scroll's Return - Le Voyage," with its flute and fiddle instrumental charge steps back into a more traditional upbeat tone. "What Gold Could Never Buy," is a pleasant upbeat jaunty tune with lots of flute, fiddle and acoustic guitar. This is a reminder of the more commercial tunes of Amazing Blondell ("Standing by My Window," "All I Can Do," "On a Night Like This") – and this is a big endorsement because Blondell has been a respected band of this type of song for decades. Sarah and Luke are certainly of a premium blend of this hierarchy.
The duo covers the chestnut "Wild Mountain Thyme," – the Scottish traditional and they offer one of the sincerest versions of this old song. My favorite cover is still by Marianne Faithfull – in her 1965 angelic voice on the album "Go Away from My World," -- before cigarettes and drugs whittled away at her vocal innocence. Nonetheless, this formal version is quite good. 
An excellent banjo track comes in "I'll Remember You, Love in My Prayers," and both Sarah and Luke sing with mountain folk sincerity. Upright bass by Oliver Swain supports this melodic song expertly as Sarah reminds me a lot of the late Mimi Farina (Joan Baez's younger sister), and Sarah matches Mimi's pristine vocals respectively.
The close out tune "Mint Condition" is closer to Appalachian traditions and written by Caroline Spence, a young country singer-songwriter who has her own albums available. Sarah's near-operatic tone is self-assured and slow burning. Even with that fine sound the song has echoes of Iris DeMent's rootsy style and Sarah is absolutely marvelous. This all confirms that Sarah and Luke should already be sharing stages with the likes of Iris, John Prine, Roseanne Cash, Emmylou Harris and all the artists I have mentioned in this review. They have proved their worthiness through their fine work and music.
 The twelve song -- nearly one hour CD -- was produced by Julia Graff and James Perrella. There are no fewer than twelve supporting musicians on this effort and they are all quite proficient adding sparkling performances to each song. The CD itself was designed as illustrations in a six panel die cut package and it does contain a neat little stitched lyric book with full credits. More color pictures of the duo would have been nice, maybe next time. All the deisgns were courtesy of Joe Latham at Lookhappy Design.
Website: http://thebombadils.com/
FaceBook: https://www.facebook.com/thebombadils/
Sound Cloud:  https://soundcloud.com/thebombadils
Disclaimer: The opinions expressed in this review / commentary are those of the author and do not necessarily reflect the official position of No Depression. All photography is owned by the respective photographers and is their copyrighted image; credited where photographer's name was known & being used here solely as reference and will be removed on request. YouTube images are standard YouTube license.
John Apice / No Depression / Written in December 2016