Album Review
Carolina Dreaming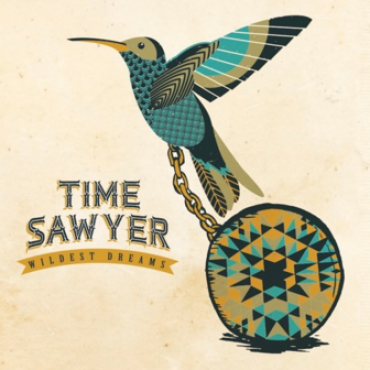 The month of March in North Carolina has brought an early spring, shifting political tides, and a long-awaited album by the band Time Sawyer.
    Early in the band's career, they recorded an album per year. But for this, their sixth studio album, they have taken their time, carefully crafting it at Asheville's storied Echo Mountain Studio with producer by Mike Ashworth (Steep Canyon Rangers). The music is a cross-pollination of indie-folk and country-rock, progressive in nature, but still rooted in tradition and with southern spirit.
    The title Wildest Dreams implies a theme of longing for things that are out of reach, and a wistful air does pervade the album, highlighted by liberal use of mournfully sinuous pedal steel guitar surrounding sincere lyrics sung by lead singer Sam Tayloe whose voice borders on the  Appalachian region's "high lonesome" style. 
    The song "Ball and Chain" exemplifies the feeling of being held back from achieving one's "wildest dreams." The verses utilize an alternating duple and quadruple pulse as if progress is being curtailed by a weight. 
    "Oak and Pine" is a fresh and creative Americana take on the old idea that men are from Mars and women are from Venus. In this case, the tree metaphor puts both sexes in the same phylum, describing their differences, but also acknowledging what they have in common. The juxtaposition of electric guitar with banjo serves to reinforce the idea of different attitudes co-existing, sometimes even in harmony.
    "There and Back Blues" is a stand-out track for its incorporation of banjo as a vehicle helping to drive straight-ahead rock. "One House Down" features the most unusual exploration of instrumental effects, including an instance of feedback, drifting wisps of pedal steel and splashes of cymbal at an ambling pace, illuminating lyrics stating that real distance is needed, a giant move, not small steps, when change is really needed.
    Recent personnel changes in Time Sawyer have resulted in original band members Sam Tayloe (lead vocalist, guitarist, songwriter) and Houston Norris (banjo and vocals) operating as a duo on some occasions as well as the nucleus for a larger gathering of some of the area's finest musicians when needed. Currently performing with Tayloe and Norris are guitarists Luke Mears and Ian Wagoner, pedal steel player Bob Barone, drummer Jordan Nelson, and bassist Joel Woodson. (Zach Smith provided bass on the recording).
    Time Sawyer will be celebrating the release of the album Wildest Dreams and this opening of a new chapter in their evolution as a band on Saturday, March 18 at Neighborhood Theater, 511 East 36th St. in Charlotte.