Album Review
Carrying the Muscle Shoals Torch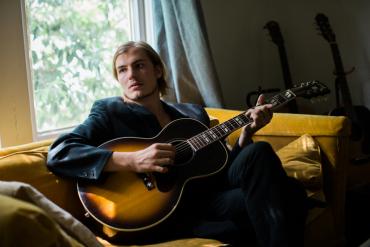 There's no denying Muscle Shoals, Alabama, has become synonymous with incredible music, seemingly pumping out an endless stream of talent. And the young Dylan LeBlanc is no exception, creating extraordinarily beautiful pop rock with his new record Cautionary Tale. His voice has the smoke of Ryan Adams, the haunting softness of Jim James (My Morning Jacket), and the androgyny of Erika Wennerstrom (Heartless Bastards) or Cat Power, set to gorgeous, hypnotic guitar melodies.
The title track is one of the stars of this album, with its shimmering, seventies groove that flows, cool and easy. And the steel guitar notes that sneak up on you on "Roll the Dice" give his sound a subtle country twang. Similarly twangy is "Look How Far We've Come", with an Old West pacing paired with ethereal sounding guitar. Much of the record has a western feel to it, and LeBlanc proves masterful at crafting lush, multi-faceted soundscapes that elevate his songs to visual, prismatic art pieces. You can see them as well as you can hear them.
There's not a single song that deserves to be skipped on Tale – it's a near flawless record, cohesive and self-assured. And it isn't LeBlanc's first rodeo, but it is surely the one to get him noticed. "Easy Way Out" will grab Neil Young devotees, and songs like "I'm Moving On" and "Man Like Me" are sure to capture a similar young fan base to artists like Andrew Combs and Rayland Baxter.
Produced by Ben Tanner and John Paul White (formerly of The Civil Wars), Tale is dark and ghostly at times, but never a downer. The arrangements are breathtaking and lustrous, and though LeBlanc's vocals have a gentle quality, they are never soulless or too restrained. You feel every bit of Tale as it pours out, much like LaBlanc clearly did when he made it.