Album Review
Cash Box Kings - Holding Court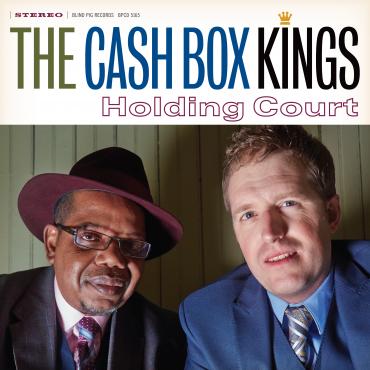 The Cash Box Kings are piloting a time machine, a specially modified vehicle that slips back through the time stream, honoring Chicago and Delta blues sounds from the '20s through the '50s. Harpist Joe Nosek and singer Oscar Wilson are the co-pilots, running full-tilt backwards, to rekindle the spirit of departed blues icons, including Little Walter, John Lee Hooker, Slim Harpo, and a bevy of lesser-known lights who nevertheless shine brightly once again under the guidance of the Kings.
Named after a defunct publication that kept a music chart from the 1940s through the mid-'90s that rivaled Billboard's, the Kings offer up chart-topping-worthy stuff on their own. Eight of the 13 tunes here are Nosek's, blending in perfectly alongside John Lee Hooker's "Hobo Blues" and Big Smokey Smothers' "I Ain't Gonna Be No Monkey Man."
"Monkey Man" jumps out first -- a rattly, raucous jump blues with Wilson's vocal resembling the Legendary Blues Band's singer/bassist Calvin Jones. There's another LBB connection here as well, with LBB drummer Willie "Big Eyes" Smith's son, Kenny "Beedy Eyes" Smith behind the kit for the Kings.
Even though its one of Nosek's compositions, "I Miss You Miss Anne" sounds like it slipped out from the Slim Harpo catalog, the harpist's reedy vocals sounding like he's singing through the harp mic.
Honey Boy Allen's "I'm a Real Lover" is also in the Harpo style: swampy, laidback licks reek of backwater bayou culture.
"Ju Ju" features a slinky second line framework fit for struttin' and prancin'. Guitarist Joel Patterson's guitar shimmers around pianist Barrelhouse Chuck's 'Fess-influenced tinklings.
Even when the Kings take on contemporary topics, the music still sounds rooted in the past. Nosek's "Download Blues" sounds like a Jimmy Reed tune, juxtaposed with the current state of artists having their work distributed for free. Wilson proclaims that he'll "be in the poor house if somebody don't buy some music soon."
As they've done on their past Blind Pig outings, 2011's Holler and Stomp and 2013's Black Toppin,' on Holding Court, the Kings once again display a smooth blend of past and present, timeless music that never grows old.
Grant Britt