Album Review
Castro's Painkilling Blues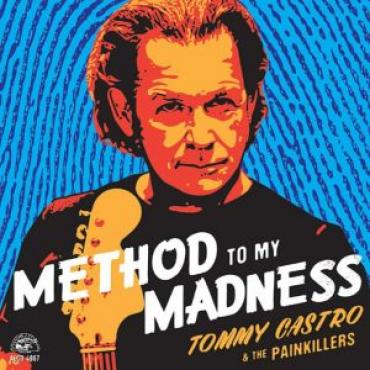 Tommy Castro sounds like Delbert McClinton with Wilson Pickett stuck in his throat. He plays guitar like a rockin' blue demon as well. With his recently formed four piece backing band, the Painkillers, Castro plays gritty, soul-soaked blues that rock your butt off.
For this outing, Castro says he wanted to try something a bit different. His last release, 2014's The Devil You Know, covered a lot of ground, from the hill country flavored title cut to the high octane southern rock of Jimmy Hall's Wet Willie anthem "Keep On Smilin."
He says blues and soul were his main focus for this session, which was missing the guest roster of Devil that included Marcia Ball, The Holmes Brothers, J. Geils Band harpist Magic Dick Salwitz, Tab Benoit and Joe Bonamassa. But the stripped-down unit formed in 2012 with keyboardist Michael Emerson, bassist Randy McDonald, drummer Bowen Brown and Castro on guitar and vocals, provide enough talent to rival any big name drop-in guest roster.
"Common Ground" resembles a Sly and the Family Stone anthem, minus the horns and with a bit more shimmery, blues-flecked soul. "Left, right, black or white, we all dream about the same things at night," Castro sings. "Let's wake up, people- it's time to build a brand new day."
Castro sounds like Jimmy Hall channeling James Brown accompanied by B. B. King's string bendin' soul on "Died and Gone to Heaven," featuring some churchy, Sunday-go-to meetin' chords that'll knock you to your knees and have you testifiyin', no matter what or where you're worshiping.
"Got a Lot" is pure Delbert, buoyed by jangly guitar that must have been strung with back porch screen door wire and run through the tube amps of the AM radio on ZZ Top's Eliminator, a funk bass propelling this thing like a runaway soul train.
From the sound of his voice and guitar on "Two Hearts," it's hard to believe Castro is a California boy. You'd guess either Mississippi or Texas. Delbert might as well be standing at the mic-it sounds like he wrote and sang it, with B. B. King stringing alongside.
"I'm Qualified" is one of the two Castro didn't write or co- write. Its a Jimmy Hall tune, covered by Clarence Carter in '68.
But in Castro's hands, it's more like Wilson Picket with some Jimmy Vaughan Texas style chicken-pickin' going on around a Slim Harpo-inspired bass line.
Castro shuffles along on B.B, King's "Bad Luck," screamin' like Delbert on a four day creep, bending King-sized strings like they were made of spaghetti.
It's a glorious blend of church and sin that rocks the soul and lifts your spirits, potent painkillers from a musical madman whose methods you'll be glad to adopt.