Album Review
Cathy and Marcy's New Album- Reason to Celebrate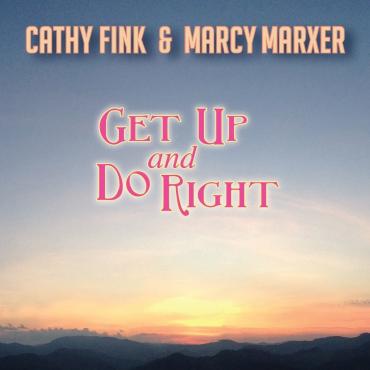 It's not hard to find yourself marveling at the ragtime, folk and bluegrass dynamics that seem to jump out at the listener on the new album, Get Up and Do Right, by the folk-based duo, Cathy & Marcy. If you only know them as makers of children's music (and they are the best at it), this album may cause you to open your eyes and ears and even dance a bit.
The two artists have been collaborating for decades, all too often off the radar. They have recently produced Tom Paxton's new album, Boat in the Water.  Their website reveals a diverse and renaissance- like stream of creative adventures including music lessons, singers, voice over and producers for hire as well as colorful educators. They have a life full of imaginative endeavors that includes but is not at all limited to music for children.
The album,, opens with the modern John Stewart-John Phillips folk standard, " Chilly Winds", which they turn into old timey mountain music. The title song,"Get Up in the Morning and Do Right," may, at first seem like a song for children, but, as it moves along the song offers sage advice for these times when rudeness and racism is a mainstream, political national pastime.
"Well May the World Turn/A Letter from Pete's Banjo," begins with the Pete Seeger classic on banjo then segues into an open letter from the personification of Pete's banjo that tells the story of Seeger's career from the perspective of his legendary instrument.
"You Are Love," is beautifully performed and written homage to the ordinary and divine nature of Love. Bob Dylan's "Man Gave Names To All the Animals," is reinvented complete with banjo, tight harmonies and some fine acoustic guitar picking.
This album is as much a celebration as it is an inventive collection of folk music. It demonstrates how immediate, inspired and relevant folk music can be when it is played with the skill of two gifted artists. Each song engages and brings something new to the interpretations of classic songs. Their Piedmont soaked, "Glory of Love," makes this listener wonder what these two might do with the American Songbook. There's even a dash of country driven blues on the song, "Wings Like an Eagle."  The final song, an infectious percussion and harmony-drive acapella song about universal healing, "Song of Joy," could well become our new national anthem.
Cathy and Marcy may be veterans of folk music, but this album finds them in their creative and inspired prime as they celebrate American music and invite us all along for the ride.