Album Review
Cayla Brooke's "Plush Red Chair" soars with swagger and self-confidence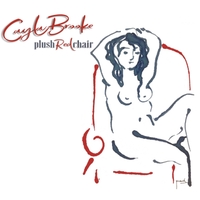 Hearing singer/songwriter Cayla Brooke's voice for the first time is like a cool breeze shooting through an arid summer afternoon. On "Old Fashioned Love," the sweet undertow of Brooke's soulful singing reaches the heavens, parting any dark clouds for gorgeous harmonizing. Sun-kissed and smoothly melodic, "Old Fashioned Love" sounds like the Supremes collaborating with Chicago; it is among the most emotionally soaring tracks on Brooke's sparkling new album, Plush Red Chair. It's pure, absolute bliss with Brooke and her band firing on all cylinders.
Comparisons to Adele are inevitable but Brooke covers her own ground. In fact, Brooke is more versatile in terms of feel as Adele, as brilliant as she is, prefers to drown in sorrow. Even on "Cheating Heart," wherein Brooke laments a partner's infidelity, she isn't soaking in soap suds. Rather, Brooke is downright playful, delivering a kiss off with swagger and self-confidence.
"Some say I'm too old/Too much meat on my bones," Brooke claims on the opening cut, "Divalicious!" (That could've been the title of this whole record, actually.) There's attitude and experience in those lyrics and vocals, and it's so exhilarating to hear such honesty free from irony and pretentious bullshit. Plush Red Chair is the real deal and a must-have.
Website: