Album Review
C'est bon? Mais oui!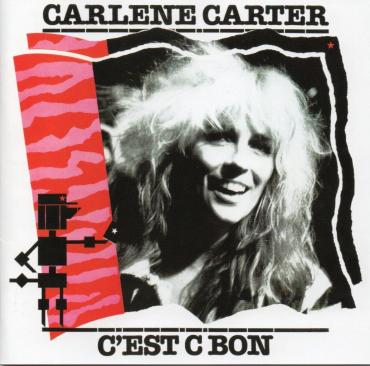 Re-releasing records from long ago is a risky business, doubly so when reviews of the original were lukewarm at best. Specifically I refer to Carlene Carter's C'est C Bon released on Epic in 1983 and due to make a return on May 4 courtesy of UK label Floating World. In her second album, Musical Shapes, Carter had set a course towards what became by the mid/late 1980s, 'new country'. Her fifth release, C'est C Bon, on the other hand, veered completely off that line into somewhere between the commercial end of country and pop. One critic dismissed it as "dance music". So, you may well ask, why bother putting this one out again and more immediately, why should I bother reading this any further?
C'est C Bon has value for three reasons, all united by the perspective time brings; It shows just how far Carter has come to reach her deserved position among country's great artists, it demonstrates her versatility, particularly vocally, and it is a fascinating glimpse into the way she immersed herself in the early 1980's UK music scene. Carter comes from one of music's most revered country lineages, but members of the family haven't been afraid to experiment. Ok, of course it's not stepfather Johnny's collaboration with Rick Rubin, but in C'est C Bon Carter does create perfectly the clever pop that was  such a feature of UK music in the aftermath of punk and new wave. She had been working with some of the top musicians at the time, obviously husband Nick Lowe, but also Graham Parker whose band The Rumour backed her debut album, and Dave Edmunds. Carter was very much part of that set (as I recall quite clearly).
The album itself was a gamble. By the time Carter went into Dave Edmunds' Rockfield studios in Wales her relationship with Lowe had soured and he played no part on the record. However, others stepped into his place; a very solid band that included producer Roger Bechirian, then Peter Marsh, James Eller, Andy Howell, Terry Williams, and Paul Cobbold. As befitting the era there's lots of keys (from all bar two, including Carter). Even Tony Visconti appeared in a horn arrangement. And even if musical history does little for you, suspend the "but is it roots?" briefly, to rediscover some great country pop music.
The first track, 'Meant It for a Minute' is a catchy pop song that you may think has no place here but consider for a minute Carter's voice. It's exactly what became so much part of 'new country'. Her vocal range is given greater scope in 'Heart to Heart', a proper country "cheatin' ballad" written by Simon Climie. That is definitely a song for today's Nashville charts. In 'Third Time Charm' co-written with Bechirian, Marsh and Howell, Carter sings powerfully with a very early 1980s electonic sound to great effect. 
'Heart's in Traction' is pure pop whereas 'Breathless' slows down a rocker for Jerry Lee Lewis. Again, these highlight Carter's versatility as does 'Love Like a Glove', not the most profound lyrically, but an upbeat tune that gives full range to Carter's fabulous voice. 'Cool Reaction' could be speaking to Lowe, and the best on the album is 'One Way Ticket' where Carter and Visconti's horns vie for dominance. Sure it's 1980's pop, but very well done and if your toes don't tap, perhaps it's worth seeing a podiatrist.
Carter's career hasn't been a smooth ascent. C'est C Bon shows how she has been prepared to experiment, and throw herself completely into the project. It is also a fascinating glimpse back to when she was very much part of the music scene over here. Alan Robinson's absorbing liner notes add much to the overall result by putting both the original and re-release into context. Good job all round.