Album Review
Champ de Mars - Rancho Seco Victory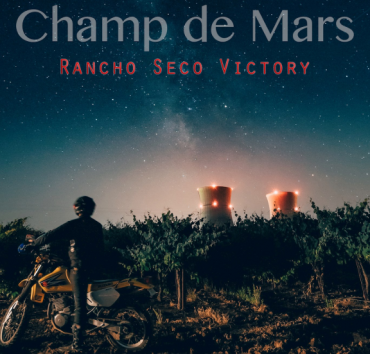 Champ de Mars - Rancho Seco Victory
URL: https://www.champdemars.net/bio
Champ de Mars' Rancho Seco Victory includes twelve songs that cover a lot of stylistic ground, but it's no surprise as many of the musicians involved in the album's creation have an artistic history reaching back two decades. An earlier musical incarnation named Bellstar laid the groundwork for the band's 2016 debut EP and the new full length album and it isn't any stretch to say they've already arrived at a full evolved vision for the band's music. Songwriter David Bruns, a published novelist as well, is a talented writer and the album's vocals contain bracing emotional depths while being able to unleash occasional blasts of jagged singing. Much of the album focuses on a well-spaced indie sound, revolving around the rhythm guitar and percussion, with the vocals finishing each composition off with a great deal of flourish.
"Forlorn Cowboys of Nuclear Winter" is one of the more singular album openers in recent memory. Newcomers to Champ de Mars are introduced to their core sound, a mix of melodic guitars falling over listeners like a rain of notes, punctuated by more involved sequences and rugged flourishes. Bruns and the other musicians alike have a skill for capitalizing on the potential for choruses and Rancho Seco Victory has more than a few, but they also sometimes build climatic moments around bridges and achieve similar effects. Two songs on Rancho Seco Victory, however, stand out for their no holds barred guitar work and how it blends with the aforementioned style while still figuratively drawing blood. "This Machine Kills Fascists" and the later "God's Favorite Redneck Bar" boil over with explosive distorted guitar weaving blood and violence into the band's musical tapestry.
Make no mistake, however, that Champ de Mars aren't candidates to break free of the indie scene and achieve widespread success. The songs "Memoriam for the Wall" and "Brothers" are two leading examples of how the band is equally talented and comfortable with delivering well paced and accessible cuts. The guitar playing definitely has a more melodic touch with these songs. You might miss some of the album's punk spirit, obviously put across in their own voice, if you skip the song "Where Do All the Freaks Hang Out These Days?", but it draws attention too because of the way it locks restrained verses and a fierce chorus seamlessly together.
The final two songs on this album that I loved the most are "Russian River Roulette" and "Ordinary Woman". The first of those two tunes arguably shows off the band's most imaginative arranging job on the release and seems built around a bass line that you can't ignore. The drumming is equally on point. "Ordinary Woman" recalls the earlier commercially minded tunes, but there's more of the band's personalized passion coloring other familiar musical surroundings. Rancho Seco Victory may prove to be the foundational release in the band's currently slim catalog, but there's no reason to believe they won't better its outstanding promise with future releases. Champ de Mars is songwriting for intelligent music fans who still embrace guitar fueled music.
TWITTER: https://twitter.com/champdemarsband
Mindy McCall