Album Review
Chris Murphy - Surface to Air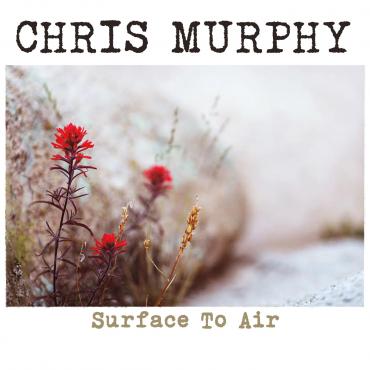 New York City born and now Los Angeles based songwriter and violinist Chris Murphy has released an abundance of solo albums over his twenty plus year career and there's no dip in quality yet. Murphy long ago aligned himself with the country rock school of popular music, but it barely begins to explicate his inclinations. Arch-traditional folk, jazzy strains, and blues find their way into his songs often and to excellent effect. The fourteen songs on his latest release Surface to Air embody that varied style – instrumentals and lyric songs sit comfortably side by side and Murphy can just as easily handle a lightly humorous country jaunt as he can a lyrically involved folk song or a boisterous instrumental. Chris Murphy's talent and his latest work isn't ever just one thing. This is music with many beating hearts and their pulse is loud throughout the work.
Many of the songs feel comfortable, like meeting someone for the first time you establish an immediate rapport with. "Sailing the World Alone", despite its title and subject matter, never drags listeners down with some tale of woe, but instead appeals to listening based on its light notes of resignation and wistfulness. Murphy's voice is ideally suited to the material. It handles the romping sway of songs like "That Might Just Do the Trick" with the same aplomb and never sounds dwarfed by the near raucous sound swirling around him. The album's title song is one of the release's most intriguing cuts – Murphy pulls back on the country music reins here and, instead, delivers a stylish and lean shuffle with beautifully, often poetic, introspective lyrics.
The album's two centerpieces are nestled in the heart of its running order. "Vernon Tool & Die" and "Last of the Twickham Blackbirds" show off Murphy's talents as a storyteller while reinforcing the idea that it's possible for him to balance those concerns with musical considerations without missing a beat. Both songs are seamless experiences. The former is, arguably, stronger than the latter thanks to stronger characterizations and more specific detail. "Elmira Prison Camp" is a similar excursion and derives its lyric from historical fact. Murphy's deadpan vocal regaling listeners with the brutal deaths and dark blues of life in a Civil War prison camp makes the lyrical experience all the more chilling. It sounds like the detached voice of someone who has seen too much and lived to tell the stories.
"Bugulusa Blues" and the finale "The Hunter & the Fox" are the album's best instrumentals for wildly different reasons. The first song may have "blues" in its title, but doesn't strictly confine itself to some 12 bar pastiche. Instead, Murphy's compositional flair leaps to the fore as the song is peppered with numerous subtle variations and unexpected shifts in texture and tempo. The finale is memorable for many reasons but chief among them, however, is how splendidly it reaffirms Murphy's core musical values in a deeply entertaining way. It's a marvelous ending for Surface to Air and shows that this form is still vibrant and relevant in the hands of musicians and songwriters with something to say.
URL: http://chrismurphymusic.com/music/
I-TUNES: https://itunes.apple.com/us/album/surface-to-air/id1078464191
9 out of 10 stars.
Cyrus Rhodes