Album Review
Clara Baker And Temporary Things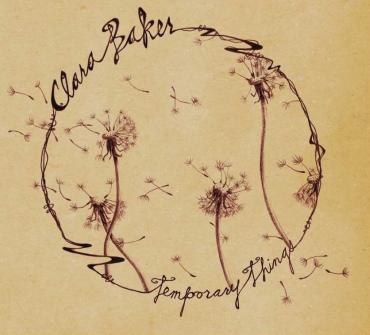 Clara Baker is originally from Portland, Oregon.  She grew up around music, singing with her mum in church, learning fiddle and guitar from her dad, and helping sell his instructional fiddle and flat-pick guitar books, the Fiddle America Workshop Series.  
The books were a family affair, with Clara, her father and her brother involved in all aspects of the enterprise: from hand-binding the books, to appearing in photographs demonstrating how to hold a fiddle, to singing verses on old-time fiddle tunes on the companion CD.
Little surprise that music would be etched into her soul.  
The past six years has seen Clara hone her craft and perform in increasingly far-flung places, namely Oregon, Wisconsin, Illinois, Kansas and beyond.  She now lives and works in Corvallis Oregon.  Temporary Things, her debut album at the tender age of twenty-three, was released in June 2015 as a result of a Kickstarter funding campaign.
Temporary Things contains within twelve original songs that all tell a story.  The usual topics are here – love, loss, self-discovery and reflection.  The songs also relate a young woman's journey, from participating in fiddle competitions, family jams, joining in choirs, the transition to guitar and to this point – a singer-songwriter.
The album was recorded, mixed, and mastered by Dale and Suzanne Adkins at Big Owl Studio in Salem Oregon, Temporary Things has some accomplished bluegrass & Americana singers and players who perfectly augment and embellish the songs – Kelly Bosworth (harmony vocals), Dale Adkins (lead guitar, octave mandolin, banjo), Washington state fiddle champion Martin Stevens (fiddle, mandolin, octave mandolin, harmony vocals) and Josh Adkins (bass, octave mandolin, harmony vocals).
The opener "Big Spoon" is an unabashedly happy and lively bluegrass song.  "January" is more reflective, expressing doubt over a lover's sweet-talking promises.  The Bosworth harmonies are a feature and the support players strut their stuff.  The title track is intimate and highly personal and poses the question as to the difference between permanent connections or just 'temporary things'.  "Quiet Spring" is another slow and gentle tale about yearning for love, while there's more confidence on display in the next song about leaving a love behind, the foot-tapping fiddle driven "Don't Wait For Goodbye".  "Here We Are" is a highlight, a delightful floating ballad.
You can listen to the whole album here
This debut release is full of brave and heartfelt observations of her experiences so far and, as her life and artistic career develop, Clara Baker's journey will be one worth watching.
For more information, go here