Album Review
Classic Work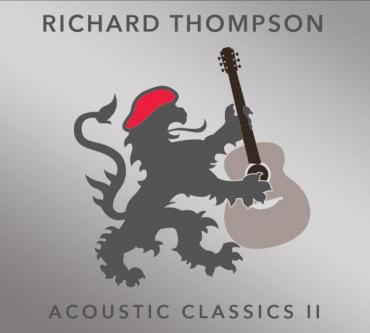 Hot on the heels of Fairport Convention's recent seven disc set, Acoustic Classics II release date August 11, is another dip into the rich recording history of one of the band's most distinguished alumni, Richard Thompson. Both are worthy additions to anyone interested in the founders of a folk-rock tradition and one of the UK's finest songwriters and guitarists. There the similarity ends because unlike the Fairport magnum opus, the clue to this new record lies in the title. It is a collection of Thompson's songs from a very broad timespan, all performed acoustically. There has been a trend towards artists recording "unplugged" versions of what brought them fame and not all can be described a success. Following on from the original release of the same name three years ago, Acoustic Classics II continues a highly worthwhile project that presents some great songs in a completely new light.
More recently Richard Thompson's live performances have tended towards a bigger sound. I distinctly recall him describing his band as a "power trio" on the tour following the release of Electric. No surprises there but he is a compelling acoustic performer too and this album, while not a recording of a show, has a distinct live feel. Thompson is a magical guitarist and his writing is a mix of pure poetry, that can be cryptic then literal. He writes vivid tales involving a range of colourful characters, some verging on the grotesque. Stripped down musically all this gains greater prominence.
By far the greatest challenge must have been what to include. 'She Twists The Knife Again', from Thompson's 1985 release, Across a Crowded Room, gets the record off to a slightly edgy start. It's a dark song about his split from wife Linda that from the way Thompson performs it here, sounds like it happened more recently. Interestingly the record includes a song from Richard and Linda Thompson's second album, Hokey Pokey, 'A Heart Needs A Home'.'The Ghost of You Walks' comes from You? Me? Us? an album noted for the intricacy of the guitar work, something Thompson reproduces here with some almost classical picking in the opening bars. 
'Genesis Hall' is one of three Fairport Convention recordings on this album. The original was sung by Sandy Denny so it is unusual to hear Thompson tackle these vocals which he does with the sensitivity of the original. Obviously different, but this song in particular makes very clear this record is not a a casual re-release of a lot of old stuff but a completely new take that feels like a brand new album. The other two Fairport classics are the closing anthem to their shows, 'Meet on The Ledge' and my favourite of this record. Sitting there in the middle of the record it rather takes you by surprise but Thompson sings with the passion of the original. The third is 'Crazy Man Michael' from Liege & Lief, again vocals more typically associated with Denny and again perfectly recreated here.
Jumping around a bit but I'd say that the album's greatest strength comes in the middle; 'Pharoah' may be about building pyramids but it applies equally to worker exploitation from any era, "far beneath we shoulder the wheel, we're all working for the Pharaoh" rasps RT. 'Keep Your Distance' is a defiant title to a song of regret telling of "wounds that can't be mended, and debts that can't be paid". 'Gethsemane' has a tension and fury of a military life that's anything but glorious. I challenge anyone to listen to 'Devonshire' without stifling a tear.
He also does malevolence well as exemplified in 'Guns Are The Tongue', a tale of vengeance, violence and death grippingly told with a bit of help on the vocals but otherwise he flips from the two main characters with such bitter feeling. The record closes with another favourite of mine, 'Why Must I Plead' from Rumor and Sigh, just because Thompson does the anguish of love so well.
The rest of the album is pretty good too. Whether a fan of Richard Thompson for decades or a newcomer, if you like songwriting that goes to the roots of emotions and the finest guitar playing, Acoustic Classics II is for you. I look forward to the next tour in October.