Album Review
The Claudettes Enter a New Era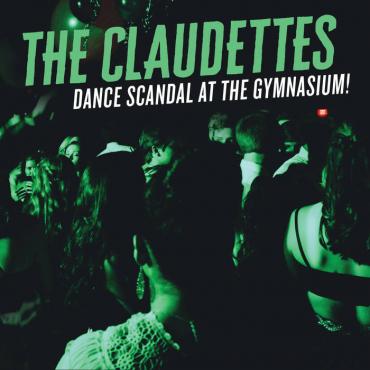 Firing up a new Claudettes record is like crashing a stranger's wake. You want to be in on the celebration swirling around you, so you're desperately trying to keep from being thrown out but having trouble finding anything familiar to latch onto. Every time you think you've found common ground to relate to and blend in, the vibe changes once again and you're flailing about as untethered as the deceased host.
But that's not necessarily a bad thing if you're of the adventurous persuasion and don't mind a little temporary sensory confusement. The original Claudettes concept was a mix of thinking-waaay-outside-the-box business savvy and sheer lunacy. A Korean bar owner in Illinois (Claudette) hired blues pianist Johnny Iguana (Junior Wells, Otis Rush), linked him up with avant-garde percussionist Michael Caskey (John Sinclair, Chuck Mangione), then leased them out to other bars with the stipulation she comes along too, with her own portable bar for the show. Claudette was the band's first alleged vocalist, shouting out drink specials during the duo's instrumental set. Their debut, Infernal Piano Plot ... Hatched was a mad mix of tripped-out blues and nasty juke-joint boogie woogie accompanied by Caskey's falling-down-the-stairs percussive attack. Their second effort, No Hotel, was even more avant-garde,with the duo taking on Irving Berlin's "There's No Business Like Show Business" and "California Here I Come," turning them inside out and shaking them till they fell apart in great clanking chunks. The duo made things even more otherworldly with the insertion of Yana, one of Claudette's tenants initially drafted to pose silent and sultry onstage. Turns out Yana could warble as good as she looked, so the duo enlisted the Nigerian-American to render a brain-melting blend of '60's era French bubblegum Ye Ye along with bigfoot moans reeking of Edith Piaf's sepulchral vocal perfumery.
But for their latest, Iguana is the only remaining member, and the band is now a quartet with Berit Ulseth on vocals, Zach Verdoorn on bass and guitars, and Matthew Torre on drums and percussion.
It's still clanky and complicated and weird, just more filled out. "Taco Night Material" is more like the old Claudettes sound, a spacey mix of themes, styles, and genres. Propped by a stiff backbeat, pianist Iguana mixes styles and changes tempos at odd intervals, offering a mash-up of Fess and Tuts Washington carnival barrelhouse boogie. But The Claudetttes never do anything straight up, so Iguana and his cohorts stir in a Middle Eastern vibe as well courtesy of the ghostly ululations of vocalist Ulseth. Iguana categorizes her sound as somewhere between Carole King and Patsy Cline, leaving Ulseth a lot of wiggle room she takes advantage of at every opportunity.
But whatever else he brings into the equation, Iguana can't stay away from Fess too long, paying him instrumental homage on the title cut. But Ulseth takes this one out of the New Orleans streets and into a Middle Eastern casbah with her haunting moans.
The Bill in " Bill Played Saxophone" was our 42nd president, and our 43rd, George W., gets a shout-out as well in this clanky protest song sounding like the Mamas and the Papas on acid bitching about current affairs.
"Utterly Absurd" rattles along like the B- 52s trying to be serious.
It's a hard sell, a whole album of social commentary from a band formerly dedicated to good-time, window-rattling, floor shaking activity. You can still dance to it, but it ain't as much fun as it used to be.