Album Review
Cold and Bitter Tears: The Songs of Ted Hawkins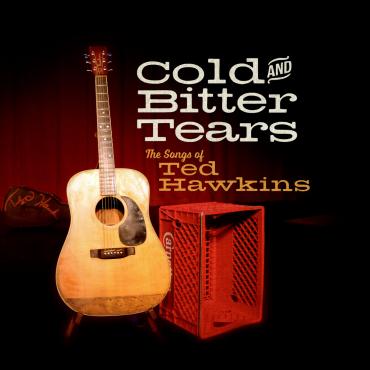 Not many know of Ted Hawkins, the Venice Beach street performer who, throughout his life, would sit on an overturned milk crate playing blues and folk standards as well as originals. For the most part, Hawkins, who was born in Mississippi, lived in his adopted hometown of Venice Beach. He did however, live in Europe for a short period, where late in his life both he and his songs were well received in clubs and concert halls. His first record, 1982's Watch You Step, failed commercially; yet over the years, many encouraged the raspy voiced singer-songwriter to perform and record, which he did again in 1994 with The Next Hundred Years. With this record, Hawkins began to enjoy a newfound success, but sadly passed away of a stroke at age 58 on New Year's Day 1995, shortly after the record's release.

Now, two decades later, on October 23, 2015 the Austin-based Eight 30 Records, will release Cold and Bitter Tears: The Songs of Ted Hawkins marking the first tribute album to the largely unknown, but critically lauded artist.

Kevin Russell (Shinyribs, The Gourds), artist manager Jenni Finlay (James McMurtry) and writer Brian T. Atkinson (author of I'll Be Here in the Morning: The Songwriting Legacy of Townes Van Zandt) co-produced Cold and Bitter Tears over the past year. Russell has been particularly enthusiastic about the project saying, "Ted Hawkins' songs and his voice were infectiously uplifting to me upon first listen twenty years ago. His unique style, both soulful and folkie, has haunted me and taught me — so much that I have been on a personal mission to tell the world about this national musical treasure. The opportunity to steward this tribute record is a 'go tell it on the mountain' moment for me that I hope can bring greater attention to the songs and recordings of Mr. Hawkins himself."

Lovingly cared for, the entire collection brings a joy to the ears and a happiness to the heart, even when it makes you emotional. James McMurty opens the project with the "Big Things" in life that one wants to accomplish, "searching for time that I've lost," before time runs out. That leads into Kasey Chambers and Bill Chambers putting a heaviness in your chest with "Cold and Bitter Tears" a tale of life post-relationship that just resonates. Tim Easton sings on the up-tempo rootsy, happy harmonica tune "One Hundred Miles" whose melody contrasts the loneliness and longing in the lyrics. Mary Gauthier lends an authenticity to "Sorry You're Sick" on which one addict comforts another the only way he knows how (Hawkins himself battled heroin addiction). 

Joining the aforementioned artists are Jon Dee Graham (on the bluesy "Strange Conversation"), Randy Weeks ("I Got What I Wanted") and Gurf Morlix ("I Gave Up All I Had") as well as Hawkins daughter (Tina-Marie Hawkins Fowler) and wife (Elizabeth) who notably perform "Baby." Additionally, Danny Barnes imparts his vocals on "Bad Dog," questioning a pooch who barks at everyone except "one special man," The Damnations give "Bring It On Home Daddy" a du wop feel, Sunny Sweeney brings her distinctive twang to deliver the sadness in "Happy Hour" and Shinyribs sing "Who Got My Natural Comb" as only Shinyribs can.

Ramsay Midwood's earthy soul can be heard on "My Last Goodbye" while Steve James laments that while there are a "Whole Lotta Women" he's "waiting for one to answer my call." Turnpike Troubadours' Evan Felker closes out the collection with "Peace and Happiness" singing the simple truth we all seek. "Gotta find peace and happiness before I die/Gotta find me somebody before I get old."

Keep listening and you will hear the tremendously stirring, "Great New Year" (an unreleased demo and hidden track) which Hawkins himself sings a capella.  

Hawkins songs, whether about disappointment, loss, longing and love, addiction, hardship, or personal reflection, come from the most important place…the soul. Each successive listen reveals something simple, yet deep and affecting. Something heartfelt, yet sad. Something so personal, yet immensely relatable and effective due to the realism that exists in each word. The artists assembled on Cold and Bitter Tears have brought Hawkins' songs to life in a wonderful collection that honors the man, does the songs justice and would certainly make him proud.