Album Review
A Command Performance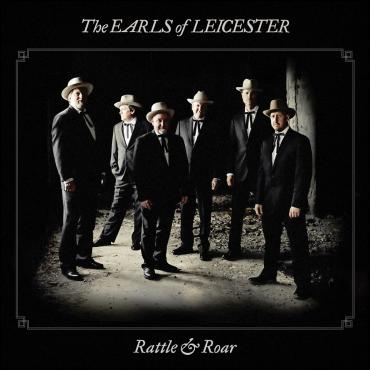 It takes a certain amount of credibility -- not to mention just pure chutzpah -- to assemble a band with the sole intent to emulate one of the greatest bluegrass groups of all times, specifically, the archetypical ensemble helmed by Lester Flatt and Earl Scruggs that was known as the Foggy Mountain Boys. If anyone was up to that challenge, it had to be Jerry Douglas, whose skill on resonator and lap steel guitar has made him the go-to guy in today's music circles. With the added talents of Shawn Camp (vocals, guitar), Charlie Cushman (banjo, guitars), Jeff White (banjo, mandolin), Johnny Warren (fiddle) and Barry Bales (vocals, bass), the self-proclaimed Earls of Leicester  -- a clever play on Earl and Lester's combined monikers -- needed only a single, self-titled Grammy-garnering album to establish themselves as heirs to the Foggy Mountain Boys' legacy.
Consequently, it's little surprise that their sophomore set Rattle & Roar follows suit, a wholly unassuming blend of authentic down home mountain music, traditional bluegrass and the solemn sounds of gospel stirred with reverence and authenticity. In the hands of those who might lean more towards mirth and mockery, it might have taken the form of some sort of parody designed to garner snickers from those lacking the reverence for true and authentic Americana. Happily then, there's no hint of satire parlayed through these offerings, even when they lean head first into the more sacred realms extolled in songs such as "You Can Feel It In Your Soul," "Mother Prays Loud in Her Sleep" and "I'm Working on a Road (To Glory Land)." And while high harmonies bring back the era of string bands and back porch picking, it also takes little more than the album's instrumental excursions to affirm their authenticity. 
Those less appreciative or simply skeptical might claim that this music is simply old fashioned and well out of touch with today's hipper-than-thou mindset. If that's the case, then credit Douglas and company for revering their roots, and daring to replenish a much needed wellspring of charm and civility... two things this world seems forever lacking. Consequently, all praise is due these Earls. Long may they rule.