Album Review
Compilation of New Music From Four Accomplished Troubadours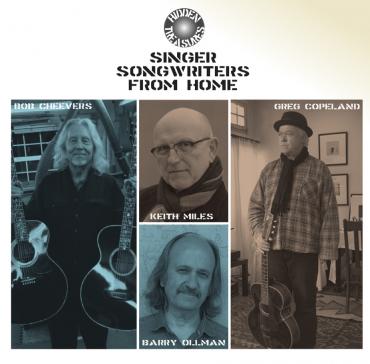 Years ago, Warner Brothers issued what was titled Loss Leaders compilations (1969-1980) from their scheduled album releases. Some were: "Record Show," "The Big Ball," "1969 Warner/Reprise Songbook," "October 10th 1969," "Loony Tunes and Merrie Melodies," "Hot Platters," -- you get the idea. Remarkably, 19 in all and it was where I discovered many brilliant artists and fabulous songs. Even the liner notes on each artist and album was done very well. The often two-record sets ($2.00) were by mail-order only and a single LP was a buck. A bargain.
Elektra decided they would jump on board and issued a three record set called Garden of Delights. Again, I discovered many artists I would not have otherwise heard. Epic Records, A&M and Columbia all followed. The Columbia three-record collection even included a live Miles Davis track and a rare live Bob Dylan performing "Grand Coulee Dam." I always looked for these deals and was never, ever disappointed.
So, I was delighted when I received a CD called "Hidden Treasures - Singer Songwriters From Home – Compilation" and saw that it included Greg Copeland who, in 1982 Greg issued a great album "Revenge Will Come" on the Geffen label. It included a song Joan Baez later covered – "El Salvador."  But, there were several other excellent songs on this collection including the title track that was compelling. The drummer was the late Ian Wallace – who played for King Crimson and later Bob Dylan. Jackson Browne played guitar and was the album's producer. It's probably the reason I believed at the time -- this album has to be good. It was.
The Copeland album had several other notable musicians on it yet, it sunk like a stone. Maybe a lack of advertising, marketing. Who knows? Same fate befell a Fantasy Records artist named Michael Dinner who's "Tom Thumb The Dreamer" and "The Great Pretender" -- included many famous names such as Linda Ronstadt and those albums were marvelous. 
In 2008 – Copeland returned on an independent label with an equally fine album "Diana and James."  But, except for his songs scoring covers by other artists Copeland remains obscure. As some of his label mates on this 18-song compilation are. This album features five new Greg Copeland songs and appearances by Patrick Sky and Jackson Browne -- artists firmly in Greg's corner. Along with LA's Greg Copeland and his five song samples -- there are five from Nashville's Keith Miles, four from Denver's Barry Ollman and four from Austin's Bob Cheevers. All credible singer-songwriters who have respectful track records and should not be....obscure.
This compilation is the brain child of Swedish music industry vet Peter Holmstedt whose independent A&R promotion and marketing firm Hemifran compiled the project. Peter has worked in the past with artists as diverse as Jack Bruce, Jackson Browne, Judy Collins, Elliott Murphy and Gary Wright. A loaded resume. 
The tracks by these four artists are not sequential. Greg Copeland's songs are tracks: 1,5,9,13 and 18 and it was done this way on purpose to spread out the styles and voices. The LP opens with Greg's solo ballad "Wait For Me," and features uilleann pipes by folk architect Patrick Sky. As spare as it is, its tension is in its slow sincere and intense beauty. A man alone or a man who is trapped in loneliness? Except for people who sing by themselves or with a small circle of friends this kind of recording has all but disappeared – succumbing to the special effects, machines, autotune and the incessant pop and drivel drive. Yet, this is where poignant songs are born with people like Copeland, Miles, Cheevers and Ollman. This particular song reminds me of the solo songs of Dave Cousins – lead vocalist with the English-folk band Strawbs. Listening to Copeland this way, I am convinced he is the heir of such music not only in songwriting, but in voice.
On track five – "Roughhouse Boys," Greg sings more like he did on his two solo albums. A gruff voice, half way between John Prine and early Tom Waits. But, Greg has a special folk talent in how he writes his words, composes his music and pieces it together for the musicians. Quite a unique style. Even his subject matter is approached with a sting in its sincerity. There is some subtle fiddle work and concertina evident and those instruments along with acoustic guitar elevate the song's drama – not melodrama – drama. As Greg usually does, his music is balanced between the subject he is singing about and the smooth instrumental interaction. This song could be sung far rougher – but, Greg sings it reflectively and that in itself lends an air of sophistication. "Mistaken For Dancing," -- track nine – Greg sings once again with his raspy well defined character of a voice reminiscent here of Buddy Miller, Guy Clark and J.J. Cale. This is the voice and style that made my ears perk up the first time I heard Greg Copeland. Toy piano was a nice touch – followed by a melodic guitar. Copeland's voice is also out in the badlands where voices like John Mellancamp haunt long stretches of mid-western highways. He may be from LA but this voice is not The Eagles. This is a voice of experience, hard work, cracked leather and whiskey fueled -- containing so much believability in the lines. I often ask myself whether a singer lived what they wrote or did they just make it all up? I have to assume Copeland lived some of these.
With track thirteen, "Are You Here," the haunting David Lindley's bouzouki guitar notes interspersed with slide guitar introduces a glimmer of sadness in an otherwise intense vocal. Though the instrumentation is spare – it has a full sound, as if many musicians were playing. Yet, it's just a few with the stringed instruments virtually talking to each other in a beautiful, musical way. Greg's voice floats through these instruments disembodied and powerful. Who is he talking to? Who could it be? Where is he that he must even ask "are you here?" Does it matter? Well, it's what makes music like this a thinking person's song. I wondered, for a few moments and that's all Greg Copeland probably wanted from the listener. To listen and wonder. The final Greg Copeland track is #18 – recorded live with Jackson Browne on acoustic guitar and harmony vocal and he is clearly evident. "Pretty Girl Rules The World," sounds a little like the type of song Peter Himmelman (a singer-songwriter who is also Bob Dylan's son-in-law and has already released countless excellent albums) would write and has. This is a driving tune, fine guitar work throughout and this song is full band fueled. As for a live recording, it has studio quality sound. There's no reason Greg Copeland shouldn't be a major player – Jackson Browne knows this -- so should you. 
The second singer-songwriter in the compilation is Keith Miles and he has track two -- "Playing Your Guitar."  Keith has a full deep Fred Neil-Gary Shearston type vocal. Smooth, sophisticated, warm and with underlining power. This has some excellent acoustic picking, violin and thought-provoking lyrics with a melody infectious and poignant. Quite a little work of art. In another era – this could have been a hit song. Track 7 is "Homeland," and Keith continues with a good melody attached to some creative lyrics. Poetic lyrics. Full band treatment, recorded excellently. The sharp snare, pedal steel and entire arrangement is top notch. While the tune is basically a folk song the musicians play with energy that is reminiscent of Strawbs, Fairport Convention, Oysterband, and Spirit of the West -- with their contrasting tightly accentuated performance. 
"Kerouac Days," is track ten – and it maintains the quality of Keith Miles' performance. Drums sting as they pound, the guitar winds around like a belly dancer, and it's like a tapestry of notes threaded brilliantly. Keith's vocal is again similar to Australia's late Gary Shearston (who had one of his songs covered by Peter, Paul & Mary) and who sang "Dingo," and had a classic UK folk hit "I Get a Kick Out of You," brilliantly decades ago. Of course, Kerouac is the Beat writer Jack Kerouac -- the famous author of several 1950's / 1960's books – especially the legendary "On the Road."  With the opening acoustic guitar "Just That Kind of Girl,"  track 14 includes some melodic banjo, clear violin bowing and the music builds and builds wonderfully. Just about every Keith Miles song is a stand alone classic. The final Miles' song is track 17 – "Ask Me Tomorrow" – an upbeat old-fashioned stroll. The type of music that was borderline 40's (Cab Calloway) and 50's MOR singer. The tune is actually quite humorous but it's no joke. It's written with some very clever passages – the way many 40's and 50's songs were by superior writers who were clever tunesmiths and never sang a note on record. Guitar is Les Paul influenced – playing in one channel and answering in another. My CD had the stereo separation on target and the effect was a fun listen. Keith Miles below:
Barry Ollman is the third singer-songwriter – and track four is his "Longtime Friend."  This is songwriting far superior to much of what passed for singer-songwriter back in the 70's. Even when playful lyrically the songs are not lame – the musicianship is not contrived. This tune includes some captivating flute – not the Jethro Tull style but in a warm folk oriented style. Barry is more Jackson Browne than Ian Anderson – his vocals are not over reaching, not commanding in a Tom Jones style. It's a bit more cutting edge than say a James Taylor. Track 8 opens with acoustic guitars and Barry drives faster. "Murmuration,"  is a flock of starlings – the act of murmuring – a voice quality, a sound. Though many may not know what the title means once you look it up – it's quite an inventive song title and idea. This song has excellent guitar flow throughout. Barry has also sung with Graham Nash. With track 11 – "Rare Gift," is melodic with varied instrumentation arranged cleverly. Track 15 "The World Is Your Apple," continues in the same vein – old time piano flourishes, humorous light lyrics. Ollman's voice is perfectly suited in these rollicking, satisfying songs. 
Bob Cheevers is the last of the four singer-songwriters featured on this collection and his first entry is track three – "Those Are My Words," – a pensive ballad with a deep rooted Willie Nelson style – not copying or emulating – but singing sincerely from a well of inspiration that is Nelson's classic country genre. This is an inspirational tune, not spiritual, but it is reflective and poignant.
The very best country songs tell stories and this is one of those. Track six: "The Legend of Sleepy Hollow," offers a distinctive drum beat and Cheevers still using his Willie Nelson approach filters his timbre through Leon Russell. It works, it's an interesting mix of voices with tight musicianship. Some songs can be described as silky, satiny, and edgy, grungy, or hard-edged. This particular song is worn cracked leather...saddle hard...denim bleached...boot scuffed. I like it. This is an ideal vocal for Bob Cheevers. Powerful with an air of authority country seldom has. It's not in your face but it does have an edgy rock feel without being rock. The guitar snakes through the melody cane field, stinging like a whip, with vocals dipped in Dill pickle vinegar. Quite impressive. 
"Progress," is track 12 and world's away from "The Legend of Sleepy Hollow." This is definitive Willie Nelson-oriented but so good – so good. Sometimes imitation puts listeners off but Cheevers is a master of creating from an existing voice a whole new entity and style for that voice. While many singers imitated Elvis Presley, a 50's singer like Johnny Burnette or Ral Donner sounded like Elvis -- but, they didn't imitate. They were too good, they knew the inflection, the timbre and did not dress the vocal up exclusive to Elvis. Their own personalities came through. This is an excellent tune – and its when Cheevers falls out of the Nelson comparisons that you hear the artistry form. Could Willie sing this? Absolutely. If Bob doesn't make it mainstream as a singer he could be a valuable demo singer for all things Willie Nelson. I like Willie, but hearing this doesn't put me off  because Cheevers has such respectable expertise with the familiar tone. Again, he's not trying to imitate Willie or he would sing typical Nelson type songs. It's almost....Willie Nelson with singing lessons. There's a smoother edge to Cheevers – a delicate approach that Willie's vibrato does not achieve. Photo at right: Barry Ollman with the legendary Ramblin' Jack Elliott. 
The final Bob Cheevers entry is track 16 – "Test of Fire," – and he pronounces the three words in a manner that he could be saying "testifier...."  as in a witness account in court. The female vocal is strong and antsy. Good mix of guitars, drums and harmonica makes this song burn like a fire somewhere in the walls and going undetected. It smolders. Cheevers uses his vocal at full throttle and this is what he is especially good at. His narration is creepy good and the female vocal is diabolical good. Punkish. Very strong entry.
Overall, many excellent songs that an established singer will have a field day with and could try their own versions. All four of these vocalists deserve more attention. I wish I could sing like any one of them. They each have a unique style and their songwriting is exemplifying. Now, when does the female singer-songwriter version project come out? 
This collection recommended because it will give listeners an opportunity to discover some fine songwriters who sing wonderfully but seem to be in the shadows. These are the people famous singers listen to in an effort to find material. After all, not everyone can write a great song. Not even famous singers: Elvis didn't, Michael Jackson, Frank Sinatra and Tom Jones didn't. Many others didn't. This is where they come. To talented people like this. Singer-songwriter Elliot Murphy also wrote a detailed account as to why these singer-songwriters are important. Murphy is eloquent in his essay. It's worth seeking. He says it even better than I ever could and his endorsement is a testament to their talent.
Website:    http://www.hemifran.com/
Greg Copeland:  http://mysongwriters.com/GregCopeland/bio.htm
FaceBook:   https://www.facebook.com/Greg-Copeland-355681020598/
Bob Cheevers:  http://www.bobcheevers.com/
FaceBook:  https://www.facebook.com/bobcheeversmusic
ReverbNation:  https://www.reverbnation.com/bobcheevers
Keith Miles:  http://www.keithmiles.com/
Twitter:  https://twitter.com/keithmilestn
ReverbNation:  https://www.reverbnation.com/keithmiles
Barry Ollman:  http://www.barryollman.com/
Disclaimer: The opinions expressed in this review / commentary are those of the author and do not necessarily reflect the official position of No Depression. All photography is owned by the respective photographers and is their copyrighted image; credited where photographer's name was known & being used here solely as reference and will be removed on request.
John Apice / No Depression / December 2015