Album Review
A Contemplative Jeffrey Foucault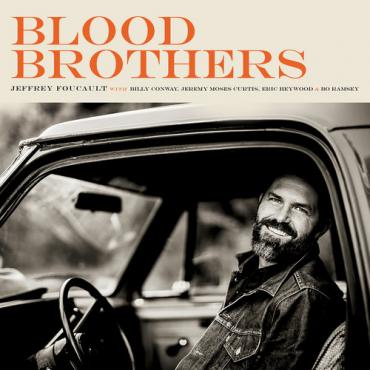 On his eleventh release, Blood Brothers, Jeffrey Foucault offers folkish soundscapes and accessible narratives, exploring such perennial themes as loneliness and the randomness of life. The album opens with "Dishes," setting the introspective tone of the project. Foucault's harmonies with wife Kris Delmhorst add compelling textures to the track, Eric Heywood's steel guitar furthering the pensive mood. "War on the Radio" is a tongue-in-cheek or outrightly sarcastic romp a la Chris Whitley and/or Todd Snider, and the track on the album most reminiscent of Foucault's last two releases, the rock-and-blues-infused Horse Latitudes (2011) and Salt as Wolves (2015): "Go ahead and take a look around/see the world before it's gone/you know the sun is going down/on everything you've ever known."
Foucault's and Tift Meritt's vocals on "Blown," naturally complementary, reminded me of Ryan Adams and Emmylou Harris' coolly off-the-cuff harmonies on "Oh My Sweet Carolina" from Adams' 2000 debut. I reflexively associated the opening lyrics of the title song – "If I saw you/would you know my name?" – with Eric Clapton's "Tears in Heaven," though Foucault's melody and lyrics quickly distance him from the British icon, his harmony with Pieta Brown one of the more striking musical elements on the album.
"Little Warble" features a quintessential country-music intro: "Driving down a county road/so in love with you/"Landslide" on the tape deck/a little warble coming through." The acoustic ambience and instrumental movements (guitars and pedal steel) may remind some listeners of Neil Young's "Unknown Legend" from 1992's Harvest Moon. The song affirms Foucault's knack for crafting elegantly austere songs that invoke universal emotions, inviting the listener to consider the illusory nature of control. "Cheap Suit" and "I Know You" affirm the influence of John Prine, reminding me of Foucault's worthy tribute to the legend, 2009's Shoot the Moon Right Between the Eyes: Jeffrey Foucault Sings the Songs of John Prine.
"Dying Just a Little" addresses the relentless passage of time and the ineluctability of aging and death. The song avoids sentimentality or grimness — occurring as paradoxically buoyant — Foucault making use of oblique but image-driven lyrics, humble but precise instrumentation, and a world-weary vocal. "Who takes care of you?" Foucault asks, his tribute to the innumerable women who serve and have served as long-suffering, self-effacing, and frequently unheralded caregivers. The album closes with "Pretty Hands," featuring Kenneth Pattengale's deft performance on acoustic guitar. The song includes one of Foucault's more memorable metaphors: "My heart is like a small town/you know most of the best parts are hard to find."
Foucault's latest may not be as hook-driven or sonically dynamic as the abovementioned Horse Latitudes and Salt as Wolves; however, the album is a significant milestone for the singer-songwriter, a more starkly and soberly contemplative approach than embraced on previous ventures. Blood Brothers illustrates that whatever genres and subgenres he embraces and/or straddles, Jeffrey Foucault continues to prove himself one of contemporary Americana's more eloquent and versatile artists.