Album Review
Conversations with the Grim Reaper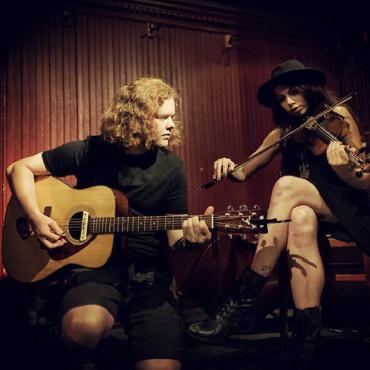 A new album from Vudu Sister, the Providence, RI band led by Keith McCurdy, is certainly a welcome diversion from the mundane. On the delightfully disturbing new release Mortis Nervosa, it seems that Vudu Sister is having a conversation with the Grim Reaper. It's actually more an ongoing dialogue for singer-songwriter McCurdy, one that continues in fits and spurts on the new album.
Nervosa is the third release for the band, the core of which also includes Diane O'Connor on violin and Amato Zinno on bass. The stripped down gypsy folk sound on the album contrasts nicely with the intense, shadowy lyrics. According to singer-songwriter McCurdy, the album was mainly influenced by the teen literature series Scary Stories to Tell in the Dark, a series of children's books written by Alvin Schwartz and illustrated by Stephen Gammell.
The album is a major step forward for the band, who first released the goth-folk Bastard Children in 2012. Their follow up, the grungy Household Items got them invited to the Newport Folk Festival in 2013 and this album has what it takes to propel them even further into the national Folk/Americana consciousness.
Themes of Death and Dying
Musicians have sung about death for a long time, the topic a prominent theme in blues music ("Death Don't Have No Mercy," "See That My Grave is Kept Clean"). But the narrator of these songs doesn't so much fear death, he embraces it, sometimes literally, with accompanying themes of necrophilia in at least one song "Rings on her Finger." The album opens with the brooding narrator visiting "The Haunted House."
"The daughter's underfed
Her mother's sick in bed
I know she's sick and tired of all the ghosts that are in her head"
It's a pretty dark image, a preview of what is to come – these songs are not necessarily meant to make you feel good inside. There's a bare bones roots sound (all acoustic instruments on this album) and it sometimes feels like a hand is about to rise up out of the ground and grab you. Sounding a lot like Kurt Cobain, McCurdy's raspy vocals drive the narrative throughout. The songwriting feels personal, and at times, tortuous.
Maladaptive
Disease, doubt, and a dangerous woman are at the center of "Maladaptive," a waltz sung with harrowing intensity. The lyrics at its center define Vudu Sister's message:
"There's a perfect lie that you know that you can be
Taught at school to learn to be quick without conscience
On the contrary, I won't subscribe to your fiction
And I won't follow the rules"
I spoke to Vudu Sister's leader Keith McCurdy who shed some light on the album, a release that furthers his development as a songwriter and artist. The "Wendigo" explained McCurdy "is based on a story written by Algernon Blackwood, an Englishmen who was a big influence on the writings of Lovecraft." The title is based on a mythological creature of the Algonquin people, half man, half beast, that practices cannibalism.  Could there be a better way to write a love song?
"The only warmth that I feel outside is when I open up your wounds to see
Inside; to dine
Eat the part that feeds the mind
Eat it all a second time"
As previously noted, "Rings on her Fingers" addresses falling in love with the deceased corpse. McCurdy explains "he falls in love with her … and makes love to her, then he's poisoned by her skin and dies."
"I've had the taste of unloving love
I've been inside the warmth of cold skin
I've had the pleasure; the bed was her grave
I found she's pretty with poisoned, pale cheeks
But her poison embrace has taken my breath
Now we're together in death forever"
The song is so good, you get two takes on the album – one of which is a ukulele version featuring Michael Samos.
"The record, to me, utilizes a gothic-Victorian aesthetic; British and New England steeped I like to believe," notes McCurdy.  In addition to Samos, additional guests include John Marlow on banjo, Kate Jones on vocals and MorganEve Swain of Brown Bird on viola and vocals.
And then there's the spirited dark humor. The narrator is kidding around, right? He might be out of his mind, but he's certainly not crazy. All these thoughts of loving the dead can't be real … or can they?
Find out for yourself at Vudu Sister's bandcamp site and support this well produced DIY effort from the band here.
Ken Abrams reviews roots, rock and more at GoLocalProv. E-mail him here.