Album Review
Cooders Release Projects with a Father-Son Feel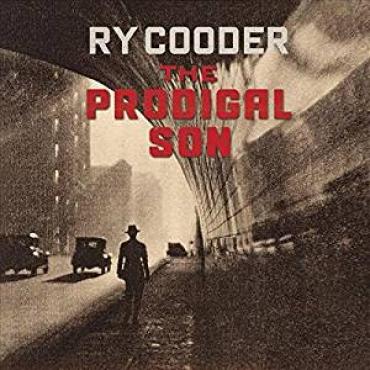 Ry Cooder is back, and he sounds better than ever. Cooder hadn't been seen out in public for awhile until his 2015 tour with son Joachim and the Whites with Ricky Skaggs. Cooder and Skaggs, with heavy input from Cooder, spent the better part of a year picking the set list. With Cooder on an arsenal of strings; Joachim on drums; Mark Fain on bass; Ricky Skaggs on mandolin, fiddle, and guitar; Skaggs' wife, Sharon White, on vocals and guitar; Sharon's daddy Buck on piano; and her sister Cheryl on harmony vocals, the group roared through a setlist honoring the Delmore Brothers, Flatt and Scruggs, the Louvin Brothers, Kitty Wells, Bill Monroe, Hank Williams, Merle Travis, and Hank Snow.
After that nearly year-long tour, Joachim told his dad it was time to make a new record. But this time, he told him, no politics — alluding to Cooder's last album, 2012's Election Special. Just play guitar; that's what people want to hear.
Cooder admits he had no idea what to do till he happened by Joachim playing his Array nail organ, a formidable looking device of tuned nails mounted on a board and played like a kalima, but more carefully to avoid puncture wounds. Cooder said the melody his son was tinkering with sounded like water flowing and he immediately thought it would fit an old Pilgrim Travelers tune from the '50s, "Straight Street," that father and son were familiar with. Cooder asked if he could borrow what he called that " tone center" and sing the song in a more syncopated way to make it fit. The Travelers' version is mix of gospel and doo-wop, like the Mills Brothers blended with Sam Cooke. Cooder's is mellow, but rocks, gently propelled by Cooder's tinkly mandocello and guitar, smoothed out by the gospel trio the Hamiltones, whose gospel harmonies are reminiscent of Cooder's former backup singers Bobby King and Terry Evans. Cooder was also taken by the lyrics, which have the former sinner moving from a place on Broadway "Right next to a liars house/so I moved/I had to move/And I'm living on straight street now."
Developing that tune led Cooder to consider an all-gospel album, a task he first found daunting, but worked through by picking gospel songs that weren't what he considered too preachy. Blind Willie Johnson's "Everybody Ought To Treat a Stranger Right" is folky, acoustic gospel roughened up on the choruses by Willie's gravel- throated rasp. Cooder's is more fluid, with a slinky funk underpinning the churchy theme, Joachim providing a snappy marching tempo, Cooder ripping it up in the middle with some swampy slide.
But for fans of vintage Cooder, it's hard to beat "Prodigal Son." It could have been culled from Cooder's '74 classic Paradise And Lunch, snaky, swamp fonk with a bigfoot stomp, Cooder playing slide like a man possessed, one foot in hell, one in heaven, and loving it. The Heavenly Gospel singers original version is acappella, the quartet thrumming like a pipe organ. But Cooder felt the lyrics were too short and too simple, so he added some of his own, ruminating on the Prodigal's journey: "Where does he go? He goes to Bakersfield. Who does he see? He sees (pedal steel guru) Ralph Mooney." 
It's  a great cast: Cooder once again on an array of strings, Joachim on percussion, Robert Francis on sax, Aubrey Haynie on violin, and his long time,  glorious gospel-flavored harmonizers, Bobby King and Terry Evans, providing back-up vocals.
Fans of Cooder's past interpretations of Blind Alfred Reed compositions will enjoy his latest Reed redo, "You Must Unload." But Cooder has taken some liberties with the original 1927 lyrics, inserting a new verse for the shoe worshippers of today: "You fashion loving Christians/give me the blues/you'll never get to heaven in your jewel encrusted high heel shoes/You must, you must unload." Cooder said his intention was to slow it down and rock it up a bit, and he does, like his previous Reed incarnations like "How Can A Poor Man Stand Such Times and Live," on his eponymous 1970 release, and "Always Lift Him Up and Never Knock Him Down," from '76's Chicken Skin Music.
Although he said it was an all-gospel album, Cooder can't resist one swipe at politics with his own composition, "Jesus and Woody," walloping the current administration with his own version of Guthrie's fascist killing machine. "So sing me a song 'bout this land is your land/And fascists bound to lose/You were a dreamer, Mr. Guthrie, and I was a dreamer too/Some say I was a friend to sinners/But by now you know it's true/Guess I like sinners better than fascists/And I guess that makes me a dreamer too."
Joachim's presence looms large here, as arranger and producer. But he has his own project out as well. Fuchsia Machu Picchu, a 7-song EP, is an interesting parallel. Daddy Ry is on every cut, but it's Joachim's vision all the way. It's less funky, a little dreamier, backing off on the hard-core percussive bigfoot stomp that marks the elder Cooder's work. The younger Cooder prefers more esoteric instrumentation as well, including that nail organ.
The title cut, "Fuchsia Machu Picchu," pays homage to the first shrub he and wife Juliette Commagere planted in their new home in the suburbs of Highland Park, California,  an evergreen with trumpet-like flowers, also known as ladies eardrops.
The song has a dreamy, Middle Eastern feel, overlaid by Cooder's back-porch county vocal, sprouting a new genre, country/eastern. Wife Juliette is on keyboards, brother in law Robert Francis on guitar and backing vocals.
"Everyone Sleeps In The Light" is more like daddy than son, a swampy serenade with Joachim on the more kalimba-like Array Mbira with lyrics worthy of Captain Beefheart: "Ask the sun painted red too soon/Ask the dust in this telephone room/I love you/I'm the tunnel man from your tunnel game/I wait to play with you/When will you send me on through."
"Elevated Boy" is strange, wondrous mix of folk, gospel, and '60s pop, Daddy Ry's banjo adding an Appalachia feel to the lush, Phil Spector-ish wall of sound surrounding it.
Joachim has said that he sound he's trying to recreate is "the defunct cosmic ice cream truck in my head." He's pretty much tracked it down on "Country Blues," which is anything but, sounding more like a trippy trek in the woods in a country not located near these parts, a softer version of what Robert Plant is currently exploring with his Sensational Space Shifters.
"Calm My Mind" cuts the tethers loose, floating away with synthesized psychedelia, Cooder's bass attached as a sea anchor, holding it to a steady course.
Joachim sounds like James Taylor channeling Van Morrison on "Gaviota," Cooder's shimmery guitar adding comforting curlicues around the edges.
There's a lot to be proud of here from both ends of the spectrum, father and son projects that reflect each others' tastes without overwhelming either.