Album Review
The Cowards Choir - Cool Currency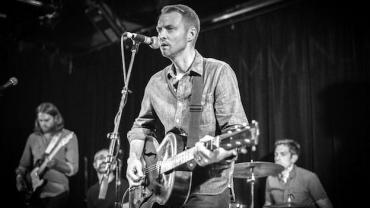 Finding babysitters in the DC area, specifically Arlington, can be a royal pain in the ass. When we lived in Greenville, SC, my wife and I had date nights on a weekly, at times bi-weekly, basis. The cruel irony of living in a large city with actual things to do on date nights is that date nights are now a luxury. We do enjoy reading about all the exciting and intriguing options of things to do if and when we are able to find a babysitter. At the top of our list for date night is seeing The Cowards Choir in concert. I've had the privilege of seeing the local band once already, but I've missed, at best count, four other opportunities over the last three months or so. In fact, just today, I received a Facebook invite to see The Cowards Choir at DC9; a concert I will undoubtedly have missed by the time this review is published. Alas, because I love The Cowards Choir. Don't have kids, kids; you'll miss out on great concerts if you do[1]! Thankfully, I have Cool Currency, the band's EP, to enjoy as I comb through babysitter sites.
The Cowards Choir was founded in 2013 by talented musician and songwriter Andy Zipf. A decade spent on the road pushed Zipf to the musical iteration of his artist's journey that has become The Cowards Choir. Collaborating with some of the best musicians in the DC area – Ryan Walker (bass, piano, and vocals), Ben Tufts (percussion and vocals), and Adam Neubauer (drums) – Andy Zipf released The Cowards Choir's second record, Cool Currency, in the fall of 2014.
The many years on the road have helped mold Zipf into a consummate musician and artist. His lyrics are a tightly seasoned reflection of the musical gravitas that can only be earned the traveling way. The melodies, which are imminently hummable, have a crispness to go along with the intriguing complexities worked out by skilled musicians. Andy Zipf's tenor rises above the masterful songs, and compels the listener to engage with more than a head nodding to the beat. And that beat is so much fuller than that found on most albums. The work of Ben Tufts and Adam Neubauer creates for Zipf's songs a foundation that not only allows for towering melodies and harmonies, but lays claim to its own musical expanse that deserves marvel in and of itself.
Cool Currency consists of only four songs, but those four songs are fleshed out so expertly that every time I listen to the album, which is fairly frequently, I might add, I feel simultaneously cheated and not-cheated. Cheated, because I want to hear more songs from The Cowards Choir. Not-cheated, because those four songs accomplish exactly what I want from an album – including leaving me wanting more. The best song on the album is also the audience favorite when The Cowards Choir plays live[2] – "Is This a Wrecking Ball." A beautifully optimistic song, "Is This a Wrecking Ball" is a well-rendered reflection on how human frailty and foibles are part of what keeps us moving forward. Failures are most often opportunities to "begin again." Make no mistake, however, "Is This a Wrecking Ball" is no saccharine mesh of positivity; with the song, Andy Zipf asks the question that many of us have wondered, "why must we trip and fall into the Promised Land?"
I hope that highlighting "Is This a Wrecking Ball" doesn't leave the impression that the other three songs on Cool Currency are filler. They most definitely are not. In fact, I'm willing to bet that most of the major label albums that Clear Channel, MTV, and Rolling Stone will be attempting to sell you this year will not contain four songs as musically and lyrically mature as the four songs on Cool Currency.
For more info about The Cowards Choir visit http://thecowardschoir.com/
[1] I kid, of course. Kids are great.
[2] Based on a sample size of one, of course. Having only seen the band live once, my sample size can't be helped. But, please, by all means, go and see The Cowards Choir in concert, and then tell me if my conclusion based on a sample size of one was correct or not.