Album Review
Cool Vocalizing By Proficient Adult-Contemporary-Jazz Stylist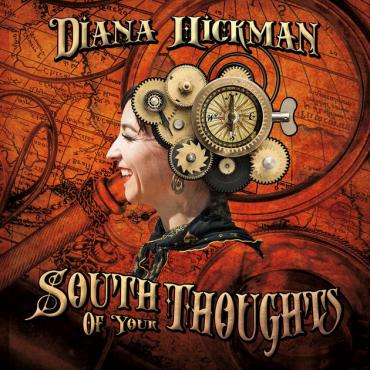 Another EP (extended play) 5 track CD that crossed my desk recently and performed by Diana Hickman.  "South of Your Thoughts" exemplifies Hickman's crystal-clear adult-contemporary / jazz voice and she has experience enough to slide some cool vocalizing into her lyrical pronunciation. That's what makes this artist so interesting. Hickman doesn't just sing words, she emphasizes words, their meanings and then layers the music into an enticing storytelling style. However...
With the first track "Room with No Ceiling," she showcases her multi-layered vocals without too much fanfare because she is that good.
I guess the only thing I am not a big fan of is the electrified drum machine programming sound. That effect has its place in certain songs but I am of the opinion that this detracts from the talent that is truly and remarkably Diana Hickman. Sorry, I am a little old school and a former drummer. I would have liked a more natural skin sound to the beat to level off the distraction of the synths. Now, what the drum programming did was fine, I just don't cater to the artificiality of the electronics employed.
Hickman doesn't need that type of support or abstraction. This very good song sounds like it could have come off far more powerfully if it were more synth and drum programming lite. Some songs deserve this treatment and it's fine. Some don't. "Room with No Ceiling," here is tin and it should have been silver. Instead of the cheesy keyboard, a real upright or grand piano and stand-up bass would have complimented Diana's voice far more effectively.
My criticism comes because I listened closely to Diana's voice and that's what she conveys -- she doesn't need the help of these tired electronics in a well-written song. She has a voice -- focus on the song and her voice. Maybe, the production people were trying a little too hard to be more contemporary and appeal to younger ears. Yeah, that's a good argument but not at the expense of what is actually a good performer left with poor musicality. 
Except for Diana, the group sounds like they are in a hallway under a staircase. This is common with this type of approach. Leave this in the hands of the experts like Depeche Mode, Echo and the Bunnymen, and the techno bands.
Diana's music in my mind caters to listener's feelings. Technology in music does not. That kind of music appeals to the dance floor and elevators. Those techno band fans expect this. Diana is better than that. Her music deserves a longer shelf life. "Room With No Ceiling," -- I hear what makes this song great. It's just not in this version. 
Diana Hickman has an attractive voice -- focus on that -- the woman can sing. She can hit some nice high notes. But that drag of the synth – where's the energy guys? Yes, it's a slow song but unless Diana sings -- the song has no lift and it's sad because the song is actually good. The musicians play well, but it's the instruments themselves that tax the groove. This isn't a disco dance song or an electronica extravaganza. This is a well-crafted song; the regular drummer Chauncey Yearwood even lays down some good steady beats and sounds as if he would like to take off a little more but can't. It depletes the vibrancy and potential of the tune. The bass is heavy, and some of the electronics do paint a nice picture. However, from the onset with that slow drip drum and cheesy Farfisa style keyboard from the 60's – it doesn't support the strong Diana Hickman vocal.
Again, I must emphasize: Diana is the reason listeners listen. If she had a thin voice, I would say alright -- add on all the extras like syrup. But that's not the case. The song has great lyrics and the melody is slinky. Despite an adequate bass, it has no discernible bottom. All the other instruments seem to just mosey along. OK, maybe that's the arrangement. It needs work. I believe this song is better than it is here. It's not Diana Hickman who doesn't work. She sings this the way it should be sung – but it needs vitamins. Lots of vitamins. I had to be honest. 
The acoustic piano is a nice start on "South of Your Thoughts," and it sounds as if we're back in the right kitchen with a better musical recipe.
Diana's voice suited perfectly to this piano sound. Diana's voice is rooted in that Annie Golden soil (Golden-Carrillo) – and Annie is quite well-known in rock, cabaret and Broadway circles. Diana has a similar diversified voice and she proves it with this very well-arranged title song. The little touch of solid brass is exceptional. Trumpets, tubas, trombones, sax all well done and complimenting Diana's exciting vocals. It has room to breathe here. The arrangement is by Kyle Schweitzer. Brave to all. This is a show stopper tune. 
Nice cool Beat Generation finger snaps open "Unbridled," and here the more electrified piano that works with this style. I like the way Diana swoops in with her vocals and she has clearly developed an intriguing vocalese. Chauncey is back on drums and he lays out a nice solid beat. This is an interesting jazz-inflected tune by way of piano-bars, lounge tunes, and cabaret -- but Diana elevates it all with her well-flexed jazzy performance.
Track four takes us back to a 70's instrumentation but Diana's singing and her backup vocalists are all proficiently energetic. "Go Time," will sell Diana as a good possible Broadway musical performer if that's what she's already done or plans to do. Her brass accompanying is shaped into that Frank Sinatra-era middle-of-the-road tightly woven track. The song should have been called "Check the Locks," because that's the line that stuck in my ears as I listened. However, I didn't need the rooster crow's effects. I guess what I am saying is this: if you're a great singer and performer, with excellent charts and musicians, abscond with the special effects, novelty, lame electronics and gimmicks. You just don't need it. Diana Hickman has the goods…she doesn't need the extra cheese on her pizza.
The closer is a slow burner. "Sonya's Garden," and with this song, Diana treads gently in the Kate Bush-Sarah Brightman territory. But here's the thing: Diana pulls it off beautifully. The keyboards (electric piano) gently played Jason Lindner has some mesmerizing notes in an ethereal environment. It actually works in a very cohesive Enya type way. Do I like this type of song? Nah. But if it's done well -- as it is done here -- then Diana succeeds again.
Believe it or not, I prefer the Diana of the first track but without the electronics. Definitely the Diana of "South of Your Thoughts," and "Go Time." This seems to be where Ms. Hickman is most comfortable in my speakers. I believe this is where she needs to be. She shines here. It's like the difference between polyester and a wool blend. The fabric has to breathe. The music has to breathe. Diana Hickman is NOT polyester. 
And I may add, with the right song, and lyric – she could do a duet with Tom Waits very well. She has the voodoo; the voice has the personality and Kyle has some sweet arrangements. A little tightening of the screws first – I have faith.
The five song EP was written and produced by Diana. Her CD package was designed by Miko at Design for Good People.
Website: Not Available  
Facebook: https://www.facebook.com/diana.hickman.10
SoundCloud:  https://soundcloud.com/diana-hickman
Disclaimer: The opinions expressed in this review/commentary are those of the author and do not necessarily reflect the official position of No Depression. All photography is owned by the respective photographers and is their copyrighted image; credited where photographer's name was known & being used here solely as a reference and will be removed on request. YouTube images are standard YouTube license.
John Apice / No Depression / July 2017