Album Review
Cory Branan Shows His Range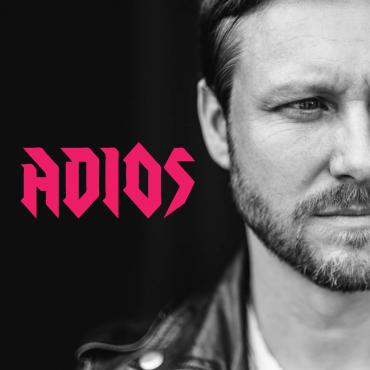 Cory Branan will charm the pants off you, even when he's bummed. The alt-country rocker delves deep on his latest release Adios, but he has fun doing it. Playing with more of a punk sound that we're used to from him, Branan invites you to his party while simultaneously breaking your heart across Adios' 14 tracks. As a follow-up to his stellar 2014 release The No-Hit Wonder, Adios is a continuation of Branan's self-imposed underdog journey. Branan seems to look at life through a humorous, if cynical lens, with self-deprecating lyrics and a steady theme of being passed over for something (or someone) better. With this in mind, his songs should not be such a blast, but still somehow, they always are.
Adios finds Branan teaming up with a powerhouse group of collaborators. Amanda Shires joins on fiddle and backing vocals, Deer Tick's Robbie Crowell plays a handful of instruments, and Laura Jane Grace of Against Me! contributes on vocals, to name a few. And while Branan has always had a slight twang to his own singing, he's never truly been a country artist, which makes Adios feel true to him in so many ways. It's part rock record, part alt-country, part punk and even part garage rock – an amalgam befitting Branan, an artist who cannot be pinned down to a genre.
A few of the standout moments on Adios come from the down-and-out breakup song "Imogene", the silky smooth coming-of-age song "The Vow", and the rollicking "I Only Know". Branan shows his range across this album, switching from a soft croon to spat-out punk vocals to solid harmonizing. Whether accompanied by just an acoustic guitar (the gorgeous "Equinox") or synthy keys (the morbid "Visiting Hours"), Branan is wholly in his element and he shines because of it. He may not be getting the due he deserves, but Adios lets us know that it won't stop him from being himself.