Album Review
A Country Songwriter Who's Swedish on the Inside -- Nashville on the Outside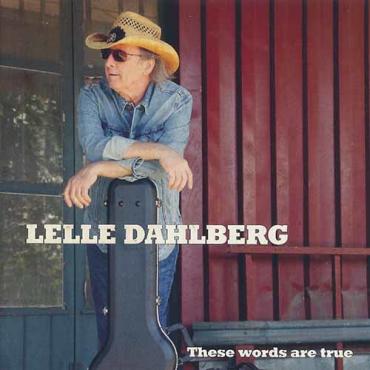 A few years ago, I read a letter in an old Tower Records' Pulse Magazine. I found it interesting because it was from a woman named MajBritt (I'll leave her last name out for her privacy). She was from Kristianstad, Sweden, and her correspondence -- a curiosity because she detailed how she loved American country and blues music. She related how she had visited the United States, specifically, Austin, Memphis, Nashville, and New Orleans. In my own naivete, and ignorance, I never understood the appeal of this kind of music to a foreigner. But I was mistaken. 
MajBritt bravely listed her favorites and of course, there were many well-known artists and she wrote one short sentence about why she enjoyed them. Sweden? American country and blues music? That's a stretch I thought. Because the average good ole boy, with a pinch of arrogance, and a shot glass of obnoxiousness would never consider listening to Swedish music, or dare I say, their version of country and blues. What a laugh. Right?
But they'd be wrong.
The ever-doubtful American would at this point probably challenge me. So, I offer a listen to Lennart (Lelle) Dahlberg and his album These Words Are True. He's Swedish on the inside and he's traditional Nashville on the outside.
Try "Still Crazy 'bout You," on his 12-track 43-minute collection. It's an average country-flavored rock song recorded excellently. Deep-ended with Lelle's sincere, warm vocal supported by colorful piano, fat bass, and nice support throughout by a tight band. Even though it's a typical song the artist has exquisite production values here. Authentic traditional performance and unlike many others, he has a hint in his showcase that he understands what this music is supposed to be. What it represents. 
But maybe he just got lucky on that track – not so. Track 3 "Come Back Home," features Lelle's balanced gritty voice, whiskey flavored and if Tom Waits were a country singer he might sound close to this. The melody is rooted in many old American country songs, but this still has a nice angle. The melody and the band are reminiscent of late-career Elvis doing the classic "Pledging My Love," without the drama. The musicians on this track play it straight. They are so clean and faithful to the genre it makes me proud of the music they are emulating. They do a great job, firmly rooted in the old-fashioned traditional style.
What's scary is how the music is adaptable to a different culture and country. Even artists as far away as New Zealand are about as authentic country as an American. Donna Dean is one, and she is very popular in Oklahoma when she tours the US. The very young and incredible Jenny Mitchell is another fine example. But we've also had great European and South American jazz artists. Jazz in France and Italy, in Denmark, all excellent. Why not country?
I'm not big on ballads by any artist – that would include Mr. Dahlberg's, but his contribution – "There's Only You" has worthiness to it. It's a good effort because on this he has a female singer who also has a fine country voice. It's not sappy, corny or too sugared up and cliched. What is redeeming is the fine country musicians featured. The guitars and the addition of steel guitar by Mattias Olofsson are amazing. Pearl is the female vocalist (no last name) and her homegrown vocals are impressive and powerful. The tune has potential – but while Lelle sings in a smoky Buddy Miller style there's a little lack of rural personality. That could come with the repeated singing of the song. This one would be good for someone else – maybe even a solo Pearl.
Back on the track is a fiery "Tonight's the Night," a first-class excellent country rocker. The band drives hard, the energy is high and the whole performance is stellar. Lelle needs to study a little more country intonation, phrasing and try to develop a more Southern accent (good luck) – and Elvis Presley's undeniable singing style would help especially on a Lelle song like this ("Tomorrow Never Comes," "I Washed My Hands In MuddyWater," "Trying To Get To You," -- from the Elvis Live In Memphis LP, 1974). There are many areas where inflection is lacking and that can be fixed by listening to From Elvis In Memphis, & Elvis Country. This is a great song but while it could be a Roman Candle – right now, it's just a firecracker. It needs more powder. I did enjoy this, to be honest – it's superb.
A little too basic and cliched is "Best Night Ever,"  an upbeat country piece and still performed excellently. Nice steel guitar weaves throughout in a faithful Southern American country style. Lelle needs an old-fashioned Nashville producer to flesh out his obvious rootsy circuitry and viable tunes. "I Am Lost," is firmly rooted in a retro 60's style in the warmly embraced tradition of Gram Parsons, Gene Clark, Billy Joe Shaver, and Lee Hazelwood. Simple lyrics, with a wonderful musical application. The backup singers are magical and as usual Lelle's band is sharp. This is an excellent song – the female backup singers are penetrating. Don't lose them ever for this song – it's the frame that holds the painting. At one point they stop count and come back to a nice concluding effect with deep guitar notes. This is a keeper.
A nice fiddle (Kurt Baumer) is featured but this tune is sung with too much timbre. Not for a young audience. Very mature is what "I Should Have Loved You," is. It's a reflective song which is fine. But this is better suited for an older artist. Maybe that's the charm of it. What I like is Mr. Dahlberg challenges himself and dares to choose a subject most singer-songwriters might avoid. An older country audience would appreciate this one – country radio would avoid it. And, it is too soon to continue with the same subject as track 8 but that's what "Til' We Meet Again," offers. The song isn't bad, but it pales compared to the sophisticated "I Should Have Loved You."   This may have been a better final track for the album.
A nice bluesy piano opens "Can't Stand Losin' You," – but, drop the slight echo, if I'm not mistaken, on the voice. Let Lelle sing this with a straight whiskey and not one on the rocks, added water and with a swizzle stick. There's a nice backup vocalist that compliments Lelle good. American country legend the late George Jones would have covered this song quite well. One of the better ballads. Lelle does have sincerity in his voice and the musicians are consistently country-impeccable. Track 11 "Play That Old Melody," goes back to something fiery. Dahlberg always sounds a little better, confident, on the slightly faster tunes. It's a sad song but has reflective optimism. The band is marvelous on this track. No one in Austin, Nashville, Memphis, or New Orleans would throw this band out. They sound like they could back up anyone in those major music towns.  This is Lelle's comfort zone. 
The closer is another ballad – "Will You Still Love Me?" and Lelle sings his lyrics with passion – maybe too much. Unfortunately, there's a classic Carole King song called "Will You Still Love Me Tomorrow," -- a big 60's hit by The Shirelles. While the song doesn't resemble that one the chorus resounds the classic one just a little. The same problem George Harrison had with "Something." The opening line "Something in the way she moves…" is the title of a famous James Taylor song. And Taylor at the time recorded for The Beatles' record label Apple. Coincidence? Lelle's song is well-recorded and sounds good. Maybe no one will care.
The album art is a full color very cowboy-ish Lelle Dahlberg with a guitar case on a porch that looks like it might be a general store. There's an 8-page stitched insert with images that look like they could've been taken in Texas. There are 8 members to Lelle's fine band and this is a first-rate country-rock band. No mistaking that. The album was Produced by Jorgen Andersson & the album art layout: Freke Raiha Form.
Website: https://lelledahlberg.com/
Facebook: https://www.facebook.com/lennart.dahlberg.5
Disclaimer: The opinions expressed in this review/commentary are those of the author and do not necessarily reflect the official position of No Depression. All photography is owned by the respective photographers and is their copyrighted image; credited where photographer's name was known & being used here solely as a reference and will be removed on request. YouTube images are standard YouTube license.
John Apice / No Depression USA / October 2018