Album Review
Covers that Reach High but Fall Short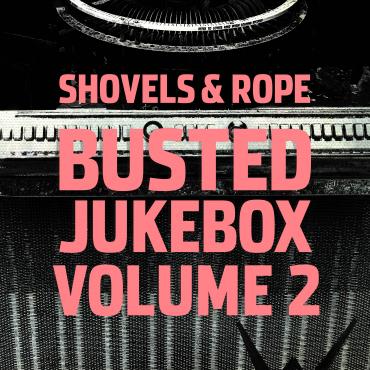 There are some bands and musicians that simply cannot be covered.
Sure, I try to keep myself open to exceptions here, but more often than not something integral is lost in translation. Songs by Sigur Rós, the Beastie Boys, St. Vincent, and Tom Waits come to mind, and entropy waits for most people who brave these musicians' work.
Of those acts, Iceland's Sigur Rόs could be the least imitable. For one, vocalist Jόnsi Birgisson often sings in a fluid, impressionistic language of his own invention called Hopelandic. On top of that, he was gifted with an angelic countertenor, with which he sings his sweet, sweet gibberish. It's so perfect and strange already. Why would anyone think they could cover that?
Bless 'em, but Shovels and Rope tried. It's on Busted Jukebox, Vol. 2, the South Carolina folk-rock duo's new collaborative covers album. Across its ten cuts, Shovels and Rope joins forces with essential Americana and Americana-adjacent musicians like John Moreland and Lera Lynn to cover songs by everyone from Leonard Cohen and Willie Nelson to The Breeders and Faith no More. It's one of those recipes that looks fine in the cookbook, sure, but just falls apart in the kitchen.
To be clear and to be fair, about half of these songs came out fine – not great, but fine. Opening cut "Clean Up Hitter" is patiently paced and allowed to breathe. And The Breeders' "Do You Love Me Now," a collaboration with Old 97s vocalist and songwriter Rhett Miller, is pleasingly reminiscent of a Blur tune. The closing cut, a careening electronic zydeco-punk-noise-something translation of Chuck Berry's "You Never Can Tell," is bizarre and unhinged in the right way.
Some songs ride the fence. There's the Moreland collaboration, which injects mid-tempo gospel stomp into "Blue Eyes Crying in the Rain." The Nelson original is gorgeous for its smallness and direct simplicity; Moreland's voice carries the song well, but the assertive arrangement just doesn't communicate the vulnerability that made this tune a classic. Shovels and Rope (and co.) lean heavily on cabaret swing, which flavors Leonard Cohen's "I'm Your Man" and Faith no More's "Epic" a little too strongly. On some listens, it's fine. On others, it just sounds like the band applied its most comfortable speed to songs that don't benefit from it. And the only cover that doesn't receive an extra dose of sneer, oddly, is the Clash's "Death or Glory."
And then there's that unfortunate Sigur Rós cover.
Shovels and Rope (and Matthew Logan Vasquez of Delta Spirit) translated this untitled song's transcendent gibberish into English homophones, tying it down to a single set of lyrics and a limited number of meanings. Think of it in terms of the natural world: the original version is a seal in the water, graceful and elegant and in its element; the cover is a seal on land, awkward and obvious. The switch to comprehendible lyrics closes the openness-to-interpretation that makes the source material so valuable, and is ultimately on par with explaining a punch line. As such, it's just this side of unlistenable.
Guys.
Guys.
Why?