Album Review
"Crooked Feelings" Not So Crooked for This Young Nashville Artist, a Break-through!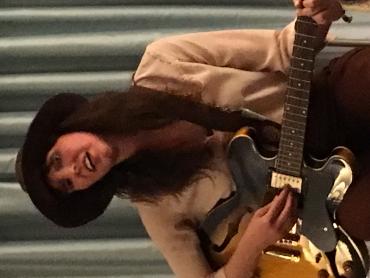 One young Nashville singer is taking a big step toward distinguishing herself in the enormous pool of talent living and making music there. Ali Sperry, a modest young singer/songwriter with a personality that comes over with sweet earnestness in such a competitive world, has an ambition. That goal is to reach listeners by creating lyrics and melodies, with effective production values, that will resonate with listeners in powerful but varied ways.  She succeeds in her newly released second album, "Crooked Feelings." 
Starting with the cheerfully poppy, yet tinged with regret, romance of the title song and moving swiftly along to the unique Over the Bones with its affecting seriousness and pensive quality -   Ali Sperry's songs have a way of sounding like you've known them for a long time. She has the potential to reach a wide audience for all the hooky, mesmerizing reach of her melodies.
Her title tune has that reach,
I quit believin' in all these crooked feelings/Other people's demons that lie through a smile
I quit believin' there's one good solid reason why it's considered treason
If I won't fight the war/I quit for love/I quit for love
I quit believin' that everyone's deceiving
If someone's out to get me, just come and get me now
I quit deciding there's ever truth in hiding/Yeah I quit denying all I am anyhow
I find her a master – or mistress - of the hook. Consider the lines:
I quit believin' in all these crooked feelings/Other people's demons that lie through a smile
Not only a great line, with content and poetry, but also a great use of rhyme, that primary songwriters' tool I heard stressed recently by songwriting greats Eliza Gilkyson and Sam Bush in a songwriting workshop at the same conference where I heard Ali unveil a number of her new songs on this album, at the Folk Alliance International massive get-together recently in Kansas City.
It's one of numerous things Ali does more than well on this new, break-through album. It's a place too where the rhythms twist off the ends of lines like brown sugar on honeyed yogurt. And, she does it with a voice at times like soft leather with herbal peppermint sweetness. There is, to my ear, control and smoothness throughout. My preference might be a bit more of a bite to the voice and delivery, more overall thrust on the emotion behind the concerns. Maybe less perfection and more ragged edges.
The songs shift and vary – in weight, seriousness, tone, and message, after the first song. Despite the disappointment expressed in the song, "Crooked Feelings" is both with-catch and essentially upbeat. I've never liked the phase "pop." Since pop, however, is a bridge for some of her music, I'd note that cheer and rhyme take the song into realms of pop through its lively, melodic reach. And that has its good effect, its presence varying within the album.
The production itself is full and rich, another departure, at times with an orchestrated sound. I think this may have its pro's and con's, but I think it is used here largely to good effect, giving a buoying lift to the proceedings.
And while some don't, like Crooked Feelings, a number of the songs deal with the pro's of relationship, as in the wonderful Our Biography, that could stand as useful testament in the value of relationships. It's one of my two favorites on the album. Hear the lines, sung with beautiful harmony by Robby Hecht:
Way back in the beginning/Had no idea I was alone
I didn't know I was divided/Or that I hadn't found my home
They'll say the moment when I found you/I found the other half of me
That we were never really strangers/When they write our biography
This is unlike the regret and chagrin of songs like "Look at Me", with the hooking chorus:
Look at me/Look at me/I'm as lonesome as I can get
Look at me/Am I talking to myself
Or in "Cruel Expectations:"
Can't undo the things you have done/Such a fool to fall for the tale you spun/Cruel expectations
Oh Will, on the other hand, tells the story of a young builder and singer/songwriter, Will, in his yearning-full days in California's musically iconographic Topanga Canyon. This lush area of Southern California served, as you may know, as home to legendary performers like Crosby, Stills, and Nash and Joni Mitchell. These are talents that young Ali has been compared to in her lush and upholstered, yet wistful sound, not unlike the dream-laden musicality that propelled those Topanga Canyon artists to stardom. My other favorite song on the record, Sperry recounts Will's growing pains as a creator:
So he'll pack up his tools/Take a seat on the stoop 
Of the house he made for them/And the sun slowly sets
And the record spins/Playing "After the Gold Rush" again
What are you doing tonight, Will?/Oh, I don't know I just might
"Wisteria" has lovely passages of quiet reverie and remembrance, braced with a slight air of regret, yet acceptance with time.
Someone calls, switched on the back porch light
Grab your jar of fireflies and go back inside
The house is warm, everybody says goodnight
Settle down into your bed and close your eyes/ Ooooh
In your dream, looking back on everything
Swaying with your oldest friend on the front porch swing
It's quiet now, you've said all that there is to say
Just breathe in the evening air and drift away/ Ooooh
The record makes another shift at one point. There, it deals with the challenges of recovering from the tragedy of terrorist acts. To some degree, it addresses all forms of recovery.
Ali recalls how this song came about:
"Last summer, shortly before going in to the studio to record this album, Mary Bragg and I got together to write, and she asked whether there was anything that I felt was missing from the album at that point. I expressed my desire to write a song in response to some of the current, heartbreaking events that had been taking place in our country and around the world, but that I had felt trepidations to tackle such a sensitive and heavy subject. Mary offered up the word "recover," and that one word gave us an "in," a way to write this song without it being preachy or heavy-handed to simply ask the question of how do we recover from all of the violence, fear and hatred."
As she continued, she provided more insight into the record as a whole: "There is a thread on this album about accountability, taking responsibility for one's life and actions. This song is really at the heart of that for me, examining how each one of us plays a role in the greater whole."
She sings, sharing the vocal with Bragg:
Scattered on the pavement, innocence again
Promise of a future, coming to an end/Did it mean anything, anything at all?
How do we recover, recover, recover/Hiding in the silence of sanctuary stone
Or looking for an answer/In the safety of our home
And, another song of impactful seriousness is the powerful Over the Bones about the "blankets of moss" growing over the "headstones crumbled under blankets of snow, names forgotten and lost." She adds: "They came here as/Farmers, masons, and maids."
Perhaps - a timely and lyrical reminder for the current Federal "leadership," with its sad disdain for those many who came from other countries/other places to join our nation through ambition and hard work and now lie under the fresh greening of moss.
She ends on the "Highest Hill" when she closes on a somewhat sad but optimistic note –
I am leaving on a journey today/Reaching up this soul in this sky
There are things I've been meaning to change.
I don't think that I can without going/And I will climb, climb, climb
The highest hill/'til I'm face to face/With the sun
This may reflect in part her attitude toward this new album, adroitly produced by Jon Estes and Jamie Dick, who also play on all of the cuts (except for Jon, who's not on "Highest Hill"). Jon and Jamie are young veterans in Nashville, played with Ali in her band The Family Vacation and have recorded with Abigail Washburn. "Crooked Feelings," the album, is a place where Sperry's indicated that she's stepping out confidently in new ways as a creator and performer, 'til perhaps she's "face to face with the sun." Listeners should join her on this climb. They'll be in line as Ali continues her rise to the greater attention of the American listening public.