Album Review
D.B. Rielly - Cross My Heart + Hope to Die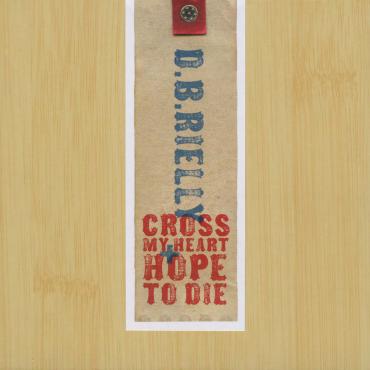 Cross My Heart and Hope to Die, the new D.B. Rielly CD, dodges the fabled sophomore jinx and gives his fans an excellent, if more tender follow up to his critically acclaimed and award winning first CD, Love Potions & Snake Oil.  Reilly is more than ably supported by his band of usual suspects -- Hiromasa Suzuki on electric and slide guitar; Bruce Gordon on bass and on percussion, Kohin Khemani. Multi-instrumentalist and vocalist Rielly plays everything else.
On the first cut and only cover, Bob Seeger's "Turn the Page," the whirring and constant rhythmic undertone evokes the sounds of wheels turning on the highway and tells us the theme of the CD – an homage to the road and the troubadours who make their life there.Rielly, who spent many years on the road as a side man to many big name acts before stepping into the spotlight for himself, has more than earned the right to not only sing of such a life, but his take offers his listeners insight as well.
Before I write further I should offer the disclaimer that I am a Rielly fan and being on the same NYC&W Music Scene has afforded me many opportunities to see him and his band perform live. They always bring a great show with terrific chemistry between the players, and Rielly leading the fun with his charming stage presence. 
The packaging for Cross My Heart and Hope to Die is also unique, which may entice those who aren't familiar with Rielly's work to get to the treasure inside. But what impresses me most is the songwriting. On this disc, each song is a story complete unto itself, and I like or am intrigued by the characters he writes about.
Take track two, "Wrapped Around Your Little Finger," which is its own mini-RomCom in 3:13 minutes.  With a fun Cajun squeeze box driving the peppy beat, this tune features the well-known Rielly humor with lyrics that equate being smitten with a willingness to "take her cat to the vet, her mom to Bingo and even go shoe shopping at the mall."  Any man could tell you that's Love, brother!
"Some Day" is a heartbreaking ode to lost love and also an homage to the troubadours that came before him.  Though Roy Orbison is the obvious reference point, I also heard traces of Marty Robbins on "Devil Woman." The song has a retro heartbreak feel, but Rielly makes it all is own and brand new. The first two verses conjure images of first love, the prom, while the third verse brings us to the present-an older man still filled with longing.                                                                          
Memories rush by like trees as I drive down the avenue.
I should forget, but I haven't yet and I hope that I never do.
He assures us he'll be all right, "Some Day," but it's doubtful that he will.
"Hell or Highwater" is a romantic ballad reassuring that love will be steady and sincere, and no matter what, "he's staying right here." Should become a standard at every hillbilly wedding. "Moving Mountains," which is also the theme song for his benefit charity of the same name, feels like it could become an Americana classic in the same vein as, "This Land Is Your Land."  Reilly's lyrics urge us to just take an action – any action – to better the world. We could even be "moving mountains one shovel full at a time." Rielly becomes a banjo activist and, when he asks us to "come join me," its easy to imagine him like a Pied Piper, leading everyone into Rielly's World.
"It's Gonna Be Me" is a rocking blues-fueled song by Suzuki's "spirit filled" wailing slide guitar, with Rielly preaching the gospel of luck and faith as only he can. No one would ever be late for one of his hand-clapping church services. "Untie Me" features more of that delightfully devilish sense of humor. Suzuki's psychedelic surf guitar sound creates the off-the-wall atmosphere for this dark tale. Just when it borders on disturbing, you hear the funny and winking vocal rendering he gives to the word "smart," and you know he's not only in on the joke, but he made up the punch line so that we can all relax and enjoy his obsessive love. In fact, he sings it in such a way that you could almost understand the object of his affection might not mind such a devoted stalker.
"Doggin' Fool" is banjo-driven blues with a theme and a moaning chorus that could be a high five to the great Hank Sr. and a tip of Rielly's hat to the roots of Americana music itself. "Road Runner" brings Zydeco-tinged clever and funny lyrics that won't let you sit still any more than Katie Ann in the song can. "Fiorchroi" (True Heart) is a mournful ballad of devoted love in the face of loss. It becomes an instant Celtic classic in my book. Sadly, it also feels like it could become a staple for many a funeral in the same manner of "Danny Boy," echoing the complete mourning one has for the loss of a lover, a sibling, a parent long gone.
Cross My Heart and Hope to Die certainly reveals that D.B. Rielly has experienced more than his share of heartbreak and that he has learned how to express it through his music. He has also developed a soulful depth filtered through his distinctive vocal styling that allows his listener to experience their own pain and release it – someone else understands how we feel. Even better, he has also embraced the humor in all things human and has a wonderful way of not only skewering society's social values, but letting us laugh out loud at them as well.
He's been called "Mark Twain with a banjo."  To me, he is an Americana treasure and will be acknowledged as such one day – the sooner the better.