Album Review
Dan Israel's fourteenth album is a career highpoint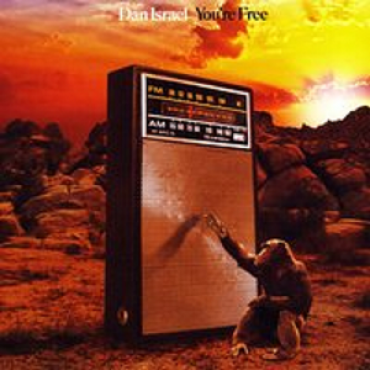 Dan Israel's new eleven song release, You're Free, is an individual work of musical art a year in the making and solidifies Israel's standing as one of the country's best singer/songwriters working today. You're Free finds the Minneapolis based Israel continuing a fruitful creative partnership with producers and collaborators Rich Mattson and David J. Russ, but their established and elastic chemistry manages to produce something a little different here for Israel and the expanding borders of his musical domain only bodes well for longtime listeners and newcomers to Israel's music. It's his fourteenth studio release and pays tribute to his restless creativity that, this far along in his recording career, he continues to search within for the best song he can possibly write. It's a new dawn for Israel and one he launches with, arguably, his most personal release to date.
The opener "Gets You Through It" begins with a brief throb before big acoustic guitar chords ring out and the song soon begins in earnest. The easy, loose-limbed amble of the music shows obvious influences from artists like Tom Petty and Bob Dylan, but Israel transmutes those influences through his own talent and experiences emerging with a "voice" uniquely his own. Some of his strengths are gossamer-like – it's difficult to not hear how well his plaintive Midwestern drawl juxtaposes against lean, sinewy guitar lines spiked with just a dollop of grit. The title song picks up the tempo a little and has a ragged but right jangle anchored by its forceful pulse. Some nice vocal harmonies compliment Israel's voice at key points in the song. There's no instrumental fireworks overwhelming listeners, but there's no doubt Israel embodies a palpable rock spirit with this track.
Jillian Rae's violin is an important factor in what transforms "Make This Life Mine" one of the best songs on You're Free. The understated elegance of the song, Israel's smooth delivery, and the sharply observed lyrics are other winning qualities sure to draw listeners in from the first. There's a bevy of backing singers contributing to the vocal and some interesting turns later in the song, but it's Israel's meditative singing that, in the end, earns and deserves our focus. "Feeling Better" has an unusual beginning that grabs your attention before segueing into another distinctive song touching on familiar themes. Israel never pretends to be remaking the wheel with these songs, but he writes about longtime themes with a personal quality that, nonetheless, makes his experiences accessible to any empathetic listener. The direct, yet slightly hypnotic, arrangement of the song has some nice flashes of effects laden slide guitar percolating up from the mix and a fiery guitar solo near the track's end.
The comparatively brief "Someday You'll Say" has some more of the relaxed, jammy spirit we heard with earlier rockier numbers, but this tune has slightly sharper teeth than its predecessors and some hard-hitting changes. A count-in begins the acoustic themed "Stay on the Run" and the song proceeds along those lines for its entirety save the addition of piano later in the song. It's a welcome shift in gears showing newcomers how Israel maintains a compelling quality no matter what the song's musical style may be. The album's final song, an instrumental entitled "Porch Storm", is a tasty final curtain for You're Free – Israel leaves a mark on the listener with his flair for slide guitar. The sound effects and acoustic nature of the recording only strengthen its intimacy. This is an album wrought from the heart and paid for with sweat and tears – anyone who responds to such music will likely find this one of 2018's best releases.
OFFICIAL: http://www.danisraelmusic.com/
FACEBOOK: https://www.facebook.com/dan.israel1