Album Review
Dancing in the Moonlight Anthems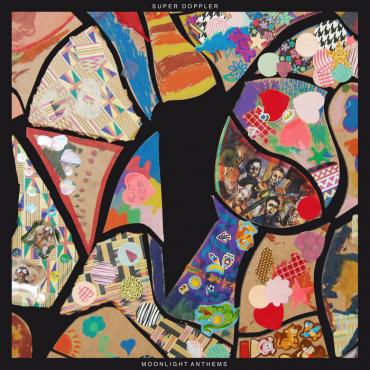 Much like the radar system from which band takes its name (though the band didn't name itself for the weather radar), Super Doppler pinpoints the movement of sonic weather across a broad expanse of musical terrain. From jangly psychedelia and Skynyrd-like country funk to party-down beach music and haunting Beach Boys-like ballads, Super Doppler's Moonlight Anthems features sonic adventures for every taste, fueled by tight harmonies and adventurous musical experimentation.
The band, which debuted with their first album as Major and the Monbacks, has been playing around the Norfolk area for about ten years. Brothers Cole (bass) and Neal Friedman (vocals, guitar), and brothers Michael (guitar/vocals) and Bryan Adkins (drums), percussionist Tyler West, and guitarist and vocalist Harry Slater have been working out their sound over the past three years, developing solid vocal harmonies backed by musical instincts and songwriting that recall the dreaminess and fun of '60s garage band music or the free-form R&B vibe of the Young Rascals. Super Doppler knows how to keep us listening with shrewd songwriting; just when you think the song is over, a new guitar riff leads the song in a different direction, taking it to a completely new plane.
"You Only See Me (at Night)" opens with a riff straight out of Skynyrd's "Gimme Three Steps" that underlies the melody for the rest of the song, a can't-live-with-you-can't-live-without-you take on the transparency of relationships. The album closes with "Happiness," which opens with phrasing from the Beatles' "It's Getting Better Every Day" and ends with languorous choruses fueled by jazz hall piano and guitar. It's a New Orleans-style swing reimagined as if Paul McCartney were leading the band. "Here Comes the King" takes the creepy-crawly bass line from the Who's "Boris the Spider" and turns it inside out, while "The Clap" opens with driving rhythm guitars and vocals straight out of Bobby Miller's beach music classic "Hey I Know You." "Holidays" is a haunting ballad lifted by the group's gorgeous harmonies, while the title track illustrates the musical virtuosity and singular musical character of Super Doppler; "Moonlight Anthems" is McCartney-meets-the-Band, but Super Doppler takes that sound to a new level, creating a punchy tune that's infectious and memorable, making the music it own.
I caught up with Super Doppler's Neal Friedman by phone recently for a chat about the new album and Super Doppler's music.
Tell me the story of the album.
Neal Friedman: Basically, it's been like a year and a half making the album. We recorded it last spring in between shows, and immediately we went out on the road. We'd play a festival on Saturday and get up early to get back to the studio to work on the album. We recorded it at Montrose Recording Studio; it's an old farmhouse where they've built the studio in a barn. It has a great vibe. We definitely wanted the songs to stand out, and we wanted to capture the energy of our live shows. We also wanted to move beyond the jamming parts of our former years and previous album and to do a little bit more experimenting with on this one.
How did you select the songs on the album? Did you leave more on the studio floor?
NF: We had probably about 12 more songs; two or three almost made the final cut. We did demos in our own little practice studio and then sent them to Matthew White, our producer. He brought an experienced hand to the record. He has such an encyclopedic knowledge of music, so if you're looking for a certain sound, he can help find it. He wanted to have more experimentation in the studio. He was also able to hear our music and provide an outsider's perspective. We were just six guys who sometimes would argue about the music, so it was great to have another voice to guide us. Matthew's a great mentor.
How did you come up with the title track?
NF: It is the song that most resembles the music on the last album. It's got that country funk vibe. It's kind of a bridge between we're doing on this album and the old album. It's a road song.
You're putting together your supergroup; who's in it?
NF: Paul McCartney on bass, and songwriting, too; Ginger Baker on drums; Richard Manuel and Garth Hudson; Jimmy Page.
What's your songwriting process like?
NF: It's still a mysterious process for me. I still don't even know how the songs come together sometimes. I like to write a new song every couple of days, and I write on guitar. In the band, though, we have three guys writing the songs. I write, Michael writes, and Harry writes. Each one of us will bring an idea, or a lyric, or a tune to the band, and we'll play through them, hearing what works and what doesn't, keeping some songs and not others, so the songs are the product of us working together on them.
When did you start playing and writing?
NF: I started taking piano lessons as a little kid and started taking guitar lessons in middle school. I always had music around. My mom was a dancer. Dad loves music, and Grandpa had a record store in Norfolk, Dad and his brothers worked there. Of course, I used to hang around there all the time, too. I listened to old tapes of songs I made in sixth and seventh grade. There's one called "Lake House," about going on vacation, and was doing some rap on that song. (laughs)
What's the music scene like in Norfolk, Virginia?
NF: Norfolk is about 90 miles from Richmond, so I was brought up in the jam scene there. The great thing for us is that there's not much going on in Norfolk; there's not much of a music scene there. That really helped us because we've had the room to create our own sound. We've had the freedom to do whatever we've wanted to do.
Some of the songs on the album have beach music vibe.
NF: Yeah; the old soul stuff can definitely be heard on this album. We used to play all soul covers back in the day; we'd play beach music, Charles Bradley songs; we even got to open for him.
How do you think the band had evolved over the years?
NF: Well, some form of the band has been playing together for ten years, but these past three years we've been really taking our music seriously. A lot of it is just practice; we've become better players. The coolest thing about us is our stage show; we bring all our energy to it. Harry has become an awesome guitarist; he's improved by leaps and bounds. Our vocal harmonies have really been getting better, so we're pretty tight now. One of the coolest parts is how much the music changes, and we keep growing musically.
How important is touring to you?
NF: Touring is how we make our money. I think touring is essential because it's a great way to keep up our chops.
What's next for you?
NF: I always want to try to write new music, so I'll keep working on new songs. A Christmas album is always in the works. (laughs) Our goal is to get into the cycle of releasing a new album every year or so and touring on it.