Album Review
Dark Alt-Country -- Raw Cut Close To the Bone Roots Music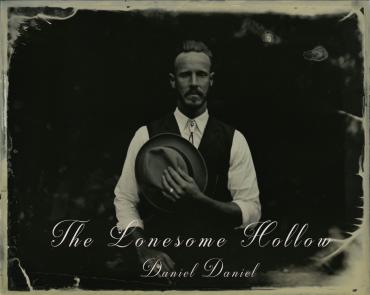 The opening song to this eleven-track dark Americana album is "Doctor, Please." Roots firmly planted in the early eeriness of Bobbie Gentry's 1967 monster hit "Ode to Billie Joe," (Rolling Stone's 47th Greatest Country Song of all time) and her humid "Mississippi Delta." Daniel Daniel knows how to navigate this type of music. Raw cut close to the bone roots music. There's nothing earth-shaking about the tune but it is an ear-grabber with its mystery and mood perfected vocals.
The album "The Lonesome Hollow," is filled with this type of dynamic. "Howlin' At the Moon," is absorbing and riveting. Not in the manner of a typical commercial alt-country type production but in its delicate distilled shadowy performance – much the same as Bob Dylan's late-career albums "Time Out of Mind," "Modern Times," and "Together Through Life." 
DC native Daniel Daniel isn't as adept with the real-life references as Dylan, (yet) and harkening back to the 1930's with such accuracy. But, Daniel Daniel does possess in his debut album -- rich qualities and quantities of that very potential. And I may add that he has authenticity in his showcase. The album was engineered by nine-time Grammy award winner, Mike Piersante (who also worked with Adele, The Civil Wars, T-Bone Burnett, Elton John & on the soundtrack for The Coen Brothers' film "O Brother Where Art Thou").
"Waves," is sung in a higher register but the deep bass and acoustic guitar are there and they ripple the stream of music with presence. Many singer-songwriters and performers have good voices but lack material. Some perform well and can't sing. But when an artist is able to shape a style from previous molds and the tunes are well-crafted, have sensitivity, and are given half a chance at being presented with a grain of originality and power – all they require is luck.
"Go Easy," toys with a Spanish style melody and Daniel Daniel offers one of his finest rich vocals. The lyrics here are sharp and the arrangement is simple yet convincing. I can hear by his singing he is powerful with just an acoustic guitar, or piano accompaniment or with a full band. No matter. On this track, I am reminded of the many Spanish-flavored ballads that were rendered remarkably by the late Willie Deville (aka Mink Deville in his rocker days) who had that equally deep voice, marvelous lyrics and compelling songs. DeVille was a master of mood, melody, and power. So was the late singer Jackie Leven's solo work (Doll by Doll former lead singer) who you could add was a poet and his performances were dramatic without being pretentious. Daniel Daniel is in good company if his name is mentioned in the same sentence as theirs. These artists didn't sell in the millions but respectable musicians know these men and their work. They were not rock singers per se – they were artists. 
In "Money, Money, Money," I hear a slight influence of Tom Waits in his more experimental percussive era. If Tom were more commercial he would be Daniel Daniel. This is an excellent track. It winds around you, pricks your skin, it has that old theme dust on it, and it makes the old wine bottles rattle. Nice work. 
Daniel Daniel opens "Darkness," with a touch of Beach Boys in the dungeon. Can you imagine that? Continuing with a well-defined vocal style this borders on Nick Drake singing with The Beach Boys territory. This would be great stuff for late night FM radio disc jockeys. I'm glad Daniel Daniel does not explore the outer reaches of alt-country, alt-roots, with tune-lessness, vague references, cliched words and relying solely on lo-fi depression music. His songs that are at low tide like "Darkness," are polished with that Dead Can Dance (Brendan Perry, Elisabeth Fraser) dignity, Swan's propulsion the way lead singer Michael Gira ("The Burning World") explored dark country would do it. There are tinges of the legendary Peter Hammill from Van der Graaf Generator in this song – "House with No Door," comes to mind.
But what impresses me sometimes are the little things, such as this. The haunting melody that is sung in that deep Beach Boys manner. It's beautiful over the acoustic guitar and the deep bass. This song also hovers over notes a John Hiatt would explore. Very convincing. Lots of musical flavors in this effort.
The title track "Lonesome Hollow," has a distinction. Daniel Daniel's voice is produced with a dazzle. I like the way he pronounces his lyrics and the steady dirge of the individual instruments. Much the same as the little bands of musicians that Dylan uses on those albums I mentioned and Tom Waits as well. Small units with unorthodox instruments and dazzling musicianship. There is lots of personality and character to these songs. This song adds some whistling that sounds like it's mixed with a Theremin. If it is, it's a wonderful effect.
"Where Is the Key," and "Superstar," follow in the same tradition. Tight songwriting, wonderful vocals, well-integrated instrumentation by proficient musicians. They frame each song with what is necessary to make a song at least interesting with plenty of spice and mood. Their playing is filled with it. You would think a song title with such a retro title like "Superstar," would be a toss off. But, the song is serious, it's well-composed and the musician's interpretation is fluid. Lots of nice pedal steel guitar – very attractive to the ears.
A clean acoustic guitar and pedal steel open "Honey, I" -- Daniel Daniel sings in a relaxed balladeer style here. This song is Willie Nelson gold – perfect for the old codger who could squeeze quite a lot of sentiment out of it. This version has some nice deep cello and though it's sad melodically it has a thread of optimism in its notes.
The final track is an uplifting, percussive little track with sparkle. "First Train," has all the necessary ingredients and it's a nice send-off until next time. And I hope there is a next time. If nothing else, the material is interesting.
The pedal steel, the shakers, deep thuds of drums and then the sharp snare snaps -- all add to Daniel Daniel's vocal and it's meticulous. I am not a big country fan but this voice has a rock-dignified lift to it. It almost makes listening to country exciting again. 
The album was excellently Produced by Matt Williams. I did not have a hard CD at the time of the review so I can't comment on the packaging. But, judging from what I see online it appears the art coincides with the music admirably. According to the information I located the band on this album consists of Drummer Jay Bellerose (T-Bone Burnett, Bonnie Raitt & BB King); bassist Jen Condos (Stevie Nicks, Ray LaMontagne & Ryan Adams); pedal steel players Eric Heywood & Russ Pahl (Bob Dylan, Blake Shelton & Kenny Rogers). 
Website:  https://www.danieldanielofficial.com/
FaceBook: https://www.facebook.com/DanielDanielOfficial/
Disclaimer: The opinions expressed in this review/commentary are those of the author and do not necessarily reflect the official position of No Depression. All photography is owned by the respective photographers and is their copyrighted image; credited where photographer's name was known & being used here solely as a reference and will be removed on request. YouTube images are standard YouTube license.
John Apice / No Depression / May 2018