Album Review
Darlingside's "Birds Say" Is Like an Irish Spring Commercial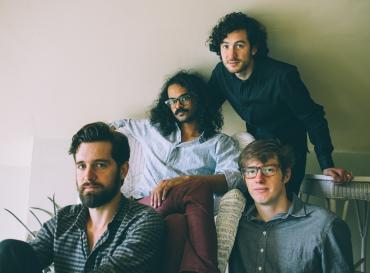 Four men meet in a privileged East Coast college town (Cambridge, MA). Two of them are steeped in violin and cello training, and all of them have lovely, high voices. They sing together, earnestly, around a single microphone, a plugged-in extension of an Ivy League a cappella group—a group with "darling" in its moniker, no less.
It all seems a little precious, doesn't it? But as for how it sounds, well, it sounds fantastic. Darlingide's new album, Birds Say (out September 18 on Thirty Tigers), is the sonic equivalent of that Irish Spring commercial where the guy uses freshly sliced soap in an outdoor shower to lather up his insanely hairy chest after wrestling one of his mates. Quirky and refreshing, in other words. There are notes of CSNY and Simon & Garfunkel (especially on "My Gal, My Guy") evident, but Darlingside's lyrics are goofier ("Harrison Ford," for instance), their harmonies fuller and more joyful, and their instrumentation more adventurous—containing splashes of baroque folk, indie rock and Americana.
Two of the album's best tracks, "Go Back" and "God of Loss," somehow encompass all of these genres. The imagery in these tunes evokes Mother Nature, gorgeously; Darlingside is spiritually inspiring without proselytizing, which is a neat trick. And just when you think you've got the band pegged, the fuzzier back half of the album features a pair of songs, "Water Rose" and "Volcano Sky," which Wilco or The Lemonheads could have easily recorded.
Next month, Darlingside will hit the road for an extended string of dates with Patty Griffin. The pairing is at once surprising and appropriate. While Griffin possesses one of the most singularly powerful voices in Americana, it's easy to forget that the Austin resident got her start in the coffeehouses of Boston, not far from where Darlingside formed. When artists from America's most historic region sing about old-timey touchstones like ships, trains, rivers, and stoves, it carries more credibility than when, say, a Seattle act adopts such lyrical airs.