Album Review
Dave Alvin and Jimmie Dale Gilmore Offer a Troubadour Travelogue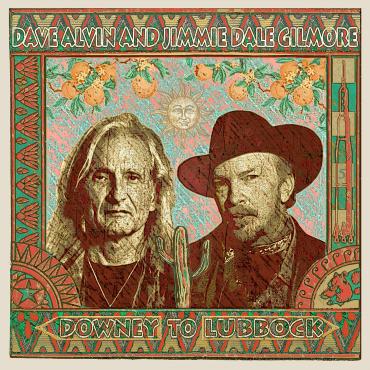 It seems like an unlikely pairing, a self-proclaimed wild blues blaster from just outside of L.A. with a loud Stratocaster that can blow any roadhouse down hooked up with an ol' flatlander from the great high plains with West Texas wind blowing through his veins. But Dave Alvin and Jimmie Dale Gilmore fit together like brothers separated at birth, reunited later in life to share and celebrate their uniqueness.
Both introduce themselves at length on the the title cut, Gilmore confessing that he "took a lot of detours, cul-de-sacs, and dead ends" but claiming no regrets: "If I had to do it over,well, I surely mostly would/I'd stay right on this highway ... Lubbock to Downey bound." The detours Gilmore is undoubtedly referring to include the disastrous '72 recording debut of the Flatlanders, the group he founded with Joe Ely and Butch Hancock. Originally released only on 8 track and wrongly crediting Jeannie C. Reilly's music with the Flatlanders' names on it, the record finally got widespread release in 1990 on Rounder as More a Legend Than a Band. The band disbanded in '73, and Ely, Hancock, and Gilmore each had successful careers as soloists before getting back together sporadically again decades later.
Alvin's career was linked with brother Phil in the Blasters in from 1978 to 1986 before he left to take on stints in X, The Knitters, and the Flesh Eaters. He leads his own band, the Guilty Ones. "Forty years on the highway livin on dreams and gasoline/somehow still survivin' on Advil, NyQuil and nicotine. .. every road I've traveled has led me to this," Alvin admits on the title cut, referring to his and Gilmore's match up.
The two toured together last year, and got along so well that they decided to share their shared influences on record. One common thread was the Ash Grove club in L.A., where both saw artists including Lightnin' Hopkins and Brownie McGhee and Sonny Terry.
"Buddy Brown's Blues" starts out like Hopkins' original, but these two are too rowdy to stay in that 12-bar, woke-up-this-mornin' mode for long. Gilmore makes it through the first verse before Alvin grabs it by the roots and twists it over into twang-soaked rockabilly with Gilmore howling like a scalded coyote.
Gilmore's vocal stays pretty true to Lloyd Price's '52 take on "Lawdy, Miss Clawdy," but once again it's Alvin who breaks it out of the original mold, replacing Fats Domino's piano domination with boilin' bursts of Strat.
Gilmore and Alvin smooth out the The Memphis Jug Band's '29 version of of "K.C. Moan" from a gospel-tinged smoothie to a lonesome blues that sounds like Jimmie Rodgers itchin' to break out into a yodeling frenzy. They give a bluesy makeover to "Stealin'," another Memphis Jug Band tune, letting this one stretch out into a strut, high-stepping a bit more than the original's back porch, foot-pounder model.
The Youngbloods' '67 peace anthem "Get Together" was on the duo's setlist on last year's tour, done straight up but speeded up a bit with Alvin's guitar adding some prickle to the mix.
The two picked Brownie and Sonny's "Walk On" to close the record. It's a chilling rendition, Gilmore sounding like Willie Nelson's twin, the perfect foil for Alvin's rich baritone as the two swap call-and-response leads before Alvin rips a hole in the churchy fabric with his stinging Strat solo.
It's a chunky blend that goes down easy, comfort food for body and soul.