Album Review
Dave Diamond - Trois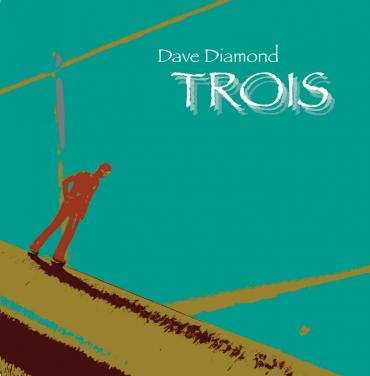 Dave Diamond's successful career in music spans more than twenty years. A prolific singer/songwriter and session musician, Dave has recorded and performed as a solo artist and with his own band as well as with an array of other talented and acclaimed musicians such as Bob Weir, Donna Jean Godchaux, Robert Randolph, Derek Trucks, and Oteil Burbridge. Diamond has been featured in Modern Drummer and Drum Magazine, and is equally comfortable in abstract and complex musical terrain as evidenced by his contributions to Blow Up Hollywood, the art rock collective led by Steve Messina, and the musical catalogue of poet NYC poet/ songwriter Alan Semerdjian. While it's true that most of Diamond's career has been spent helping shape the jam band scene in North America, it would be foolish to categorize his work as derivative of any one genre.

Dave Diamond plays in a variety of jam bands, but this band is his own, and Trois is his full on opus, chock full of everything he's made of. I couldn't tell at first if it was middle of the road or top notch material, it had to creep up by way of repetition but that is my problem, but we all have our ways of warming up. Kicking off with "All Good Things" you don't get the best impression of what's to come, as it sounds vocally trendy and lacks categorization but does have a spark to which ignites the rest. This is instantly countered with the upbeat "Breaking Hearts" which would fool anyone by the more depressing sounding title than the positive content. But they get the party started either way and that is all that matters.

One could carry on for days about "Here In The Summertime," as it wins me over for the best track of the CD. This is awesome and you just don't want it to stop. It's that good and a perfect week to discover such a choice track. It's hard to describe how jazz and country stylings blend so well with an almost dance beat. But that helps describe all the coolness on display. This begs to be heard by the masses, even if the average attention span of today's listeners who've been hand fed a lot of over-processed junk would be open to such a jamming thing that still remains so comprehensive as a song. It's jamming, but there is also a great song in there.

Following that up proves a little tough with the low energy of "Little Things," but that is called for in this light and fluffy track that doesn't do a lot for me, but might for someone else. But that was more or less forgotten as soon as I heard "Back Off" with a burst of energy making the difference for a better feel thus far. Great backing here by the band and singers, as usual. This one seems to bring out the rebel in all of them. Incendiary guitars and accompanying keyboards are what cut through the most. This would keep any bartender bringing the drinks at a local pub in the heart of America, followed by "Let It Go" which would do the same at an earlier hour. But they'd also sound great on a nice drive in the country.

"Tear It Down" is another animal altogether. At first it doesn't entice much but it goes onto being a highlight once it's all over. You just know it's going to be good on the whole at this point, no turning back. Mesmerizing slide-guitar solo here. And that brings along "Pick You Up" which is exactly what it does. Love how the rums are so in-pocket on this upbeat track that shows a lot of Dave Diamond's inner soulful side. Again some great lyrics make this all it can be. You get the feeling here and on other key tracks that he cares enough to be paying attention which helps him evaluate the world around us. And then there is "California Turnaround" which harks back to better times when a track like this was the norm. This one just really swings with the best.

"In A Little While," "Queen Of Sorrow," "Little Big Girl" and "Long Goodbye" take things out with impeccable consistency as they all shine on the same level on what I call a slam dunk of a CD.
Cyrus Rhodes
URL: http://www.davediamondmusic.com/
I-TUNES: https://itunes.apple.com/us/album/trois/id1092802424
10/10