Album Review
David Bazan Meditates on Christmas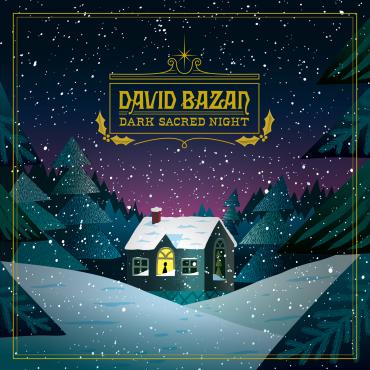 Christmas music can be so divisive and everyone has their preferences. But if you're looking for something a little low key, David Bazan's effortlessly cool Dark Sacred Night is your best bet. It's chill and subtle – you almost forget you're listening to classic holiday tunes – but it gets you in the spirit. Bazan brings his quiet haziness to timeless favorites, making them sound like soft, indie rock gems. Bazan's collection is ideal for some calm Christmas morning breakfast-making, and is the perfect anecdote to the chaos of the holiday season.
Bazan brings a Zen darkness and depth to his covers. "Happy Xmas (War is Over)" is fuzzed out and even catchier than I remembered. And "Jingle Bells" is as warm and inviting as it always has been, but with a Xanax-level of calm. It never sounds forced or overly cheery. Instead, Bazan keeps it light and airy and adds just a hint of whimsy with some whistling. "Silent Night" is a quiet lullaby, and "God Rest Ye Merry Gentlemen" is a bare, acoustic beauty. Bazan's original tune, "Wish My Kids Were Here", is a heartbreaking story of the difficulties of being away from family during the holidays, something that never gets any easier. Bazan delves deep into loneliness and self-doubt, singing about living away from his kids, until at the very end, a phone rings and interrupts his solemn tune. It's his daughter, calling to wish him a "Merry Christmas", and it's hard not to smile.
Throughout Dark Sacred Night, Bazan takes the whole "peace on earth" sentiment quite seriously. His vocals are introspective, like he's really meditating on the true meaning of the holidays. He makes Christmas music accessible and easily digestible for those of us who can only take so much. Hearing songs we know so well in this stripped down style reminds us of how special they actually are. We don't need a lot of flourish and sound effects. We just need to focus on the message at the heart of all of these Christmas songs. It's about peace, love and giving back.