Album Review
David Benedict's Golden Touch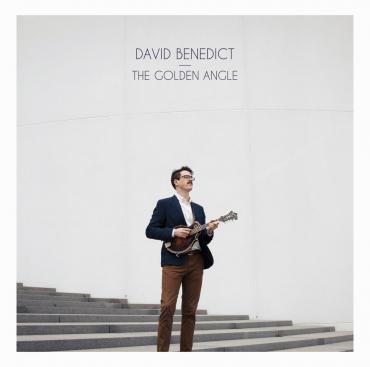 Produced by Grammy-nominated mandolinist Matt Flinner and featuring a bundle of notable names in music including David Grier (guitar), Mike Barnett (fiddle), Missy Raines (bass), Ross Martin (guitar), Stuart Duncan (fiddle), and Wes Corbett (banjo), mandolinist David Benedict's latest collection of instrumental tunes, The Golden Angle, is a personal soundscape of superb musicianship packed with elements of growth, loss, and keen observation.
Across 11 tracks, and before receiving some background on the inspiration behind some of the most memorable tunes from Benedict himself, I wrote down several feelings and images that hit me as I was listening through the album for the first time. These include hopeful, merriment, cautious but steadfast exploration, jovial exploration, mournful and pondering, old-time courtship, sprinting and choppy, exploring a vast space, bluesy, and broken but trying to find its way back together.
These were some of the words and phrases that hit me as I listened to the album, but my experience is not yours and these may not effectively summarize the essence of the album for you (and as a reviewer, that's my objective, right?). However, I got a chance to speak with Benedict — winner of the 2018 Momentum Award for Instrumentalist of the Year by the International Bluegrass Music Association last month — about some of the standout tunes on the album, and I'll provide you with some insights from the composer himself.
The opening tune of the album, "Dorrigo," struck me as a cheerful and hopeful fiddle tune. Benedict named the tune after a festival that his band Mile Twelve played in New South Wales, Australia. The setting was filled with beautiful rainforests, mountains, and waterfalls and a large community of pickers.
"High Stepping Jessy" comes next, and Benedict named it after an old Northern Irish donkey he knew. Near the end of Jessy's life, she had a tendency to kick up her back legs every time she took a step. The tune has an overarching unease and edge to it that embodies the death-defying spirit Benedict noticed in Jessy.
The title tune of the album, "The Golden Angle," is named after a geometric principle Benedict became fascinated by when he began working on these new instrumental arrangements. Defined by symmetrical spiraling and natural inevitability, the Golden Angle principle became the inspiration and primary theme of the music that eventually grew to make up the songs on this album.
When you hit tune #5 on the album, you immediately notice a change of tone and pace. A heartfelt and powerful piece, "Waltz for Griffin" is named after and dedicated to one of Benedict's mandolin students who tragically passed away in 2017.
"Leaf By Niggle" is an epic tune that paints a vast background through bass and fiddle, with strokes from the guitar and banjo that help color the portrait. The mandolin is the journeyman or wanderer through this great expanse. Benedict named the tune after a J.R.R. Tolkien short story of the same title. The story is about a man named Niggle with aspirations to paint a great portrait of a tree, but he is constantly distracted by obsessing over small details of the leaves, which significantly delays him from finishing the painting. Benedict says that he felt the same way when composing this tune. Like Niggle, Benedict had to finally shed his anxieties in order to finalize the tune.
The final tune on the album, "Colonna & Smalls," is highlighted by its delightful and stirring melody and is inspired by a quaint coffee shop that Benedict visited while in Bath, UK. As a big coffee fan, Benedict felt this particular spot satisfied the coffee enthusiast within and was an appropriate label to impart on this closing tune.
Through his own self-reflection and life experiences, Benedict's exploration of themes ranging from the glories of life to facing the reality of death yield a balanced and mature musical journey filled with some of the most satisfying melodies you'll hear in this genre.