Album Review
David Childers: Unleashing Serpents and Saints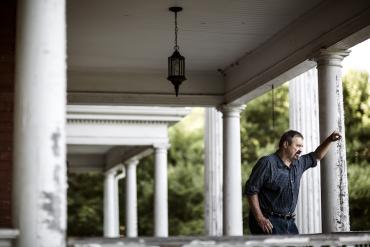 David Childers has been treading a winding musical path between secular and sacred for decades. His latest album, Serpents of Reformation takes a detour deep into the gospel side of the road with a fascinating grittiness. 
After years of music-making, the prolific Childers was experiencing a "been there, done that" phase, and was looking for a new means of artistic expression. He decided to create an album that was rythmically generated.
"I wanted to make a hip-hop record," says Childers, "but I wrote a few gospel-type songs and the music took on a life of its own."
Childers was aided in this effort by son, producer and drummer Robert Childers, and a bunch of musical friends, including Jim Avett, who joined in singing this bluegrassy rendition of "The Battle of Jericho:"
The unusual album mixes traditional harmonies, sanctified-style singing and primitive percussive effects with studio-created atmospheric texturing to create a rather eerie approach to gospel. There's also an element of story-telling in the track  "How 'Bout You?" featuring Travis Philips:
The uniqueness of this album leaves this listener wondering what David Childers will come up with next. Something tells me he is still full of surprises.
Serpents of Reformation Producers: Robert Childers and Neal Harper
Release date: August 26, 2014
Label: Ramseur Records