Album Review
David Llewellyn & Ida Kristin – Songs Around the Kitchen Table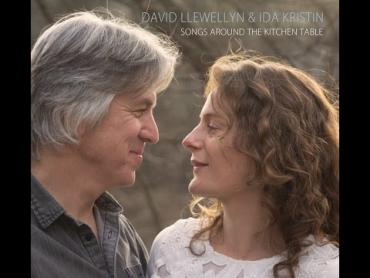 This is an album that is truly homegrown.  Recorded "live" in their living room toe to toe and in some studios -- as the album liner notes state – this album is a return to the spare, roots-style of past male / female duos who knew how to inject sincerity into their songs in a manner that multiple instruments can sometimes overwhelm. No over-producing here but that's not to suggest that the production value is lacking. Quite the contrary. 
The first two tracks, "This Morning Blues," and "Homeward" are melodic and personal resting solely on the strenght of the human voice. Songs with the warm vocals of David Llewellyn and the sweet, smooth female vocals of Ida Kristin. If you are an admirer or fan of music by the late Richard and Mimi Farina, or the later pairing of Mimi Farina (Joan Baez's sister) and the late Tom Jans – this is an album you can appreciate.
David and Ida were paired at a songwriting retreat in Sweden -- and the rest, I guess is history.  The details of their meeting is on their website. 
On "Only God Knows," there is some fine, gentle accordion by Bruce Baxter (who had a solo album out several years ago and was involved with the Georgia music scene in the 1980's). This wonderfully haunting song has some serious subjects being mentioned but not an "in your face" political statement. 
The duo seem to enjoy sprinkling their album with covers of classic songs – and while the vintage Paul Simon (Simon and Garfunkel) song "59th Street Bridge Song," was never one of my favorites (a hit for Harper's Bizarre in 1967 makes it instantly recognizable). However, even though the duo had to sing the hippie dreadful now dated hookline "feelin' groovy" in the cover – they didn't seem to infuse it as a hippie cliche. They sang it brilliantly with richness and subtle grace and they actually made me enjoy it for the first time. Sometimes it isn't so much the painting as it is the artist with the brushes. 
"Just Surrender" is the first tune that was captivating. Here you can sense the nested twine of joy their voices produce together. Great guitar performance adds to the richness of the melody and Ida's vocal is, as expected -- superb.
David begins "Dancing" and his voice possesses a clear perfect folk song voice. While not as deep and resounding as the legendary Fred Neil – his tone is clear and distinct in it's similarity to Neil. A pleasure to hear that again in folk song. No whine, no laborious feel sorry for me tone. Though the song is not filled with exhilaration – it does have a disciplined and relaxing presentation. Singing with such control, with no drama vocalizing can be as difficult as belting out a more powerful song. The restraint is balanced – too much and the song can be boring and overly dramatic like many 1960's folk songs. But, their professionalism as a team shines as they keep everything in check and the songs unravel seamlessly like pensive stories.
"The Real Peter Pan," could have bordered on novelty but Ida's singing is drizzled in colorful notes and nuances. The piano is solid – and though you think it may be silly once, by the second listening you may even be moved by its stirring precision.
This has become one of my favorites.
The "Coffee Shop Song" has a more expressive acoustic guitar lead – and the pairing of lead vocals between Ida and David shows some enthusiastic vocalizing. Sounds as if they had some fun recording this one. This is also proof that this is a duo that was meant to be. 
"God's Waltz," is more in a traditional mold. It sounds quite Irish or Scottish – Ida's voice soars like the wing span of a gliding eagle. While there is an accordion, flute and acoustic guitar supporting Ida – the entire song rests on the instrument that is Ida's voice. There are moments that remind me of Sandy Denny and Fairport Convention, as well as, the Paul Winter Consort singer Susan Osborne who was otherworldly on the track "Lay Down Your Burden." Ida's performance here is equally beautiful.
An acoustic guitar opens David's cover of the famed 1957 Ewan MacColl folk song "The First Time Ever I Saw Your Face." The song was originally written for Peggy Seeger but was later covered by Roberta Flack (1972) who had a hit with this, and later by Elvis Presley and scores of others. The cover is quite faithful and well-arranged.
Closing the album the duo chose to sing another classic 1950's folk song – Pete Seeger's "Turn, Turn, Turn," adapted word-for-word from Chapter 3 of the Book of Ecclesiastes and set to music and recorded on 1962. While many recorded it, the most famous version was by The Byrds in the 1960's -- now a standard.  Here, with the exquisite vocals of Ida and David the song is subdued in its brilliance. Perhaps the song has been covered too many times. If so, then let Ida and David's be the last one – since it's so fluid and probably the way the song was meant to be sung. The melody has always been captivating and powerful -- and their vocals in glorious unison maintains the folk tradition Pete Seeger no doubt intended. An excellent cover. A good choice as a closing to an album that won't rock your socks off – but will leave you in peaceful state of mind.
And who doesn't need that today?
Songs were recorded and produced at Blueprint Studios, Nashville, TN and mixed in the Henhouse Sweden and at Blueprint.  
Photography courtesy: Jon Trogden
Website:  http://www.davidandida.com/
FaceBook:  https://www.facebook.com/KristinAndLlewellyn?ref=hl
BandCamp:  http://davidandida.bandcamp.com/releases
Support Independent Music.
Disclaimer: The opinions expressed in this review / commentary are those of the author and do not necessarily reflect the official position of No Depression. All photography is owned by the respective photographers and is their copyrighted image; credited where photographer's name was known & being used here solely as reference and will be removed on request. YouTube images are standard YouTube license.
John Apice / No Depression / May 2015