Album Review
David Rawlings Stands Out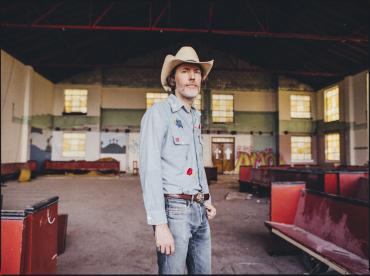 There's something comforting about listening to David Rawlings and Gillian Welch harmonize alongside warm acoustic guitars. Maybe it's that it conjures up memories of standing in the sun at Newport Folk Festival, watching them perform almost family-style, with countless friends joining them on stage. Or maybe it's because they just sound so natural together, like two parts that make up the whole. No matter what creates that feeling, their chemistry is undeniable on their new record Poor David's Almanack.
Billed as a Rawlings solo effort (a welcome change and one worthy of this uber-talented man), there are, of course, many gears under the hood. This time, along with Welch, those happen to be members of Dawes and Old Crow Medicine Show, to name a few. But ultimately, this is Rawlings' show, and it's a pleasure to witness.
There's a polished spontaneity to Almanack that comes from a deep well of instrumental and vocal prowess combined with a "group effort" vibe. On songs like "Cumberland Gap" (no relation to Jason Isbell's 2017 track of the same title), we get wafts of Neil Young-inspired, earthy roots rock. There's a Southern gothic feel to this track – and much of Almanack – as well as the sense of a collaborative jam session between musicians who thoroughly enjoy playing together.
And there are echoes of Dylan on Rawlings' quiet, spare ballad "Airplane." In his soft, delicate voice, Rawlings sings dreamily, "If I had an airplane/I'd fly to Tennessee/Just for the day/Lay me down easy/Just to wind my blues away." With lush strings adding an airiness befitting the theme of the song, this is one of Almanack's most precious gems.
"Come On Over My House" may be the prettiest invitation you get all year, with its rustic fiddle melody and come-together sound. It sounds like it could be a traditional folk song from long ago, yet like many of Rawlings' songs, it's timeless. For anyone who loves to chime "they don't make 'em like this anymore," this one's for you. On the stunning slow rocker "Guitar Man," we're treated to that same down home, Southern warmth, and we can really hear the clarity in Rawlings' voice. Almanack marks a standout moment for Rawlings, who often plays the side man. It proves what most of us already knew of him: He is one of a kind.