Album Review
The Dead Brothers - Black Moose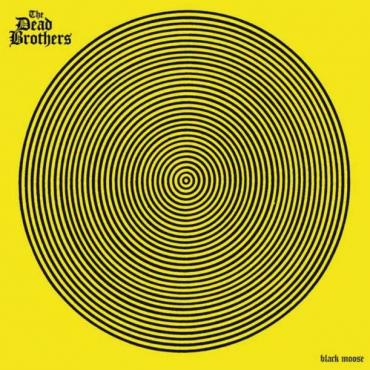 The Dead Brothers are one of those diverse and highly original bands one comes across too rarely in today's music. This, along with the fact that they have only released six albums in the last 14 years, makes them quite valuable to music enthusiasts the world over, especially those whose tastes lay a good distance outside of the mainstream. Black Moose, the Dead Brothers' brand new 13-song album on Voodoo Rhythm Records certainly goes toward proving this even more. And like the band's previous releases, Black Moose doesn't disappoint. Nor does it just expand upon their already well-established sound; it forges new roads through the strange musical wildernesses and mad wastelands of death blues, funeral trash, gypsy-folk, dark roots, outsider rock and roll, and... well, that inimitable thing that belongs solely to the Dead Brothers and can only be labeled as such.
The album opens with the title track. "Black Moose" is an arrangement of strings, jaw harp, tuba, and percussion over which frontman Alain Croubalian sings. It takes the listener on a journey through the dark history of man and the affliction of the human condition with which he has always been plagued to one degree or another. These are all significant events passing with one constant: a black presence casting its substantial shadow over it all. "Dark Night," which would probably appeal to fans of Peter Murphy's Carver Combo, has a slow gypsy folk and apocalyptic tango feel to it, marked by the sulfur stink of hellfire and what the vocals refer to as "the dark night of the soul." "I'm So Lonesome I Could Cry" is a sparse acoustic song that reminds me somewhat of Those Poor Bastards. "Black Train" is a roosty song built on rockabilly done Dead Brothers style. And "Ship of Fools" is an atmospheric piece in the dawn of the album, where Dead Alain sings as it floats on to its destination.     
Black Moose, the follow-up to the Dead Brothers 2010 album 5th Sin-Phonie, lies at the crossroads where poetry and philosophy intersect, and where a number of other things meet -- superstition and fact, the natural and supernatural, darkness and light, intellect and emotion, the lamb and the lion, the living and the dead. Because of its musical composition and engaging lyrical content, it would not be at all surprising if fans declared it their favorite Dead Brothers release to date. 
The Dead Brothers' Black Moose album is available from Voodoo Rhythm Records webstore on LP and CD formats now.
And for those interested in the history of The Dead Brothers, according to the information provided on the band's website it goes something like this:
Alain Croubalian first invented the Dead Brothers in his head, after studying death, or more precisely ars moriendi, at the University of Geneva with Professor Jean Ziegler. He then staged a singing doctor selling drugs in cafes and telling the story of the blues standing on the bar. A band appeared the first time in 1993 and played only gospel songs, those sung by Elvis, at the Usine in Geneva. Soon two tubas where main feature with founding member Jean-Philippe Geiser playing Bo Diddley beats on his big horn. Dead Alain then started a circus. The Electric Circus with Alain Meyer, where musicians replaced animals and jugglers (they're cheaper). They travelled Europe with 25 different bands including Reverend Beatman, Bob Log III, T-Model Ford, Withman Mc Gowan and Al Comet three years in a row. The first Dead Brothers drummer had a ladybug disguise (Axel from the band Tulip aus Hamburg) and a dark young lady, a black haired gothic guitar player called Barbara, strumming along (from Last Torridas' fame).

More than 20 ex-members have been Dead Brothers over the last 10 years: Fred Schmutz, Jean-Philippe Geiser, Barbara Bagnoud, Olli Franz, Julien Israelian, Zoe Capon, Axel Jansen, Holger Steen, Resli Burri, Jean-Jacques Pedretti, Alain Porchet, Christoph Gantert, Pierre Omer, Delaney Davidson, Yves Massy, Marcel Salesse, Morback, Denis Schuler, Matthias Lincke, Alain Meyer, Christoph Marti and the one and only dj Scratchy as last minute banjo invitee…This Dead Brothers Kapelle has, since then, taken many forms: A mega combo with three tubas, 9 other horns and a dead Brother puppet dancing, an folk guitar symphony orchestra, a primitive banjo and accordion duo that sounded like shit, ten members reproducing Kurt Weill's arrangements of Brechts' 3 Penny Opera at the Basler Opera, three old acoustic Armenians sitting on chairs, a summer piano cabaret band with slide guitar and fiddle… you never know how they're about to pop up…