Album Review
The Dead Volts – We Are Already Dead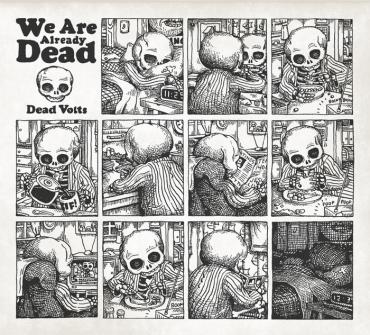 The Dead Volts are getting creative with the release of their debut album, We Are Already Dead, on Twang N Bang Records. The San Luis Obispo, CA quartet plans on a December 5, 2014 release date and, rather than the run-of-the-mill peddling of CDs at shows and all things social media, the Dead Volts concocted a plan to release the record in streaming and downloadable versions for free at their Bandcamp site. Not stopping there, it will be available on every other streaming platform on the ol' interwebs, plus a vinyl pre order, via a Kickstarter campaign, to deliver the record in all its waxy, analog beauty for your turntables.
We Are Already Dead is set to release just five days before what would be the fourth born day of the band itself. After honing their twangy rock sound along California's Central Coast, the Dead Volts have amassed opening slots for some of their (and my) favorite bands including Drag the River,Lucero, and Two Cow Garage. The latter's frontman, Micah Schnabel was immortalized in a song written and sung about him by Patrick Hayes, who handles vocals and guitar here, and writes a damn fine song. Hayes is flanked by Keith Kurczewski on lead guitar with Pete Robbins and Mark Folkrod rounding out the rhythm section on bass and drums, respectively.
The band describes itself on its Facebook page: "Straight-forward guitar rock with some twang, amps turned up just a bit too loud in a failed attempt to overtake the crashing drums, a few brews and a bit of the whiskey, 2min songs played at breakneck speed followed by a few old sad songs, that's what we're shooting for." They've shot a bullseye in that regard -- the disc has plenty of beautiful, squelching guitar solos nestled into face-punching rock song packages, peppered with just enough sad songs and twangbanging. There's even some back and forth solo trade-offs, reminiscent of the two-headed, dragonfire solos of Patterson Hood and Mike Cooley at a 40 Watt, Drive-by Trucker show. Chock full of loud guitars, thundering rhythm and percussion, and anthem-type songs the likes of early Uncle Tupelo after a Minor Threat binge.
Overall, this is an extremely impressive debut effort. I myself plan on getting involved in the Kickstarter campaign. You have just 13 more days to do so as the Dead Volts have already met their goal to bring us the record on vinyl. There's some super cool packages including koozies, soundchecks, and backstage opportunites, even a guided tour of the Central Coast's best breweries for frothy libations and good times. Long live rock and roll. 
+Words: Scott Zuppardo+
***Check us out at Sad Songs Keep The Devil Away for more musings and such. Dig Deeper, you deserve it***
SSKTDA on Facebook | SSKTDA on Twitter
music submittals: sadsongskeepthedevilaway@gmail.com