Album Review
Deep End Sessions Vol. II: Intimate Appalachian Roots Music By Multi-Instrumentalist Duo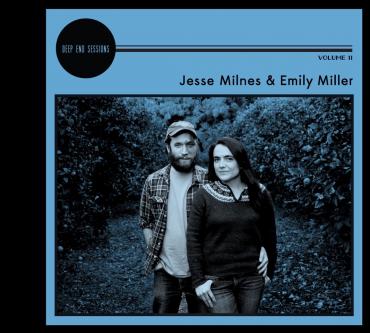 This package appeared to be something that started out antiquated, old, a labor of love. The entire 17-song collection is rich with traditional mountain music and while some may think this is all done somewhere in some rustic shack in the Appalachian mountains it was actually recorded thousands of miles away north of Los Angeles in the Santa Clara River Valley in a place known as the Deep End Ranch dating from the 1900's. So, its authenticity could never be called into doubt.
Similar to what Levon Helm was doing at his barn in upstate New York, this ranch was developed to provide artists to perform traditional music in the Appalachian spirit. One of those duos was Jesse Milnes (originally from West Virginia) and Emily Miller (who's parents were travelling journalists so she's been out and about many places) who are not aged old musicians – they are young in relation to the artists who usually perform this kind of music. Nevertheless, these two fine musicians sound like they may have stepped out of a time machine. They sound that accomplished and they don't have any dust mites on them, no cobwebs, no mildew and they have recorded a document that is polished and stunning.
Will everyone like this type of music? Probably not, because today's youth is all about commercial music, bright color, smoke machines, digital, modern synthetic, pre-programmed, medicinal and organic. Kind of a contradiction don't you think? Organic? Well, that last item may have seeped into these recordings. These types of songs were organic long before the term was ever invented or used in a musical context.  
On the song "Come All You Roving Gamblers," the sound is reminiscent of the great tunes that made the Coen Brothers film O Brother, Where Art Thou? such a worthy step into the past.
For awhile, bluegrass, Ralph Stanley and old fashioned Carter Family songs were popular again. People were interested. They wanted to know more. It lasted for awhile and even  a documentary called Come Down From the Mountain was produced and the live concert that was that film was also marvelous.
This CD proves that out there in the hinterlands the history of this great American music – which in essence was actually born somewhere in the hills of Ireland, Scotland, and England – and brought here to the mountains hundreds of years ago where musically inclined families passed the music down through their bloodline. They managed to make some of the music – historic, classic and wouldn't they be surprised today if they knew it was still performed. Jesse Milnes and Emily Miller are two of the absolutely finest purveyors of this tradition.
"Big Fish," is an electrifying fiddle instrumental. The album consists of seventeen tracks, many with vocals, and many just instrumentals. The musicianship is eerily accurate as old-fashioned, nostalgic, traditional tunes and if they were scratched a little it would fool many as something recorded in the 1920's and 30's in a shack off a dusty road or in a fifth floor hotel room, or out in a humid sun-baked field. But they're not. They are pristine and well-recorded.
"I Got Lucky With You," is actually one of the few modern day forays written by Emily for Jesse.
An original that sounds like it could have been written during the Depression – that's what makes this team magical. They have, in their youth, the ability to interpret and write with a mindset still embedded in the early 20th Century. It's great to be able to play old songs and enjoy them, but when a musician can write something that sounds like it was written back then – the love for that music is thorough and spiritual.
One of the more accessible songs is "Undone in Sorrow" written by an inspiring female country and old-time singer – Ola Belle Reed. This recording has some excellent fiddle playing and Emily's vocals are pure, rich and filled with sincerity. Many songs are traditional – and many old traditional songs were never written with commercial aspirations.
Tunes such as these related, retold and embellished true events, real people and became like "bibles" of stories passed down through generations. "Hiram Herbert," is one such song. The film Songcatcher, with Janet McTeer has her portraying a female musicologist from the big city who is passed over for a higher position. Angry and bitter she goes to visit her sister in the mountains and decides to take recording equipment with her into the mountains to capture the traditional music of the people who live there. Her intention is to then transcribe it all -- get it all down on paper so it can be documented, songbooks can be published and not lost to history.
Similar efforts were accomplished by the Lomax Brothers who visited prisons and made field recordings of workers. They needed to record their songs because many were made up on the spot, polished through multiple singing and eventually finished as a song that many remembered and sang and passed on. Because there was never an official recording and nothing was published, many versions of the same songs made the rounds.
So much so, that songs like "Stagger Lee," and "Frankie and Johnny," while considered today as old rock or rhythm and blues songs are in actuality -- not. They are story songs, folk songs -- from decades before commercial music. Many others could be added to that list and some are European – like "Danny Boy," and the melody to Bob Dylan's "Girl From the North Country," or Simon and Garfunkle's " Scarborough Fair."
Many of the melodies on this collection were probably saved by a person like the woman Janet McTeer plays – and this made it possible for these songs to be recorded today in this manner. I shudder to think what we would have lost if musicians like Jesse and Emily didn't have the ability to resurrect these songs. Today's youth – to a sad degree – are not going to go back to those old 1920's and 30's recordings. Listen to that 78 rpm sound? Doubtful. They have problems with 50's rock and roll.
This collection, at least, allows wiser, younger people to listen without thinking it's so ancient their young ears would bleed listening to it. The album is rich in sound also because some of the instruments are vintage. Emmy's Martin is from 1938 – Jesse's is from 1954 and rebuilt.
The album includes a 12pp stitched booklet that painstakingly details each song and is a wonderful read. All instrumentation and vocals are just Jesse Milnes and Emily Miller and that's in keeping with the spirit of the music. It's late night music, back porch music, rainy day music.
Emily's vocals on the short "Hungry Faint and Poor," is stunning to the point that she sounds possessed by all the past singers that reached out of the song. Following that, is competent acoustic guitar picking by Jesse on "Angelina Baker," that soothes the way a Leo Kottke or a John Fahey guitar would soothe. 
Many songs are short, so it's not difficult to relax and enjoy a slice of Americana the old fashioned way. This was the entertainment of a bygone era. It was played respective of the story each song told – verbally or instrumentally. The dual fiddles of Jesse and Emily on "Woody's Waltz," made me recall the fine fiddle playing of the late John Hartford who would have loved every track on this entire collection.
The collection was produced by David Bunn and recorded and mixed by Stephen Schauer. All musical arrangements by Jesse & Emily who sang and played all guitars and fiddles.
Deep End Volume One features Aarun Carter and Jonathan Trawick and there is a volume three and four in the oven.
Photography: B&W portrait shot of Jesse and Emily courtesy of Jesse & Emily // Color performance photo by Seth Joel and David Bunn
Website: http://www.emmyandjesse.com/
Disclaimer: The opinions expressed in this review / commentary are those of the author and do not necessarily reflect the official position of No Depression. All photography is owned by the respective photographers and is their copyrighted image; credited where photographer's name was known & being used here solely as reference and will be removed on request.
John Apice / No Depression / October 2015