Album Review
Del McCoury Still Sings Bluegrass, the Way Only He Can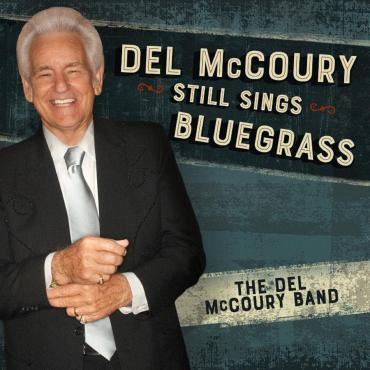 Del McCoury has released 16 albums since 1992 with The Del McCoury Band, in addition to six solo albums, one with his brother Jerry, seven with the Dixie Pals, one with Doc Watson and Mac Wiseman, and an appearance on an Audie Blaylock recording for a total of more than 30 recordings since 1968 (when he recorded Del McCoury Sings Bluegrass). Picked out of a Baltimore bar band by Bill Monroe himself in 1963, McCoury's mammoth career includes 31 International Bluegrass Music Association awards, two Grammies, membership in the Grand Ole Opry, and induction into the Bluegrass Music Hall of Fame in 2011. In other words, he is the most recognized performer in the history of bluegrass. At age 77, his voice remains undiminished, and he continues to tour with his own band as well as with David Grisman in their "Del & Dawg" concert series.
Del McCoury Still Sings Bluegrass is comprised of 14 sougs ranging across the spectrum of bluegrass, including songs about murder, trains, love fallen into and love lost, country and rockabilly conversions to bluegrass, a gospel number, escaping the coal mines, and competition for a lady's heart. In other words, most of the range of content found in bluegrass at large. Each song takes on the unique blend of instrumental and vocal pyrotechnics shown in the best of bluegrass, including fast-paced, strong three-part harmonies, virtuoso instrumental pyrotechnics, and an infectious upbeat quality that sets the toes tapping and, at its best, the heart racing.
The album is filled with gems; here are a few highlights for me: "Hot Wired," the opening song, is a cover of a country-rock song by Shawn Camp. It's a car song that draws an analogy between a woman and car that makes anything in town turn on with strong, driving solos from all the instruments. In Glen Duncan's "Deep Dark Hollow," the singer calls on his love, Loretta, to leave the hills of Kentucky for a better life. The song might serve as an answer to Darrell Scott's dark dirge "You'll Never Leave Harlan Alive," calling for a search for a better life rather than settling for digging the coal that "empties Kentucky load by load." "To Make Love Sweeter for You" was a #1 country hit with rockabilly overtones for Jerry Lee Lewis in 1968. McCoury turns it into a regretful, world-weary ballad with Mountain Heart's Josh Shilling on the keys. The song showcases a sweetness in McCoury's voice not often heard in his tone or song selection. Much of the album, in fact, effectively showcases the continued flexibility and versatility of McCoury's classic bluegrass voice and delivery.
Bluegrass has always been a music of collaboration and versatility. The Del McCoury Band appears to be the one of the only bands in the history of the IBMA awards, going back to 1990, in which all members have been selected as IBMA award winners as either instrumentalist of the year or male singer of the year. Alan Bartram, a reliable and effective bass player for the band, received the bass player award in 2017, Rob McCoury on banjo was named in 2015, while the brilliant fiddle player Jason Carter has been accorded his award five times between 2007 and 2014. Ronnie McCoury was awarded on the mandolin eight times, exceeded only by Adam Steffey. Del McCoury has been named IBMA Male Vocalist of the Year four times and the band has been awarded the Entertainer of the Year award nine times. This record of excellence in all aspects of bluegrass is unmatched by any other contemporary band.
Del McCoury Still Sings Bluegrass was produced by Del and Ronnie McCoury is released on the McCoury Music label. Recorded and mixed at Skaggs Place and The Butcher Shoppe, it sounds clear, crisp, and immediate. While Del McCoury's voice has dropped a couple of keys, his singing is only enriched by its new depth, along with added resonance. The recording covers the musical waterfront of traditional bluegrass without relying on familiar material in the repertoire or breaking with the traditional McCoury sound. It's hard to ask more from the still-strong voice and spirit of one of the last remaining links to the founder of bluegrass music. Del McCoury has pioneered and established a unique style that appeals to traditional bluegrass fans as well as younger and more diverse crowds who have welcomed him into festivals that feature bluegrass and beyond.